A concerned citizens group formed in response to the ouster of Joe Woodin vowed this week to press for more community involvement and transparency about how the hospital makes its decisions.
In a statement issued late last Saturday, hospital trustees said they stood by their decision to terminate the chief executive officer and president. "We know that our silence has caused the community great distress," it said in part.
The statement followed a lengthy board meeting the same day. Reached by telephone this week, longtime board chairman Timothy Sweet said the meeting lasted for "a number of hours" and had been attended by all 15 hospital trustees, four of whom are appointed by Massachusetts General Hospital, the arm of Partners Health Care that has owned the Vineyard hospital for the past decade. Interim CEO Timothy Walsh and the hospital's chief medical officer, Dr. Pieter Pil are also among the trustees.
Questions about board governance, community relations and the relationship of the Island's only hospital to its parent company have come quickly to the fore since the sudden firing of Mr. Woodin early this month after just 13 months on the job.
"Are we a community hospital? Are we a rural hospital? There was a lot of discussion about that," said Alan Brigish, a West Tisbury resident who hosted a meeting of the citizens group at his home Tuesday night
Speaking to the Gazette on Wednesday, Mr. Sweet said Partners played a role in the ouster of the CEO. "When it comes to this big a decision, part of what's involved in being an affiliate is that both Partners and the Island board must agree that it's the right thing to do. In this case we were shoulder to shoulder . . . the board wasn't alone, this was a joint decision." He continued: "Until this happened, I think everyone forgot we are part of a bigger institution . . . . and in many ways this is an assurance that you have neither the CEO or a board that is going rogue or running roughshod over the hospital."
At the urging of the citizens group, Mr. Sweet said trustees have agreed to form a community advisory board and to add a person from the Island community to the hospital governance committee. He also said trustees have decided to hire an outside consultant to review hospital governance practices. No time frame has been set for the changes.
"We are working on it," Mr. Sweet said. "Part of the [Saturday board] meeting was a reflection back on the process . . . . and we thought this particular process didn't go very well and that we should take advantage of the opportunity to reach out and have someone look over our governance," he added.
Experts in board governance interviewed by the Gazette cited term limits for board members as one important practice for keeping boards fresh and responsive to their constituencies.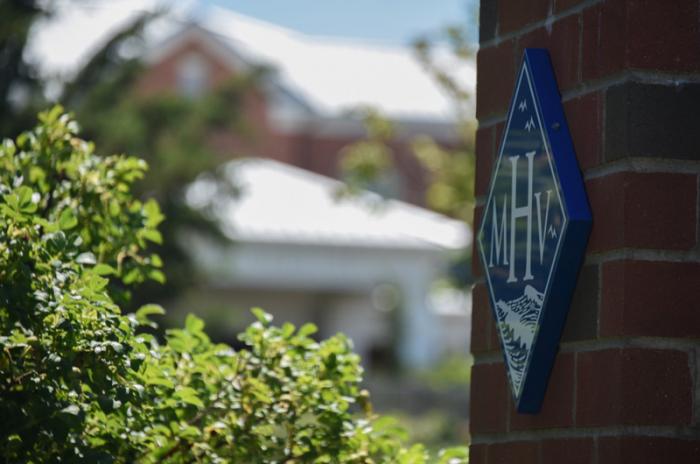 "Term limits establish a minimal level of board revitalization and they ensure that organizations are bringing in new approaches and perspectives into the board room," said Anne Wallestad, president and chief executive officer of BoardSource, a national nonprofit focused on building the effectiveness of nonprofit boards.
Leadership of the Martha's Vineyard Hospital board of trustees has seen little turnover through the years, and a longstanding practice of having no term limits for officers on the board is being changed gradually, the result of a recent bylaw change.
The current chairman, Mr. Sweet, has been on the board for 20 years and has been chairman since 2010. Vice chairman Edward Miller has been on the board for 13 years. Treasurer Earle (Sandy) Ray has been on the board for 20 years. And secretary Mary (Polly) Brown has been on the board for 14 years. Under the bylaw change, the current officers will reach their new term limits in a staggered fashion starting with the secretary and ending with the chairman, who could stay on until 2021.
By comparison, Nantucket Cottage Hospital and Cooley Dickinson Hospital in Northampton, two MGH sister affiliates in the Partners network, have changed chairmen every two to four years.
According to BoardSource, 71 per cent of nonprofit boards have term limits for board members, with the most common being two consecutive three-year terms.
As for the relationship between boards and CEOs, while not commenting on the current situation, Ms. Wallestad said clear communication is essential to avoid mixed messages.
"To me there is a responsibility for the board to be engaged and supportive of an executive . . . and there's a special responsibility with a new executive," she said. "It starts with defining what success really looks like. And that is often where the wheels can really come off if there is not clarity, confidence and support from the board. Change is always hard and if a board doesn't back a new executive up, suddenly that executive can find the plug pulled."
More pointedly, Dan Salera, principal of Salera Consulting in Boston which works with nonprofits on strategic planning and governance, said the current controversy over Mr. Woodin's ouster could be a red flag for the hospital.
"After a year if he's unfit, the question is what was the board doing over the last year?" he said. "There's a question of the board's fiduciary responsibility in not doing anything for a year. If it wasn't the right fit, then why did they allow someone to be a CEO for a full year?" He continued:
"There should have been milestones. There should have been some calendar check in. Generally it's every three months for the first year. It can be an informal conversation but it's often around the same three or four questions : how's it going with the staff, the stakeholders, what surprises have you encountered and what have you done about those? There must have been warning signs at six months and what were they doing to either coach him or begin moving to terminate him?"
Mr. Sweet said two planned changes on the board of trustees will take effect in July if approved by Partners. Dr. O'Neill Britton, chief medical officer and senior vice president at MGH, and Bill Roman, manager of the Edgartown Yacht Club, will join the board.
Mr. Sweet said Dr. Britton will replace Brent Henry, general counsel for MGH and a Partners appointee on the board. Mr. Roman was recruited by the hospital governance committee to replace Warren Spector, a longtime Chilmark summer resident, he said. Mr. Roman lives year-round in West Tisbury.
The names of the new trustees were posted prematurely this week on the hospital website. Mr. Sweet expressed chagrin at the error.
"That will be my first call after we finish," he told the Gazette. The next day the website had been changed to reflect the old list of trustees.
•
Hospital Conflicts Are Disclosed
In addition to federal Internal Revenue Service reporting requirements, nonprofit organizations in Massachusetts that take in more than $5,000 in revenue are required to file an annual 24-question form with the state Attorney General's Office. Among other things, the form requires the organization to disclose what are termed related party transactions.
In the most recent available filing, the Martha's Vineyard Hospital reported the following relationships between board members and key employees for the year ending Sept. 30, 2015:
• Edward Olivier, chief financial officer, has a family member identified as C. Olivier who provided services to the hospital equaling $108,000 in fiscal year 2015.
• Dr. Pieter Pil, chief of medicine and a trustee, is married to another physician at the hospital. Dr. Karen Casper, listed at the time as the head of the hospital's emergency room, was paid $280,854. Dr. Pil, not the highest paid physician, had a total compensation package worth $557,321, according to public documents.
• Earle Ray, the longstanding board treasurer, has a family member identified as J. Ray who is a hospital employee who was paid $56,553 in fiscal year 2015.
• Tim Sweet, the board chairman, is married to Rachel Vanderhoop, the director of development, who was paid $158,497 in fiscal year 2015.
• Dr. Jeffrey Zack leased space to the hospital in 2015 for which he received rent totaling $26,600.
The filing notes that Partners Healthcare System Inc., the hospital's parent organization, has a conflict of interest policy designed to identify relationships that may create conflicts, establish a system for disclosing and resolving any conflicts and ensure that transactions "are negotiated at arms length and that payments are at fair market value."
"Under our policy, when a conflict arises, the individual associated with the outside entity in question must provide full disclosure and completely recuse him/herself from any institutional decision-making about the transaction," the filing said in part.