It was a typical summer scene this week at the Edgartown transfer station, where a steady flow of visitors emptied their recycling bins and tossed trash bags through an opening in a large metal building.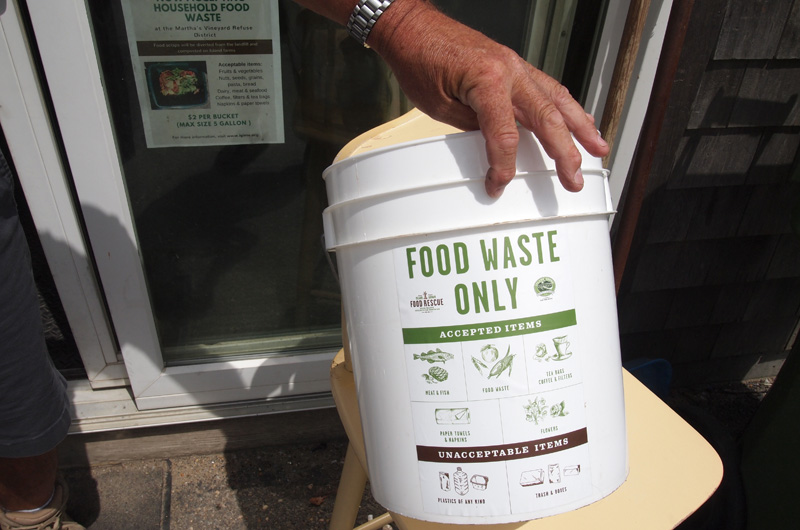 Next to a side door in the trash-separation building stood two 32-gallon bins for composting food waste — the latest offering in the Martha's Vineyard Refuse District, which serves Edgartown, West Tisbury, Chilmark and Aquinnah.
Hardly noticeable at the sprawling transfer station off Edgartown-West Tisbury Road, the bins mark a first step in carrying out the recommendations of a yearlong study of food waste on the Island that ended in May. The bins also represent the Island's first municipal composting program.
District manager Don Hatch lifted one of the lids to reveal a small pile of greens, rice and paper towels inside. He said the pilot program started last Tuesday and has seen about two customers so far. But he expected things to change as words gets around about the program, and with the addition of a larger sign above the bins.
The four district towns and the transfer station have received funding from the state Department of Environmental Protection for the bins and signs, along with five-gallon buckets that residents can pick up for free at the transfer station. Mr. Hatch said an initial 30 buckets has dwindled to about eight since last Tuesday.
"They went like hotcakes this week," he said, anticipating another delivery. "I would say the program is going to pick up really quickly."
Island Grown Initiative, which is running the program (along with a commercial composting program called Island Food Rescue that developed out of the study), will charge the district a monthly fee for labor and transportation.
Sophie Abrams, who led the yearlong food-waste study and is now managing the composting programs through IGI, said the goal for the newest one is to provide service at the transfer stations in up-Island towns, which have funding for signs and containers, but not staffing. The Edgartown program is funded partly by a $2 fee for each five-gallon bucket of food waste.
Oak Bluffs and Tisbury, which have their own refuse district, are not part of the current pilot, although Ms. Abrams said they could easily follow suit. In addition to reporting requirements, she said, towns must develop a buy-recycled program in order to apply for the state grant.
Compostable items accepted at the Edgartown site include fruits and vegetables, nuts, seeds, grains, bread, dairy, meat and seafood. Paper filters, napkins and towels are also allowed.
The bins will be picked up twice a week and brought to Morning Glory Farm in Edgartown and another farm in Oak Bluffs to be composted. "If they get too stinky we're going to throw some leaves on it or get some wood chips," Mr. Hatch said. "But if they come twice a week it shouldn't be a problem."
Ms. Abrams said the twice-weekly pickup schedule was modeled after towns on the Cape that have similar programs, but she said the schedule and the number of bins could be adjusted to accommodate for demand.
Most food waste on the Island is hauled away for incineration on the mainland. The study estimated that processing all the food waste on-Island could save $286,000 per year. The study singled out two strategies: centralized, in-vessel composting, and an extrusion process that produces animal feed. Ms. Abrams said the pilot in Edgartown is one step in that direction.
"We are hoping that things will go well and we will be able to just keep expanding it," she said. "I would say we are going to definitely try it for at least six months to a year and see how it goes."
Meanwhile, as the refuse district embarks on a major expansion of its central transfer station, Mr. Hatch said in the near future there could be space for a municipal in-vessel composter. "We do have a preliminary design that could work, but that's going to be another investment on top of the expansion," he said. "So if this goes well, that will justify maybe working towards that in another year or two."
All four member towns gave approval this year for the $2.5 million expansion project.
As of this week, only two Island farms were registered to accept food waste. Mr. Hatch said IGI is working to get more farms on board.
He also highlighted the importance of monitoring the bins to avoid contamination. "If one person dumps something bad in there, we are going to throw away the whole toter," he said. "It's going to ruin other people's efforts."
If the program gets off the ground, he said, transportation could potentially be handed off to the Island's commercial trash haulers, Bruno's Rolloff Inc. and ABC Disposal Service Inc. But he added that either scenario would require a user fee.
"It's not much yet," Mr. Hatch said of the pilot program as he stood outside a small shed and greeted visitors in their cars. "But at least if we get a good sign made up, we'll start to get residents interested. Hopefully it grows from there."