On a recent evening at the Tisbury Amphitheatre no curtain was raised and no lights came up. Instead, leaves rustled and dappled light shined through the trees as the cast of Julius Caesar marched down from the woods.
The classic Shakespearean play tells the story of the fall of the Roman General in first century BC and the chaos that ensued. The show features rebellion, betrayal, assassination, blood, a haunting, the fall of democracy and the power of brotherhood. And in this case, every role is played by a woman.
William Shakespeare's work is said to have been so influential to society that in some respects he invented being human. Some 37 plays and 154 sonnets are attributed to him. So why did director Brooke Harman Ditchfield choose this one?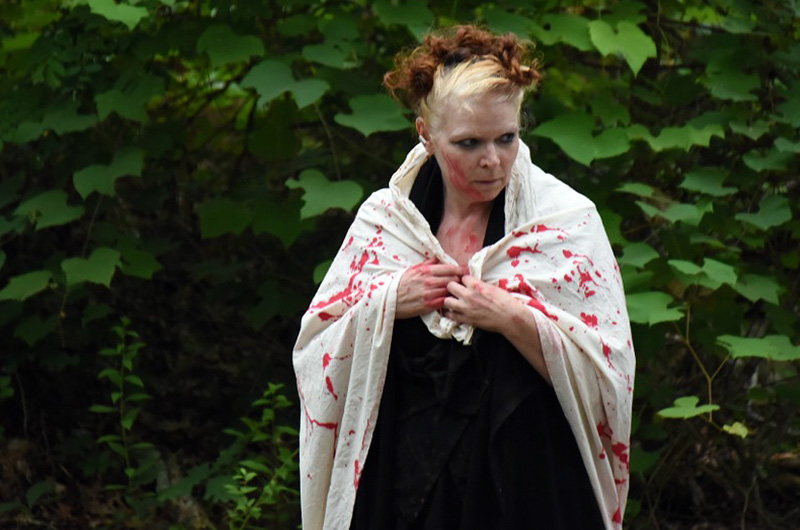 "I was angry," she said.
Ms. Hardman Ditchfield doesn't always make decisions based on anger. Some, like her decision to move to Chicago after college, are based on love. She met her husband Brian Ditchfield at Boston University when they were both undergraduates. When Mr. Ditchfield, now managing director of the Martha's Vineyard Film Festival, moved to Chicago to pursue his interest in theatre, she moved there as well. When the couple decided to move to the Vineyard, that decision was based on love too — the love of a community that allowed them to have careers in theatre and film.
Ms. Hardman Ditchfield's love of Shakespeare has been with her all along. She is a member of the Actor's Shakespeare Project in Boston. Her first show on the Vineyard was Shakespeare's Henry IV performed at the amphitheater 23 years ago. She is also part of Shakespeare for the Masses, a group that performs dramatic, abridged readings of Shakespeare's works after just one day of rehearsals. Last year, she performed Shakespeare's Much Ado About Nothing at the amphitheater
On Monday, Ms. Hardman Ditchfield bustled into an Edgartown coffee shop, shaking rain out of her curly hair. The show was in full swing, with eight performances complete of a 20-show run. That morning, her daughter Isla had tried to get her to stay home. The four-year-old had strep throat and two ear infections from swimming in the ocean.
"It's like summer just wound up and bam, got her in the face," Ms. Hardman Ditchfield said. Her daughter is also one of the play's youngest fans.
"She happened to come to the one rehearsal where we were staging Caesar's assassination. And I said this is what happens when you don't use your words and you resort to violence. It's a good human lesson."
The lessons of Julius Caesar are also appropriate for adults. Ms. Hardman Ditchfield chose the play specifically for the inherent themes of violence and its consequences. "This is going back to everything that happened in the campaign last year and with our now-president and what he said about women."
She felt frustrated but didn't know what to do with the feeling. "I had a hard time accepting it as a reality and that it was normalized made me really angry. I don't operate from a place of anger. But I thought, what's a play where people are angry?"
Ms. Hardman Ditchfield made a list of plays where the actors got to express plenty of anger and indignation on stage. Julius Caesar seemed like the right metaphor. "There's so much nonsensical violence and poorly thought-out plans and reacting instead of thinking it through."
She sees Julius Caesar as a cautionary tale. She was also inspired by the Donmar Theatre in London's all-female cast set inside a women's penitentiary. But her characters are not female versions of the storied men. Ms. Hardman Ditchfield said she wanted to allow female actors to express strong feelings, but didn't want it to become a parody of impersonation.
After a performance, some audience members told Ms. Hardman Ditchfield that they stopped seeing the gender of the actor or of the character. "They just saw Brutus, they saw Cassius, they saw Caesar and they just saw them making the decisions they make, and having the conversations they have and acting in a human way."
She was pleased with this take. "We get angry, we get frustrated, we want to act out, we want to just react sometimes. It doesn't matter if you're female or male. Just, as a human being, how are you participating in this society and what are you doing about it?"
The play itself deals with these questions in a stripped-down way. In the cast of eight, stage veterans and novices come together. Costumes are simple and the set is the natural environment.
"You could never create a lighting effect that would be as beautiful as the natural light at 5:30 in the evening as the sun sets over Tashmoo." She wanted to keep the production simple to let the story shine through. "It's like when you have good ingredients. You don't need much, a little salt, a little pepper."
At a recent show, Shelagh Hackett delivered a confident performance as Caesar. The assassination of Caesar drew gasps from the audience. Her presence, like the doomed politician's, was taken from the crowd too soon. When her lifeless body was dragged up a path, an eerie trail in the dirt remained for the rest of the show. Anna Yukevich plays Marc Antony, joining the production only a week before the show went up. Her rage after Caesar's death is powerful and unbridled. Alley Ellis, who plays Casca and other supporting roles, spoke the iambic pentameter as naturally as a casual chat.
Four-year-old Isla enjoyed the entire show, sometimes whispering about who might get killed next, showing that the stories ring true now for all ages as clearly as they ever have.
"It's not a coincidence that Julius Caesar is on the season announcements for the theatres of America next year," Ms. Hardman Ditchfield. "It's a cautionary tale. I think it was Oskar Eustis in one of his Julius Caesar productions at The Public. He said when you use undemocratic means to deal with things you don't like about your democracy, you cease to participate in a democracy."
"This is history. Let's learn from it."
Julius Caesar is performed at the Tisbury Amphitheatre by the Tashmoo Overlook at 5 p.m. on Wednesdays through Saturdays through August 12. Tickets are available at the door, cash only: adults/$20, Juniors(under 30)/$10. Visit mvplayhouse.org for more information.