As wind farm developers begin to jockey in earnest to build projects in waters off the Vineyard, a new round of surveys related to a turbine project south of the Island is set to begin this week.
Research vessels operating out of Vineyard Haven and New Bedford will conduct the surveys.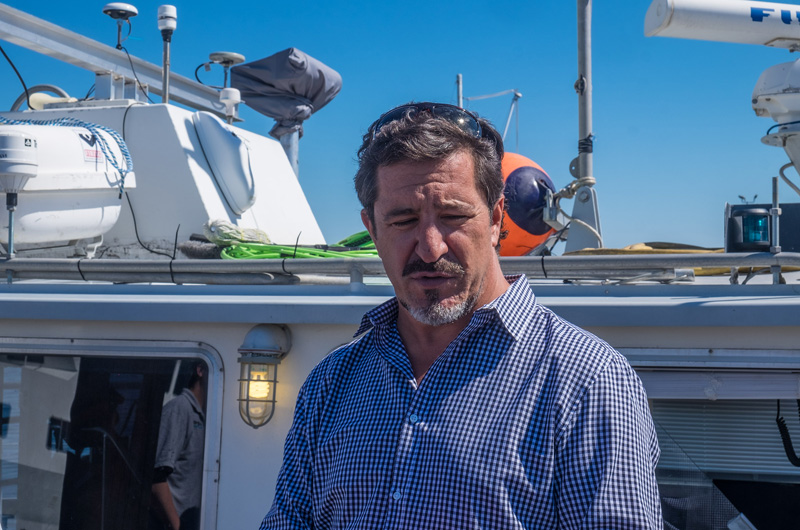 Project leaders for Vineyard Wind, town selectmen and others gathered at the Tisbury Wharf on Monday for a tour of the vessel Henry Hudson, whose crew will spend the next month or so collecting data to help determine a route for the electric cables running between the wind farm and the mainland.
"This is a really exciting time for us because we are actually starting to see work being done in Vineyard Haven," said Richard Andre, president of Vineyard Power, the Island energy cooperative that has partnered with OffshoreMW to develop the wind farm beginning about 14 miles south of the Vineyard. Mr. Andre said crew members will all be living on the Island. "Maybe this is a sign of what's to come in the future, with more economic activity," he said.
The survey covers an area including Muskeget Channel east of Chappaquiddick, and a potential route that goes across Nantucket. The cables would land somewhere around Hyannis, although the exact route and landing site are still undetermined.
Vineyard Wind chief executive officer Erich Stephens, who also attended the boat tour on Monday, said the plan calls for the cable to terminate either at the Barnstable or West Barnstable substation.
He said the potential route over Nantucket was considered partly as an alternative to the shorter route along Muskeget Channel, an area well known for its fast currents and shifting sand. But Nantucket has also appealed for help in light of the limited capacity of its own cables to the mainland.
The Henry Hudson crew will collect geophysical data related to water depth and sea floor features. The 101-foot research vessel Shearwater out of New Bedford, will follow up with geotechnical data, including samples from the bottom. Robert Mecarini, owner of Alpine Ocean Seismic Survey Inc. of New Jersey, which is conducting the surveys, said the Shearwater may also make some appearances in Vineyard Haven, although it would depend on access to fuel and other factors.
"Offshore wind has been a long time coming," he said Monday, as traffic passed on Beach Road and visitors came and went from a cruise ship docked nearby. He said his company has worked on every offshore wind project in the country so far, with the exception of Cape Wind and the recently completed Block Island Wind Farm.
"This is our back yard, so it means a lot to us to be working on this project," he said.
Three wind energy companies in recent years have planted their flags in waters off the Vineyard, including the Danish conglomerate Dong Energy, which is developing a wind farm just west of the Vineyard Wind area, and Deepwater Wind, which developed the Block Island Wind Farm and is working on two other projects near Rhode Island. On Tuesday this week Deepwater Wind announced a new project 12 miles south of the Vineyard. Revolution Wind envisions a utility-scale project coupled with an energy storage system.
It all adds up to brisk activity as developers compete to build their projects in waters off the Vineyard. Among other things, the developers will compete for state-mandated energy contracts with utility companies, with bids due by Dec. 20.
Vineyard Wind developers are hoping a community benefits agreement associated with their project will give them a leg up in the process.
A crew of about six scientists at a time will conduct the geophysical survey, collecting various data about the potential cable routes, including the presence of shipwrecks and other obstructions on the sea floor. Two protected species observers will join the crew and help avoid harmful interactions with marine mammals and other sea life.
Senior project manager Steve MacDonald, who introduced visitors to some of the boat's nearly $1 million worth of equipment, said workers will review the data every morning and adjust the survey area as needed. He added that feedback from community members has helped surveyors avoid important fish habitat in the area.
Mr. Mecarini said the geophysical survey was expected to begin Wednesday, with the boat operating between 7 a.m. and 7 p.m. He said the geotechnical portion would likely get underway next week, once some preliminary data has been collected.