On Tuesday afternoon, dancer and choreographer Abby Bender sat on the steps of Union Chapel in Oak Bluffs, eating french fries out of a paper bag as a drizzle of rain began. The 21st annual Built on Stilts dance festival would open two days later with shows at Union Chapel from August 10 to 12 and 19 to 21. Technical rehearsals were underway and drum beats emanated into the humid air.
Ms. Bender has long been a resident of New York city, but this past fall the festival co-founder moved to the Island full time, to a cottage just outside the Camp Ground. The decision to leave New York came slowly but surely. The dance scene in the city is explosive but cliquey, Ms. Bender said. When she was ready for a more supportive community, she was ready for the Island. And every year at Built on Stilts, the community support she wanted is palpable.
Regardless of style, level of expertise or age, all groups, troupes and individuals are welcome to perform at Built on Stilts. Beginning with the rehearsals and continuing through each show, the communal spirit brings everyone together.
"People just hold each other," Ms. Bender said.
In 21 years, she has only had to censor two acts, and even those were just suggestions. "Maybe don't mime shooting a gun to that sound effect," Ms. Bender remembers saying.
Since the festival is free to attend, the event draws a family-centered crowd.
For Ms. Bender, the free admission is symbolic of what's best about the festival. There is no pressure to stay for the whole show. Attendees may have all six nights of the festival marked on their calendar in advance or they may encounter it by chance. People hear the music coming from Union Chapel and wander in, Ms. Bender said.
While the festival was originally co-founded by Anna Luckey in 1997, Ms. Bender has since taken on nearly all of the work of putting the event together. And she has the routine down by heart. She knows where to stash the church's cross during the festival and she picks up any litter from the yard. "This is our home, so we take care of it," Ms. Bender said. "I can't imagine having it anywhere else."
"It's my yearly dose of human goodness," she added. "We all need it, especially in late August."
Built on Stilts is funded partially by the 30 dollar-per-group fee to participate, a grant from the MV Cultural Council which Ms. Bender applies for every year, and by small donations at the door. Even with all the work involved, Ms. Bender isn't surprised that the festival has continued for over two decades and doesn't foresee its end. "I'm very loyal to the things I love," she said.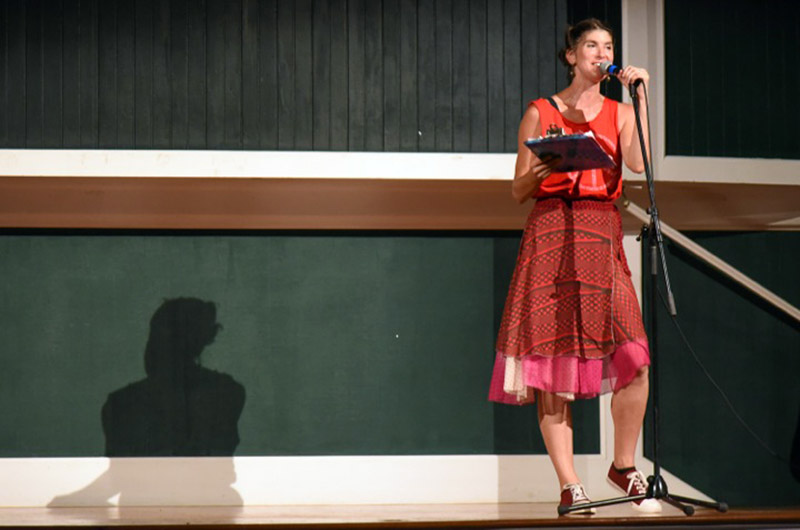 And so are many of the people who have been a part of the festival since day one. Scott Allen Hershowitz has led the drum circle that warms up the crowd and the dancers each night since the very first year. The musician and manager of Mocha Mott's holds his own drum circle in West Tisbury in the winter. At the Built on Stilts jam he focuses mainly on keeping everyone on beat.
For Mr. Hershowitz the festival is fulfilling in many ways. "It's art and it's free and it's summertime. I love being a part of that," he said.
He even has the event's logo tattooed on his wrist. "I'm not a religious person really at all, but any place of worship is a beautiful building no matter where it is in the world," he said. Union Chapel is an octagonal, non-sectarian worship space built in 1870. "So the building is gorgeous."
Inside the chapel on Tuesday, choreographer Jessica Francis rehearsed with her troupe of young women. Ms. Francis has performed in the festival for the past 17 years, since she was 11 years old.
"Shoulder, shoulder, down. It's okay to make that face," she said, letting her jaw fall slack. A pop song called Bellyache started and the dancers locked into place like rows of soldiers and then slid out one by one.
Like, Ms. Bender, Ms. Francis spent time in New York city before coming back to live on the Island full-time. But unlike Ms. Bender, Ms. Francis grew up on the Vineyard. As a young girl she trained under Kelly Peters and later assisted the hip hop choreographer for many years. In New York, her style caught the eye of dancer Cary Nokey. Together, the pair embarked on a three-month tour, opening for RuPaul's Drag Race and performing in every state in the country.
"I just needed a break," Ms. Francis said of her decision to return to the Island. Although the pace of her teaching schedule is still full of dance and yoga classes, Ms. Francis found the community she needed. Her life in New York gave her a work ethic, but the support of the Vineyard community keeps her happy. "I wanted to come home," she said.
At Built on Stilts, homecomings and reunions will be plentiful, including Ms. Francis and Mr. Peters, who will also be performing.
At the rehearsal on Tuesday, the young dancers took a water break, while Ms. Francis looked on. In New York, students can take classes anywhere, at any time, she said. "Here people are so thankful, and think, I get to learn this."
The dancers re-assembled, took their places and the song began again.
"Now I'm watching my kids grow and pursue their dreams as well," Ms. Francis said. "I'm here for the long haul."
Built on Stilts performances are at Union Chapel, 55 Narragansett avenue, Oak Bluffs on August 10 through 12 and August 19 to 21. No two shows are the same and feature various performances. All shows are free and begin at 8 p.m., with a drum cicle beginning at 7:30 p.m. when the doors open.