After a summer of delays, painting got underway at the Island Theatre early Wednesday morning.
At their meeting Tuesday night the Oak Bluffs selectmen agreed to close the sidewalk around the theatre beginning at 6 a.m. Wednesday so workers can paint the exterior of the building.
Emergency repairs inside the crumbling theatre owned by the Benjamin Hall family were completed in June, following a lawsuit by the town. But a contractor hired to do the painting never showed up. A new painting team arrived early Wednesday and were due to complete the work the same day.
"I know we are very interested in getting that painted," town highway superintendent Richard Combra told the selectmen. "I just think it's going to be a nightmare." He predicted the sidewalk closure would draw some heat from the town business association.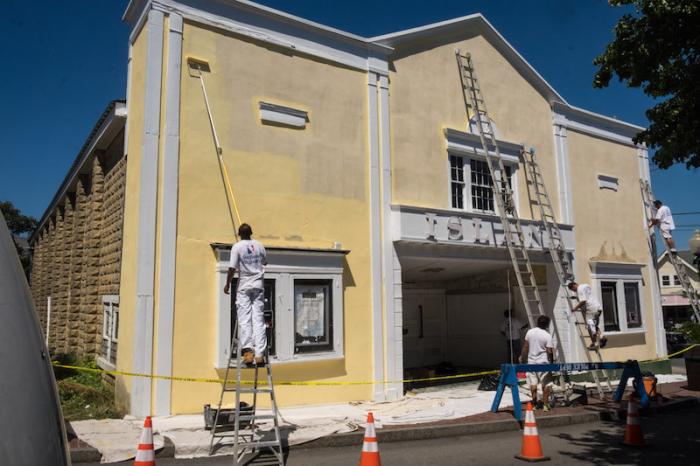 But selectman Kathy Burton said a closed-door session with town counsel Ronald Rappaport immediately preceding the selectmen's meeting had convinced the board there was no alternative. "If we had an alternative, I assure you we would choose it," she said. "We don't really have a choice here."
The long-vacant theatre has caused frustration and anxiety in town, in light of its dilapidated appearance, and independent reports warning that the building is in danger of collapsing in high winds. Voters at the annual town meeting in April refused to spend $200,000 for the interior repairs, with many seeking a more comprehensive plan for the property. The town later sued the Hall family, which owns the building, to make it safe.
"It's as absurd as it possibly could be that we are closing the sidewalk on August 8, when they could have painted this building in April," Mr. Combra said Tuesday.
"We completely agree with you," Ms. Burton said.
The selectmen voted unanimously to allow part of the sidewalk to be closed on Wednesday, with a police detail assigned to the area.
Ms. Burton said the painters planned to arrive on the 6 a.m. ferry and depart on the last boat to the mainland.
At 7:30 a.m. ladders were up and painters were on the job.