Sgt. Timothy Stobie's last shift wasn't very eventful. He didn't arrest anybody. He didn't ride the motorcycle. After walking down Main street and a couple quick patrols of town, he spent a portion of the afternoon figuring out how to clean out his desk.
It was a quiet end to over three decades of service on the Tisbury police department. Mr. Stobie retired at the end of July, after nearly 35 years as a Tisbury police officer.
When asked about joining the force, Mr. Stobie, soon to be 63, blames his mother.
"It was my mother's fault," he said. "When I was an older teenager driving around here in the summers, I would always complain because people wouldn't use their turn signals, and this, that and the other thing, and my mother says, 'why don't you become a cop?'"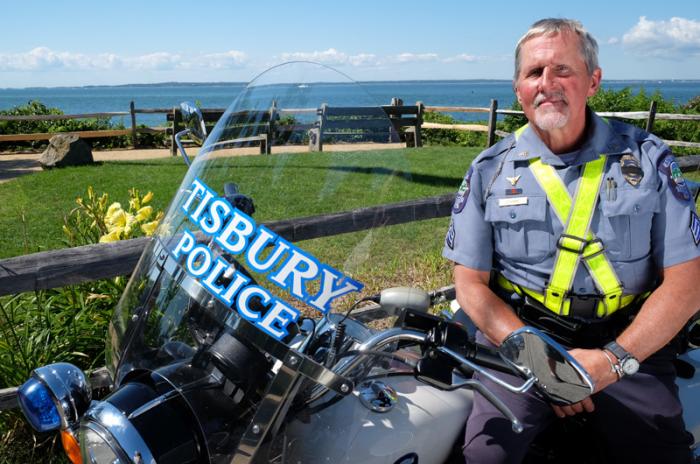 So he did. The winter of 1978 and the summer of 1979, he served as a special police officer for Tisbury.
"Making a whopping three dollars and sixty cents an hour," he said with a chuckle. He joined the force full time in 1980.
Being a community police officer means being a part of the community, he said. "You know a lot of people in the town and on the Island because you've been here so long, but everybody knows who you are, which is good in a way," he said.
But it wasn't his first job on the Vineyard where everyone knew his name. His first job was as a ring boy at the Flying Horses, when he was 12 years old.
"Everybody knew me because my boss would call 'alright Tim, drop the ring, Tim drop it in, Tim drop it in,' so everybody knew my name," he said.
He worked as a ring boy for five years before retiring that post. He also spent a short stint in the Navy, serving for a little over a year. When he returned to the Island, he scalloped and cut firewood before becoming a police officer.
Patrolling the Vineyard comes with some perks. After Mr. Stobie went through his 40-hour training course, his class was waiting to receive certificates at the court house. Someone ran into John Belushi on the streets of Edgartown and asked if he would be willing to hand out their certificates.
"I have mine with his autograph on it," Mr. Stobie said.
The job comes with a lot of variety, from creating good will by waving to kids from the police motorcycle (Mr. Stobie's favorite assignment), to patrolling the streets and responding to accidents. It is especially difficult when officers are called to a fatal situation involving a person they know. Mr. Stobie recalled a time when there were four overdose deaths in one week in town. He didn't have to respond to the calls, but he knew three of the four people.
Other times he was able to save a life. One time a man who used to be Mr. Stobie's neighbor went into cardiac arrest. Mr. Stobie was the first on the scene and started to perform CPR. The man survived. A couple of days later, Mr. Stobie was at the hospital for an unrelated reason and the man walked towards him calling out, "'Hey, you . . . , you broke my ribs . . . but I love you anyway' And he came over and gave me a big hug," Mr. Stobie recalled.
Though he has never worked for another department, there was a time when Mr. Stobie took a break from being an officer. He'd just had his first son, and didn't want his child growing up with an entitled attitude toward law breaking because his dad was a cop. There was also a feeling in the department that the selectmen were micromanaging the police force.
"We had morale issues back in '86," he said. So he left for a few years, working as a builder and then at the Edgartown Post Office.
"I got tired of being inside so I went back to the police department," he said. "I was getting bored, that's for sure."
Back on the force, he got back on the bike. In 2006, he was promoted from patrolman to acting chief for a few months following the resignation of Chief Theodore (Ted) Saulnier. Mr. Stobie didn't have the formal education the position required, and he wasn't a high ranking officer at the time, but it was said he was appointed due to the respect he had from his peers. A couple of years later, he was promoted to sergeant.
Though not a native Islander (he grew up in Buffalo, N.Y., and later moved to New Jersey) Mr. Stobie has been coming to the Vineyard since 1962 when his parents began vacationing here. His mother purchased the Nashua House in Oak Bluffs. His four sons were born here. Two are now working for police departments. His eldest son, Jared is working for the Dennis police department. His third son, Noah, is serving as a special police officer on the Tisbury force. They didn't often have shifts together but when they did they would be on opposite sides of town.
His sons going into law enforcement surprises him.
"I never thought they would, I've been complaining about it my whole life," he said. "There are good things and there are bad things. You can't complain about the good things, so you complain about the bad things."
But even if he complained, Mr. Stobie said the job was an enjoyable one.
"I got paid to ride a Harley-Davidson on Martha's Vineyard, not a lot of people can say that," he said.