The Chilmark Community Center was a sea of skinny runners fitting themselves into large plastic garbage bags about 9:30 a.m. Saturday morning, as they prepared for a soggy 40th running of the Chilmark road race.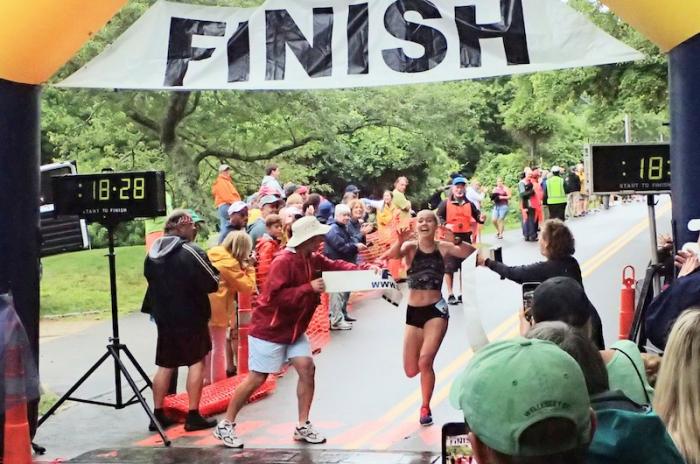 "It's going to be awesome, it's going to be wet," said Molly Zaynore, surrounded by her garbage bag clad children. "All three of the kids are running for the first time."
Their running motivation? Dad stationed the family puppy right at the finish line.
Alec MacMaster, 55, of Marblehead was trying to take a picture with his extended family, about 20 people all wearing matching purple Team MacMaster T-shirts that said, "You push me, I'll push you." Members of the team have run in every Chilmark Road Race for the last 30 years. As dark skies teamed with rain outside, Mr. MacMaster was looking on the bright side.
"We love it, it's perfect." he said. "We won't have to take showers after."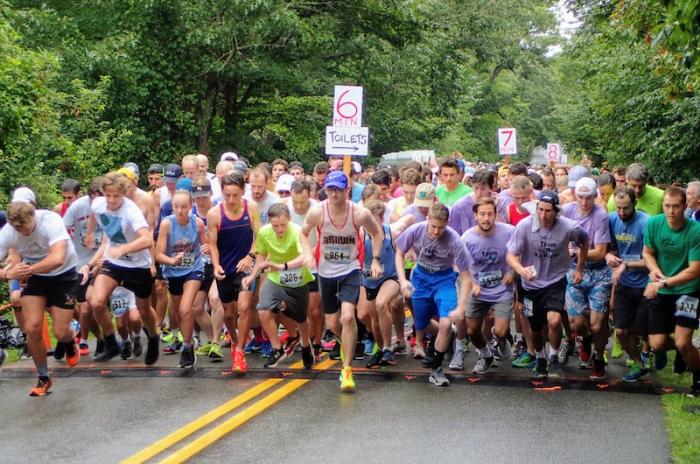 The family has a range of running skills.
"A few of the younger kids are pretty competitive,: Mr. MacMaster said. "The rest of us do it for fun. I used to be fast. Age has affected me."
The field of 1,600 registered runners —according to online results, about 1,150 registered runners ran the race — was already pretty well soaked as they waited in line for buses to transport them to the starting line on Middle Road. But in a miraculous bit of timing, the raindrops stopped just minutes before the start of the race.
Fastest of all on the day was Benjamin Bosworth. The 22-year-old runner from Dorchester Center finished the hilly 3.1 mile course in 16:20.67. Mr. Bosworth's previous best finish was second, in the 2015 race.
In the women's division, Sheridan Wilbur, 20, of North Kingstown, R.I., was the winner in a time of 18:25.25. Ms. Wilbur has won the women's division the last four years in a row.
The first place finishers were each awarded an enormous lobster.
In the youngest division, for kids eight or younger, Theo Kunkel, 8, of Chilmark was best in the boys' division with a final time of 26:12.35. Declan McCormack of West Tisbury ran a notable second at the age of four.
Zoe Laferriere, 8, of Southport, Conn., won the girls' eight or under division in 28:38.38.
On the other end of the age spectrum, Jesse Aweida of Chilmark prevailed in the mens' 80 or older division, finishing in 33:39.63. Mr. Aweida is 86.
Rosemary Clough of Hollis, N.H. won the womens' 80 or older division in 46:35.04. Ms. Clough is 80.
Complete race results are available online.
Read more about road race history.