Negotiations between the regional high school district committee and a group that wants to upgrade and maintain the school playing fields have been fraught with disagreement since June, with key terms of a contract still hanging as of this week.
The disagreements center on a draft licensing agreement between the high school and the Field Fund Inc., a community group that formed this spring to pursue a grass alternative to a plan for artificial turf fields at the school.
Members of the Field Fund this week appeared to be on the verge of pulling out of the agreement altogether. In a letter to superintendent of schools Matthew D'Andrea on Tuesday, they said they would terminate negotiations with the district.
"Thank you for the opportunity to try to make the MVRHS project happen, but we are not able to continue to expend the time and legal costs to make the project successful on mutually acceptable terms," the letter said in part. "You have rejected all of our proposals — offering no reasonable counterproposals — so we will turn our attention, focus and efforts to other areas. All previous offers, proposals or understandings of The Field Fund, Inc. are hereby revoked and withdrawn."
But representatives for both groups later said they were still willing to compromise.
"If the school comes to us with something that they can guarantee that they are behind and their attorneys are behind, we might consider it," Field Fund member Mollie Doyle told the Gazette after the letter was sent on Tuesday.
Mr. D'Andrea said Tuesday that the letter had not come as a surprise. "People have been frustrated all along," he said, adding: "I did speak to [the Field Fund] today, and they said that the door is not completely closed."
The grass fields proposal unveiled in May superseded a controversial plan by MV@Play, another community group, to replace the high school fields with artificial turf, beginning with a track and infield that are currently unsuitable for competition.
The new plan aims to update and maintain 17 playing fields across the Island, at cost of about $6 million, including about $2 million for the new track and $350,000 for a new grass infield and irrigation system. Early on, Mr. D'Andrea said he expected a new contract to be completed in two to four weeks.
And Field Fund member Rebekah Thomson said an initial meeting with attorneys in June left the group feeling optimistic about the project.
"We felt that was a very positive meeting," she said this week. "But since then, almost weekly there were new demands, new requests, new issues that were being raised that had not come up in that preliminary meeting. . . . We thought that if somebody was really trying to get a deal done, [they] wouldn't be conducting themselves like that."
Amid disagreements between attorneys Nancy Campany and Matt Tobin representing the school district, and attorneys John and Jeff Blair representing the Field Fund, Mr. D'Andrea contacted the office of the Attorney General for advice earlier this month, but was turned away. "They said they don't offer legal opinions," Mr. D'Andrea said this week, although he said it was possible that the attorneys may still approach the AG's office on their own.
Both sides say that negotiations have taken much longer than expected, and have become increasingly complicated.
The draft licensing agreement relates only to the high school playing fields, including the track and infield, which both sides agree are a priority. Mr. D'Andrea said a licensing agreement by definition allows the school to pull out anytime and without cause. But that has been a major sticking point for the Field Fund, because private donors have expressed concern about supporting a project that might not last.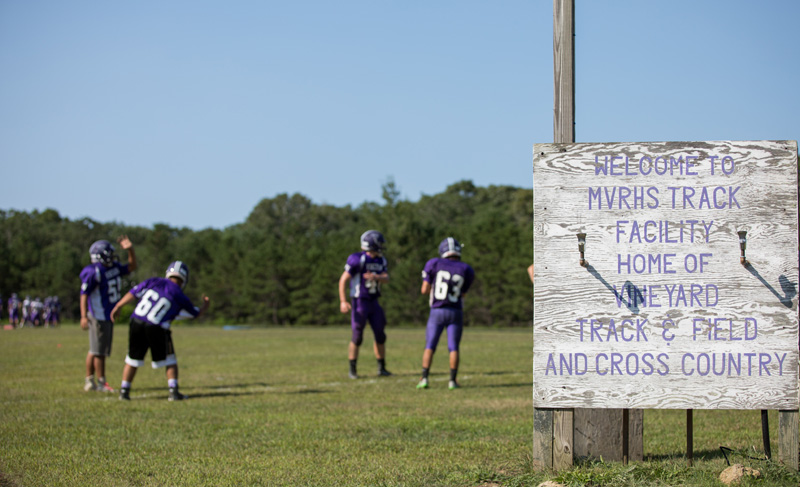 Trying to meet the Field Fund halfway, the school committee has adopted a policy that states it will maintain grass fields (rather than artificial turf) for at least 10 years. But Mr. D'Andrea said placing conditions on the revocability clause is not possible.
The school district has other licensing agreements with the Martha's Vineyard Sharks baseball team and the Martha's Vineyard Skatepark, both of which involve high school property. The Field Fund agreement is different, in part because it entails building new facilities for the school to maintain.
Mr. D'Andrea said a licensing agreement with MV@Play was the starting point for the Field Fund agreement, with some of the same language carrying over to the current draft. Making use of the original revocability clause, the high school committee formally rescinded its agreement with MV@Play this summer in favor of the Field Fund proposal.
Field Fund members questioned using the MV@Play contract as a template, noting that it was cut and pasted from an earlier project involving Gale Associates, an engineering firm that served as designer and general contractor for MV@Play. "They didn't even bother to change the name of the town," Ms. Doyle said of the school attorneys at the time.
The Field Fund agreement has gone through several changes since June, including amendments related to financing, since the Field Fund is not a nonprofit and is using the Permanent Endowment for Martha's Vineyard as a fund to accept donations. Ms. Doyle said Field Fund attorneys have had to rewrite an agreement with the Permanent Endowment (and another agreement related to a landscape architect) several times to accommodate requests by the school attorneys.
Ms. Thomson contrasted the current negotiations and those with MV@Play, whose contract she said the high school committee had approved with little discussion. "This is a totally different standard," she said.
Perhaps the biggest roadblock has been the Field Fund's effort to have the high school commit to grass fields for at least 10 years. Mr. D'Andrea said the school committee does not have the authority to place restrictions on public land, although he has offered to pursue an act of the state legislature to make that possible. "The challenge behind it is that it's a time consuming process," he said, estimating that it would take about a year to complete. The legislature could also require the approval of Island voters.
In its letter this week, Field Fund members said the legislative approach would fall short in terms of creating an all-grass campus. They highlighted instead their efforts to present alternatives to the licensing model, including a $2 million cash gift to the school that could itself be restricted to certain uses. They said school attorneys had failed to speak with them prior to a school committee meeting last week when a list of possible restrictions on a cash gift was discussed.
Mr. D'Andrea said the cash gift proposal fell short because the Field Fund still wanted the school to commit to having grass fields in general, while the gift was only for the track and infield. "The condition can only be on the gift," he said. "A lot of people have struggled to understand that."
A list of 11 restrictions proposed by the Field Fund last week triggered objections by school committee members. The terms seek continued input from the Field Fund over at least 10 years, and a stake in the high school's master plan for the fields. They also specify several contract positions, including Shadley Associates of Lexington as the landscape architect and design team, and Cape and Islands Tennis and Track of Pocasset as the construction company for the new track.
Committee members said they couldn't guarantee who would get the various jobs, and they questioned what was meant by continued "input" from the Field Fund.
And a request for naming rights drew a sharp rebuke from committee member Janet Packer, who stressed the importance of honoring coaches and other members of the school community. Ms. Doyle said this week that the Field Fund shares a similar approach to naming, and is open to negotiating other proposed restrictions on the list. But she said members were not allowed to speak at the meeting.
Ms. Thomson said the meeting seemed like a rejection of the entire cash-gift concept. Echoing the group's letter to Mr. D'Andrea this week, she stressed that it is has become harder for the Field Fund to justify its growing legal expenses.
"There is this ongoing pattern of: We generate an idea, it's well received privately, but then publicly it's bad," she said, looking back over the negotiations. "So we feel like the ball probably needs to be in their court at this point."
Mr. D'Andrea said it was too soon to know how the committee would respond if the Field Fund does in fact pull out of the negotiations, but he remained optimistic that an agreement can still be reached.
In a best-case scenario, he said, the school could have a new track and field by May 2019. "I'm very hopeful that we can figure something out and get it done by then," the superintendent said.