Islander Ted Murphy has a few strategies to deal with summer traffic: he cuts down on visits to the post office and gym, uses his bike a lot, and when he does drive, he circumnavigates most of the known hot spots.
But as the throngs of summer visitors begin to clear, he and other residents are beginning to reemerge and resume their normal routines. On Wednesday morning, Mr. Murphy was back at the Edgartown post office. Checking his mail, he offered a postmortem on summer traffic congestion. "It always seems worse," he said. "It might be like 15 to 20 minutes going to the YMCA through town, but it seems like forever."
If each slog through traffic feels like fresh agony, available numbers from the Steamship Authority, Martha's Vineyard Commission and Vineyard Transit Authority appear to corroborate Mr. Murphy's sentiment: cars and traffic are on the increase in the summer months.
And the Island could at least partly be its own enemy: data from the Registry of Motor Vehicles shows an increase in the number of vehicles registered on the Vineyard.
Almost 23,000 cars and light trucks were registered on Martha's Vineyard in 2016, which equates to about one and a half vehicles per year-round resident. That represented a 12 per cent increase over the previous year, according to figures provided by the Massachusetts Department of Transportation. Car registrations doubled in one year, from 8,177 in 2015 to 16,564 in 2016. But this was partly offset by a sharp decrease in light trucks, from 12,311 in 2015 to 6,353 in 2016.
When trailers, heavy trucks and motorcycles are factored in, the total number of vehicles registered on Martha's Vineyard has changed only marginally from 10 years ago. There were 26,507 vehicles registered in 2006 compared with 27,165 last year, a 2.4 percent increase.
Meanwhile, in the past decade the SSA has seen steady growth in cars carried to and from the Island. The boat line annual report this year shows an upward trend from 2007 to 2016. In 2007, the SSA carried 432,331 vehicles on the Vineyard route. In 2016, the number grew to 496,785.
Car traffic to the Vineyard is also up this year. In the first two weeks of August, the SSA carried 25,675 cars on the Vineyard route, an increase of 2.4 per cent from the previous year. Year to date, the boat line has carried 253,186 vehicles on the Vineyard route, an increase of 1.3 per cent over last year.
Historically, growth in ferry traffic — and capacity on ferries — has been a sticking point for Islanders. In 1997, voters in every Island town passed a nonbinding referendum to restrict cars carried on SSA ferries to 1995 levels. In 2003 the topic surfaced again when the boat line began planning for the replacement of the ferry Islander with the Island Home, a vessel with more carrying capacity (76 cars compared to 50 on the Islander). At the time, general manager Wayne Lamson assured residents that the SSA would remove other vessels from the route to keep carrying capacity the same.
Speaking to the Gazette by phone this week, SSA general manager Bob Davis said this summer the boat line completed 28 round trips per day on the Vineyard route, accommodating up to about 1,400 cars in each direction. He said sometimes add a fifth vessel is added to boost capacity.
Mr. Davis reported "slow, steady growth" of the fleet's capacity and defended the boat line's expanded service as keeping pace with the needs of the Island. "We try to respond to what the demand is," he said. "Clearly the Island has been building out over the years."
Mr. Davis said the SSA has tried to ease traffic problems by spreading more trips between Oak Bluffs and Vineyard Haven and staggering the arrival times of freight boats with the car and passenger ferries.
But despite all mitigation efforts, good traffic for the boat line spells bad traffic on the Island.
Vineyard Transit Authority administrator Angela Grant said the public bus line has been forced to make some changes due to traffic congestion. She said in the past few years, so-called x-buses (spare buses not on the schedule) have gone into regular service. The buses are not necessary to keep up with ridership, she explained — instead, they help the VTA meet its requirements for wait times.
For example, Ms. Grant said this summer, route number 13 bus, running between Edgartown, Oak Bluffs and Vineyard Haven via Beach Road, required seven and sometimes eight buses to meet a 15-minute headway requirement that was formerly accomplished using six buses. Route 1, which stops along Edgartown-Vineyard Haven Road, used to meet its 20-minute headway requirement with three buses — now it takes four or five.
"We're adding service, but the service is just to meet our current posted schedule and headway," Ms. Grant said. "It's not like we're significantly carrying more people during those peak periods of time, because we're just not going anywhere. We're sitting in the same traffic as everybody else." She added that the VTA has also extended its hours of service in order to keep up with the traffic.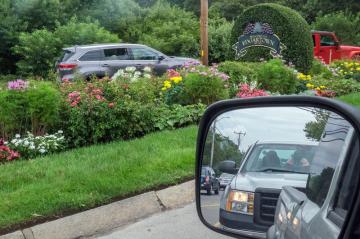 Richard Townes, a longtime VTA driver, described traffic this summer as "Crazy . . . the worst I've seen it for the bus."
Others had differing views on summer traffic. Chilmark summer traffic officer Kevin Burchill wrote in a report that the up-Island town experienced less traffic due to mitigations like the Tabor House Road park and ride lot that services a public shuttle to Menemsha.
But West Tisbury police chief Dan Rossi and Tisbury traffic officer Eloise Boales both said traffic this year has been worse than in summers past. "More than we can control," Ms. Boales said.
Tisbury police chief Dan Hanavan said he guessed this summer was roughly comparable to last year. Edgartown police chief David Rossi agreed. "The bottom line is we're going to be busy in July and August," he said. "It's nothing new."
The Martha's Vineyard Commission tracks traffic using counters installed at various locations across the Island. The counters are rotated on an annual basis, making year-to-year comparison of traffic counts difficult. Dan Doyle, a transportation planner at the commission, said the rotating strategy allows broader coverage across the Island while tracking longitudinal trends.
But counts for two sites — the Edgartown-Vineyard Haven Road at the MSPCA and the Edgartown-West Tisbury Road at Mill Pond — show increases over time. At the Mill Pond location, on July 3, 2006, 8,410 vehicles were counted. On July 3 of this year, 9,736 vehicles were counted at the same location, an increase of nearly 16 per cent.
For the site just above the Triangle in Edgartown, counts show slight increases in consistently heavy traffic. On August 8, 2013, 11,589 vehicles were counted at the location. On August 3, 2016, 11,916 vehicles were counted, an increase of 2.8 per cent.
As if endorsing Mr. Murphy's strategy, the Martha's Vineyard Transportation Plan 2016-2040, released in 2015 by the
MVC, suggests that as state roads reach their capacity, drivers take alternate routes.
Commission executive director Adam Turner confirmed that the Island is seeing increased traffic, particularly during seasonal periods at intersections that are running at capacity.
He said the commission plans to put in permanent count stations to collect more data and determine potential future improvements. He also noted recent improvements, including the Lagoon Pond drawbridge replacement project, and shared use pathways that have enhanced bicycle and pedestrian safety and efficiency.
But Mr. Turner also questioned whether seasonal traffic on the Island necessitates permanent infrastructure changes, such as expanding roads.
"We have to come up with traffic improvements that meet the Island's character," he said.