Last Friday, a group of 14 women, many of them chefs, gathered on a foggy night in Chilmark for a Shabbat dinner. Most arrived dressed in festive bright shawls, sensible shoes, and bearing dishes from Joan Nathan's new cookbook King Solomon's Table. They came together in the spirit of Rosh Hashanah, the Jewish New Year, which begins tonight. Directly translated, it means "the head of the year."
As the women walked into a candle lit stone barn, it was clear that as much as everyone was there to try a few new recipes and eat, they were there for a greater purpose: to be together. With hectic summers of feeding, in some cases hundreds, along with cooking for fall weddings, hosting dinners and guests, these women could finally pause and feed themselves.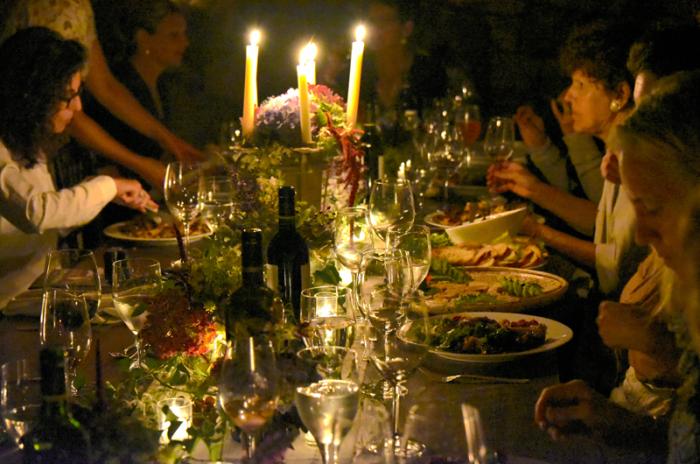 Or, as Laurie David put it, "I love Shabbat because it is about gratitude. Stopping and seeing what it right in front of us. Appreciating each other."
The women gathered in a circle around a small table with candles and a beautiful loaf of challah dotted with sesame and nigella seeds. Prayers were sung. The challah was passed, torn and eaten. "You cover the bread because you don't want it to see that it is the last thing being blessed and feel bad," Joan Nathan explained.
As she pulled a piece off the loaf, Joanne Ashe said, "I always liked the tradition of inviting a stranger to the table for Shabbat. The idea of reaching out into the community as a way of repairing the world."
Suzanne Modigliani joked, "I think I was tonight's stranger."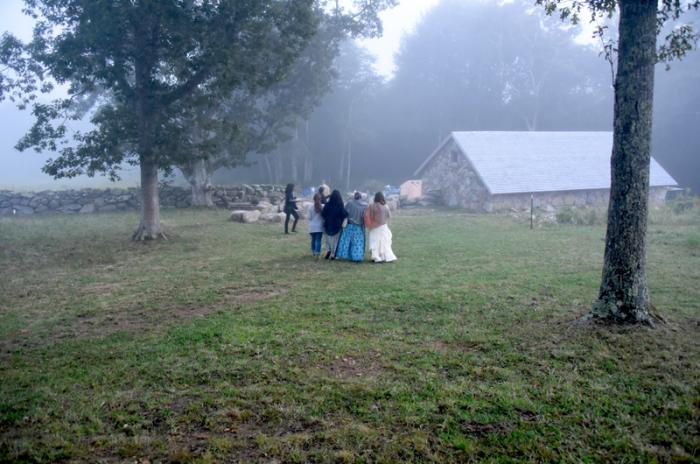 "I agree with Joanne," Molly Glasgow said. "For his community project for his Bar Mitzvah, my son Noah baked challah every week and gave it away to an elder in the community." Then she laughed. "We learned a lot about challah, met some amazing people. And there were some good loaves and really bad loaves."
"Circular things are so important in every religion. Challah, eggs, lentils, bagels — signs of life," Joan Nathan said.
As the group lined up to gather their food, it was noted that the collection of dishes was a portrait of the diaspora. Many countries — France, Syria, Italy, Germany, even parts of India and Africa — were represented. Chef Kirsten Uhrenholdt made a salad inspired by the Seven Species in Deutoronomy 8:8 that featured pomegranate seeds.
Pomegranate seeds are traditionally eaten on the second night of Rosh Hashanah because it is a "new fruit" and because some say there are 613 seeds just like the 613 mitzvot. Mitzvot means commandment. She also made an apple cake, a nod to two Rosh Hashanah traditions: dipping apples in honey to invite sweetness into the new year and honey cake.
The women sat down with their food and got to talking about the first tomato, how they each know each other, chickpeas, how they got started in food, why Jewish food gets such a bad rap, recipes for 6,000 people, spice shops in Washington, D.C., the history of the Cubeb pepper, Jewish food in Cuba, Jewish food in Africa, the fact that, with 700 wives cooking from all over the world, King Solomon might have been the first foodie, Lyme disease, why bread in America often stinks, whose mother cooked and whose did not, public ovens, people's refrigerators as portraits, schmaltz, fruit farms and the irony of the gluten free movement moving us back to chick pea flour, one of the first and most essential foods used thousands of years ago.
Ms. Nathan raised her glass. "Thank you all. This evening means a lot to me." And then she paused to reflect. "You know, so much of Jewish food is about asking the question: what do I make when I have been separated from what I know?"
Jessica Harris nodded. "Yeah, and the answer is everybody's got a different recipe."