The first group of Master's of Education students, who began classes at ACE MV in 2015, will graduate this winter. Twenty teachers from across the Island are enrolled and 16 will receive their master's degrees in December.
Since the 1980s, the adult and community education program has offered continuing education for adults on Island. More recently it has expanded to offer certification courses for various Island professions, and partnered with Fitchburg State University and Cape Cod Community College to offer college credited courses.
"Our new direction is toward working Islanders, basically providing professional development, career opportunities for year-round working Islanders," said Sam Hart, ACE MV executive director. He credited his predecessor Lynn Ditchfield with broadening the definition of adult education on Island.
"She saw that adult education can be more than just night classes, it could be a tool for professional growth."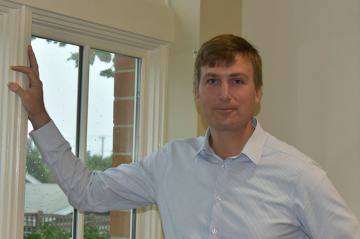 This year, two new healthcare classes will debut, one in Medical Terminology and the other in Pharmacology, both in connection with Fitchburg State University. The courses will be taught by Dr. Lena Prisco with space donated in-kind by the Martha's Vineyard Hospital.
A course sampling fair will be held on Tuesday, Sept. 26, from 5 to 7 p.m. at the regional high school. There are five main "buckets" that ACE MV tries to provide courses in: education, health care, technical training (courses for builders, landscapers, restaurant workers), business and computers, and non-credit arts and language courses. But Mr. Hart said the results of an Island needs assessment done in 2015 helped shaped what the program will offer this year.
The needs assessment revealed that while Islanders over the age of 52 found traditional adult education (Thai cooking classes, conversational French, writing workshops) to be the greatest need, younger adults were searching for professional development and college credits.
He said ACE MV's focus isn't shifting, it is expanding.
"We need nurses, there is a huge need in the community for nurses. We know that having to import health care workers to the Island to provide services is a huge drain on the system financially. And we feel we're in a very good position . . . to begin to develop a program, or as much of a program as we could for nursing and health care professionals."
The two undergraduate courses are worth three credits each and ACE MV hopes to build a program that can offer an associate's degree in nursing or a nursing assistant certification.
Dr. Prisco said she selected medical terminology and pharmacology because they can also be used as professional development for many healthcare jobs, such as CNAs, medical assistants and administrative assistants.
"Those are basic skill sets that would really help them in their job," she said.
But the vision is to create a full healthcare curriculum, utilizing the teaching talent of qualified professionals on the Island.
"There's plenty of us who can teach," said Dr. Prisco. "I'd like to get an established curriculum here and then instead of getting them when they are already in the job, I'd like to reach high school students. Then we don't have to leave the Island . . . I'd like to see us really use the talent we have here." The other side of community education is that the community is teaching as well as learning, Mr. Hart said. "We have a very, very well educated population on the Island," Mr. Hart said. "Students can learn here, but they can also be instructed by people who live here."
ACE MV also plans to bolster its commitment to courses that offer certifications and licenses, Mr. Hart said. Currently on offer are courses for commercial driver's licenses (Class A and B), hoisting licenses, food safety and training, fertilizer application and more.
Mr. Hart grew up on the Island and is personally aware of the challenges of being a young adult on the Vineyard. With professional development and additional licenses and certifications needed in many professions, young professionals can be faced with the burden of either leaving the Island for education or being relegated to online courses.
"This is the greatest community in the world to grow up in and it is the worst community in the world to turn 18, you feel it, you feel the door kind of slamming," he said. "The Island is such lovely place to be and more and more young people are realizing that . . . and we want to be one organization, one of many, to provide a pathway forward, and we're bringing great quality classes here."
Mr. Hart originally approached ACE MV to teach a Russian Language course, but instead got involved in charting the future course for adult education on Island. And he feels that ACE MV is on track to offer something for everyone.
"It's exciting to learn among your peers in the community, to try something new, to try something different, to push your boundaries, to get into a space where you might be vulnerable, challenged intellectually," he said. "These are all the things we should be looking to do . . . I like to say, it's not the off-season, it's our season."
ACE MV's annual course sampling fair will be held on Tuesday, Sept. 26 from 5 to 7 p.m. in the Martha's Vineyard Regional High School cafeteria.