Tegan Fenner is having a pretty good year in the Martha's Vineyard Striped Bass and Bluefish Derby. The 13-year-old Chilmark fisherman is all over the junior division leader boards, and for 23 exciting, yet nerve wracking days, he held a spot atop the grand leader board with a 12-pound false albacore caught from a boat. On Oct. 7, his name came off the board when Trish Lyman weighed in an albie just a few ounces heavier.
As of Wednesday, Tegan ranked second in the junior grand slam division, with all four species weighed in at a total of 45.03 pounds. He is third in junior boat bass with a 21.52 pound striper, third in boat bonito with a 6.22 pound fish, and remains tops in the junior boat false albacore division with his 12-pound albie.
While he has been fishing the derby since he was old enough to hold a rod, he hadn't weighed in any top fish until this year. Now he is getting to be quite a familiar face around the weigh station.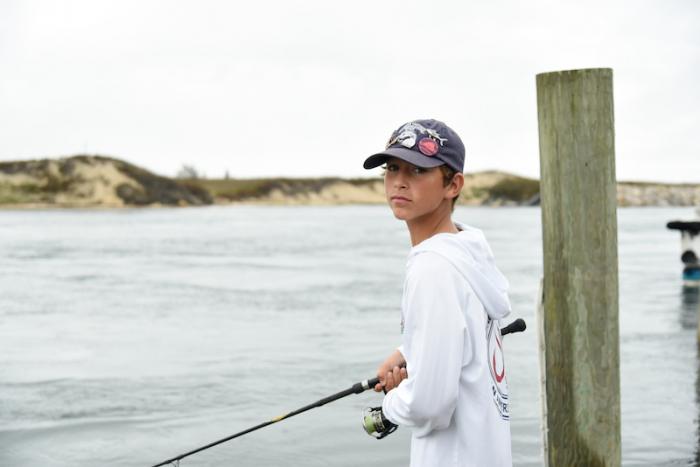 "They all know me because I've been in there a lot this year," he said. "I don't think I've ever gotten a daily (prize) or anything except for this year."
Tegan tells quite a story about catching his division leading false albacore. It involves a rusty memory, a half tied knot, and a borrowed fishing rod.
During the bus ride home from school on day five of the derby, he and his friend Graham called ahead to the Galley, his grandparents' Menemsha restaurant. That saved a little time because he has to be home by 7 p.m., and he has certain priorities that come before fishing.
"We ordered burgers. We have to do it on the bus, before we get down here. Did our homework, then got on my little boat," he said with the matter-of-factness of an Island teenager.
Tegan often fishes from his 17-foot whaler, which he operates handily on his own. As soon as he cleared the Menemsha jetties, he knew it was going to be a good day.
"The birds were working, going up and down along the beach," he said. "We were following them up and down, casting at them. They start breaking five feet in front of us, just albies jumping out of the water, whipping their tails."
As luck would have it (bad luck), on one of his first casts into the fish frenzy, his line snapped and his lure went sailing into the water. Under pressure, he began to tie on a new lure, but he couldn't quite remember if the line went under and over, or over and under, to complete the knot. His generous friend Graham offered to finish the knot, and handed him his own fishing rod, with the fish still thrashing around just a few yards from the boat.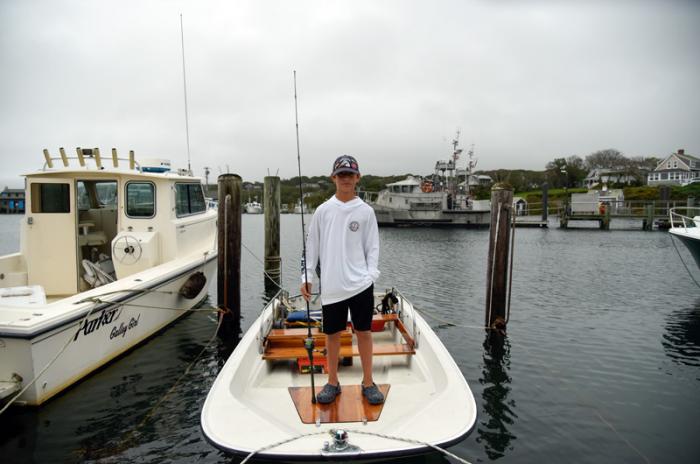 "I cast and I hook up, so I'm fighting the fish on his rod," Tegan said. "The whole time [the line] is just screaming, screaming."
In all the excitement, Tegan felt a little bad that his friend was missing the action, though he conceded he was previously a little jealous of Graham's fishing rod, set up specifically for false albacore.
"I wanted to catch a fish on his rod, I wanted to see what it felt like," he said. "But I didn't want to catch a big one, I guess."
That was one wish that didn't come true, however. Some very tired arms later, they got the fish into the boat.
"We take the hook out, take a couple pictures, and we're like, wow, this is a big fish," Tegan said. "We floor it all the way back to the dock, get ice for the cooler. Waited that night until one of our parents came and took us down to the derby."
Then it was 23 days of more hard fishing, with plenty of brief time-outs to check the grand leader board to see if any bigger false albacore had come across the scales at derby headquarters.
When it happened, Tegan had his priorities in order, as usual.
"It was going to happen," he said. "A 12-pound albie isn't huge. A bigger one usually wins the derby. There's bigger ones out there, it's just whether you catch them or not."
Tegan's hot streak is no fluke. A few days later he completed an unofficial grand slam in one day, fishing with his dad, Keith, and two other buddies.
"We went out to Squibby, fishing for bass," Tegan said. "I caught a pretty big bass that we were going to weigh in. Then we went out for blues and bonito. I got a second place bonito, and a fourth place blue. We came back in. Then we went back out. We went out and caught an albacore."
The albacore weighed less than his previous albacore. With the official grand slam in the books, it made no sense to weigh in the smaller fish, but catching all four species in one day, three of them good enough to weigh in, is an accomplishment few have achieved.
After recounting his stories, and before heading back out on the water for another round of fishing, Tegan took a Gazette reporter and photographer out on the West pier to show them his boat and fishing gear. On the way back, without breaking stride, he casually unhooked the lure from his rod eyelet, and tossed a cast over the railing into the swift current of Menemsha channel.
There are bigger fish out there.