For Rusty Gordon and Ghost Island Farm, October is a wonderful time of year. The fields are still rife with kale, collard greens, rainbow chard, lettuce and onions. Even the zinnias are still blooming for his farm stand customers. It is also a time that he and his longtime partner Sarah Crittenden can think about their longer range plans — a new greenhouse, and the 10,000 heads of garlic that will go in the ground in November.
But for Rusty, October is really about Halloween.
A recent visit to Ghost Island Farm in West Tisbury reveal that the farm's three front greenhouses have been transformed into staging areas for his Halloween props and decorating plans. Rusty pulls a doll out of a garbage can filled with around 30 filthy specimens and explains how he attached a rat trap to the doll's head to give it a gory feel.
"I cured them in the compost pile so they'd look creepier," he says.
To fill out his Halloween display prop collection, there are also fight dummies and martial arts torsos from his martial arts days, which he stopped after leasing the farmland from Fred Fisher Jr. six years ago. The torsos have been tweaked into scarier versions of themselves — fake crocodiles, toads, frogs, dragons with three heads, cobwebs, snakes, and of course pumpkins and spiders. But the main attraction is his spectacular giant silver robot stationed along State Road to welcome guests and customers. He built it with tarps and silver air ducts draped over a wooden frame.
"To love Rusty, you must love Halloween," says Sarah.
Rusty does not credit one particular Halloween for his love of the holiday. "It's just fun," he says. "I've always loved it since I was a kid."
Rusty grew up in Lowell. His father was a handyman and his mother was a homemaker, though he notes: "She did work at a place that made dog bones for a while."
His friend's parents had a house on the Vineyard and Rusty visited a few times. "It was so beautiful," he remembers. "I wanted to come here. Move here."
So in the fall 1988, when he was headed to Middlesex Community College to study photography and the classes got cancelled, Rusty made plans to move to the Island. In February 1989, he found a room to rent and immediately got two restaurant jobs — one at Savoir Fare and one at Louis's.
"I wanted that feeling of, yes, I can make it here. But the job at Savoir Fare lasted for about two minutes because I began working for Andrew Woodruff at Whippoorwill Farm. I kept Louis's for awhile as it was a good job to have in the winter. But I worked at Whippoorwill from 1989 until I leased this land from Fred six years ago."
Rusty knew nothing about farming when he started working for Andrew. "I was making $6.50 an hour. But farming is so much about trial and error. Refining your practices."
To make his point he points to some turmeric and ginger that he and Sarah are experimenting with in a greenhouse.
"We're just trying to see if we can make this work. Trying different ways of working with the plant. I mean, we stopped growing corn. We realized we did not have enough space. Besides, I get amazing corn from Confreda Farms in Rhode Island for our farm stand. And we recently started using clover between the beds to help us keep weeds at bay."
He continues talking as he walks outside to illustrate how the rows with clover have fewer weeds than those with just dirt between them. "We are organic," he says. "We spray nothing. Just compost. We're getting there. Introducing clover from both sides of the field toward the middle. It just takes time. Everything takes time."
Rusty and Sarah are now farming nine acres. In addition to the Fisher fields on State Road, they lease land from Thimble Farm. "That extra land is great because we can grow more, but moving equipment from one farm to the other is difficult."
He smiles. "And takes more time."
"But we have an incredible crew," he adds. "Coco [Brown] basically manages the store. It was her idea to play horror movies in the store for Halloween. And Diana Waring, McCaull Reid, Megan Mendenhall and Marissa D'Antonio are amazing. Because of this help I can keep pushing. I want to see how late I can get something to grow into the fall. Every cent I make goes back into the farm. I'm building another 100-foot greenhouse out back."
Rusty plans to keep the farm stand open until Christmas and then they'll close and soon enough turn the shop into a winter greenhouse for seedlings, replete with grow lights and grow mats. "It saves a bunch of money if I don't have to fire up the greenhouses too early."
For now, the farm stand is chock full of his produce, and vegetables, fruits and cheeses he gets from local farms and through Sid Wainer. He also carries meat from Fred Fisher Jr.
"I want my customers to be able to find what they need here." He points to some half-and-half in a refrigerator. "A customer asked me to carry it, so I do."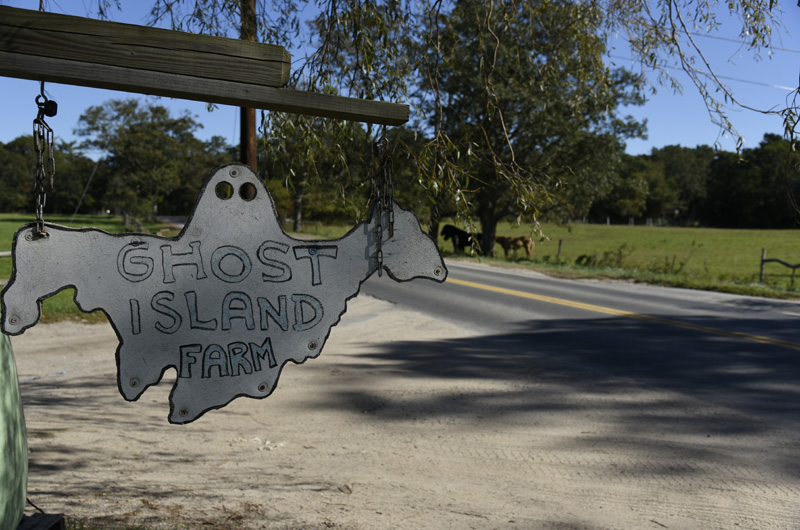 Rusty and Sarah have worked hard to give the farm stand a welcoming vibe. Old jazz records play. Sarah has sewn curtains out of cheerful vegetable patterned fabric. One wall is lined with old milk bottles — a nod to the days when the building was Fred Fisher's dairy. The other walls are filled with large photos of Rusty's vegetables. When asked why he didn't enter a big display in this year's Agricultural Fair ­— he wins blue every year — Rusty smiles. "I wanted to give Morning Glory a chance to win. That's my official statement. But next year, it's on."
Rusty heads outside to check on his hearse, making sure the tables and everything he needs are ready for tomorrow's farmers' market.
"I bought a hearse about 12 years ago. It has outlasted the truck. It is the best farm vehicle I've found. We are now a two-hearse farm. We have a Buick and the Cadillac is in the shop."
He pauses. "Sometimes people pull up and see the hearses and the sign that says "Morgue" on the walk-in fridge and ask, um, is this where the farm stand is?"
When he's satisfied with the state of things in the Buick hearse he walks out to a field, passing a basketball hoop and his "movie night" area where there are two wheelchairs facing the back of a walk-in refrigerator that has been painted white to serve as a screen.
"Wheelchairs are great for watching movies. You can put your feet up!" he declares.
He explains that they host regular outdoor movie nights during the warmer months. "We don't just play scary movies. We watch everything. Oh, I should check on the frogs and fish."
In the greenhouse near the farm stand is a tank for frogs. And another for koi. He sticks his finger in the water and a fish comes and nuzzles it. "It is nice to come out and spend a minute or two with the fish. It is peaceful. We used to have a giant frog, but it disappeared, which isn't a bad thing because it was eating all of the smaller frogs."
Other than the fish and frogs, Rusty and Sarah have no pets, though he is taking care of Fred's Thanksgiving turkeys right now while Fred is away. But Rusty and Sarah are vegetarians and have been for as long as they can remember.
He shrugs. "We eat what we grow. And what we sell. But I do want to sell more. We tried offering bulk beans, lentils, basmati rice, oats, popcorn and quinoa. It was super successful. So we'll do more of it."
Sarah finds him behind a greenhouse and they chat about their hot peppers. "Not ready yet." Sarah says.
Although they have been together since 1991 when Sarah worked at Whippoorwill Farm for the summer, only in the last three years has Sarah been able to commit full time to the Ghost Island Farm — a name that Rusty coined when he was selling his own vegetables while working for Andrew.
"Basically I had a landscaping job to support Rusty while he started this up," Sarah says. "But I knew it was going to work out."
Rusty smiles and nods. "Every day I feel lucky to be here."
He walks down to his massive silver robot on State Road and turns on the bubble machine, which spits bubbles out of the robot's mouth.
"For Halloween, I'm going to back light the bubbles so they look like sparks at night, and give it plasma eyes," he says.
But for now, the bubbles waft into the road, making all who drive by smile.
"Sometimes I put costumes on and come out and wave to people," Rusty says. "In the summer, I put the bubble making machine on in the parking lot. People love it."
He looks back at the farmhouse and the fields behind it. "I'm thinking about getting a snow-making machine and turning it on for my customers in August. I think that'd be really cool."