It took some persuading before Heidi, Peter and Frank Dunkl agreed to accept this year's Creative Living Award from the Permanent Endowment for Martha's Vineyard. When executive director Emily Bramhall first called the Chilmark siblings to notify them of the honor, Heidi politely declined.
"Receiving awards was not their style, she told me," Ms. Bramhall said at Tuesday evening's award ceremony, which drew more than 120 people to the Portuguese American Club in Oak Bluffs. "It was no easy task getting them here."
But true to a lifetime practice of turning their hands to anything that needs doing, the Dunkls proved to be gracious guests of honor as speaker after speaker hailed their many contributions to the Vineyard's cultural life.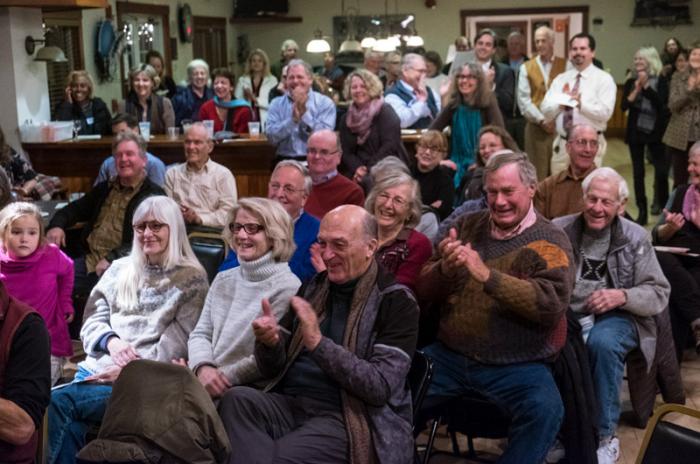 Since moving to the Vineyard from New Rochelle, N.Y. more than 40 years ago, the Dunkls have been leaders in efforts to conserve private land and to maintain the Vineyard Haven Band, said Bob Woodruff, former executive director of the Vineyard Conservation Society.
"Four words describe this family: They stick to their guns," Mr. Woodruff told the audience at the P.A. Club. "They remain consistent in their principles in so many ways, quietly and sometimes not so quietly serving as the conscience of this community."
Julie Schilling, clarinetist with the Long Point Five and a musical friend of the Dunkls, had a few more words to describe the three: "Generous, unassuming, unique, ethical, disciplined, storytellers, music makers, example setters, problem solvers...a little eccentric but in the right way."
Ms. Schilling also remarked on how close the siblings are. "You rarely see one Dunkl without another. They combine their talents in everything they do," she said, before walking into the audience and giving Frank Dunkl a kiss.
Alton Hardaway worked with the Dunkls for decades on bridges, walkways and more intricate projects around the Vineyard, such as a camouflaged gazebo custom-built for Katharine Graham. They also restored the Flying Horses and the Oak Bluffs bandstand in Ocean Park. But, Mr. Hardaway said, you'd never know it from talking with the Dunkls.
"They're the last ones to speak up and say I did that," he said.
"This family is one of the most humble groups I have ever, ever met," Mr. Hardaway continued. "I have never met somebody who does not want to be known for what they do."
Working with the Dunkls is not only inspiring, it's also fun, Mr. Hardaway added. "Sometimes at the end of the day I can't tell you if we're more tired from fatigue from laughing than from working."
State representative Dylan Fernandes (D-Barnstable) was also on hand to honor the family with official State House citations and a few comments of his own. "Reading up on you guys was awesome," he told the siblings. "Our society now is so specialized. Everybody has their niche." By comparison, the Dunkls, who can build, fix or restore nearly anything you can name, "are really like a Renaissance family," Mr. Fernandes said.
When it came time for the Dunkls to accept their Creative Living Award — an Island rock mounted on a wooden stand — Heidi, 77, let her brothers do the talking.
"When we first came to Martha's Vineyard in 1960, we were very impressed with the character of the Island and also with its rural charm," said Frank Dunkl, 71, who lives with his older brother and sister in the house they built on 23 acres of land purchased in the early 1970s. "We didn't come to the Island to change its character; we came instead to preserve its character."
Like the Vineyard, the country as a whole has benefited from immigration and the diversity of people and skills, Frank continued. "We should remember our cultural history as well as history of the country in general, and we should also remember it's the diversity in our society of all different races, colors, creeds and religions that has made America strong. When we lose sight of that and we become so self-involved in our personal lives that we forget about what America was all about and how we became such a world power, we are depriving not only ourselves but our children of a very valuable thing."
Peter Dunkl, 72, focused his remarks on the Vineyard Haven Band, which celebrates its 150th anniversary in 2018. "People have a tendency to forget," he said, that the band was formed by Civil War veterans from both the Union and Confederate sides. "This is something we should always look at, because this country is divided right now. As an Island, as a country, we should all pull together."
Vineyard Gazette photographer Mark Alan Lovewell was the winner of the "Be a Philanthropist" raffle which allowed him to select a charity to receive $1,000 from the Permanent Endowment.
Along with the ceremony and speeches, the evening included, food, drink and live music by the Long Point Five, minus trumpeter John Schilling, and the Vineyard Classic Brass Ensemble.