The drive along Beach Road in Vineyard Haven looks a little different these days. That's because two large fuel storage tanks that have long been a fixture on the working waterfront were recently removed by a scrap contractor.
Packer Co. owner Ralph Packer said the fuel storage tanks were sitting unused. He said the removal work was done by a professional salvage company, and the process was not as complicated as it might seem at first.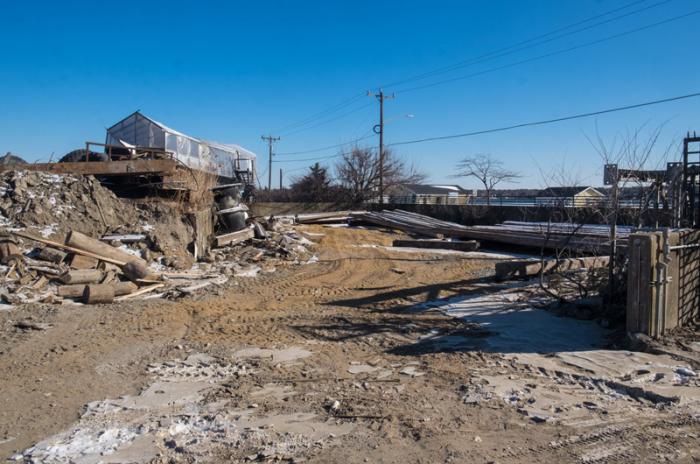 "It was very simple when you look to see how he did it," Mr. Packer said last week. "He took them down like a tree. Cuts one side, tips them over, cuts them up. He was less then two days doing the whole job. It's quite interesting how they do it. This gentleman takes down oil terminals and cuts up ships."
Mr. Packer, who is in the wholesale gas and home heating oil business, as well as owning a barging operation, said the tanks were taken out of service some time ago. They once held fuel in reserve, before he changed the way he brings gasoline and diesel fuel to Martha's Vineyard.
"Back in the days when coastal tankers supplied the Vineyard, you needed a two or three-week inventory cushion," Mr. Packer said. "Now we have our own tank barge and we restore our supply daily. They are able to supply us without the difficulty of an extremely large inventory."
Mr. Packer said he elected to take down the large tanks to create more room in the yard of his Vineyard Haven business.
"We want the space," he said. "We seem to accumulate an awful lot of material. Some of our equipment will be parked there overnight. We have some oil response equipment that we are required to have and that will be stationed inside the concrete wall."
The tanks were still usable, but not needed according to Mr. Packer, and were still permitted to store fuel. They had to be cleaned and certified by the federal Environmental Protection Agency before they could be decommissioned.