Two bidders are in the running to renovate and lease the Yellow House on Main street in Edgartown, with both groups proposing to turn the rundown property into retail space and rental units.
Edgartown developer Michael Hegarty, working with architect Patrick Ahearn, and Mark Nicotera of Trademark Services LLC, working with architect Dudley Cannada, were the two groups that submitted bids by noon Monday to take over the house at 66 Main street. The town took the property by eminent domain for $3 million last year.
Proposals were formally opened by town procurement officer Juliet Mulinare at a meeting of the Yellow House committee Tuesday. The two groups outlined similar plans for the dilapidated building and surrounding area, including a mix of retail space and rental units, public parks and parking. The plans differ in scope and specifics.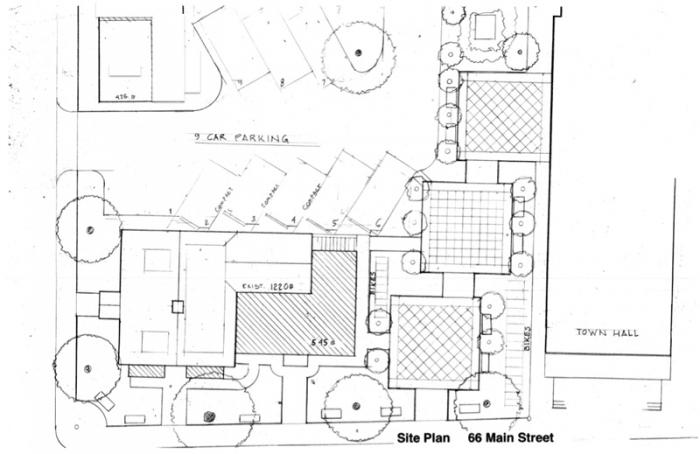 "Good, quality, but quite different proposals," committee chairman Chris Scott said Tuesday after the committee saw the plans and heard from the bidders. "One has a much larger program in terms of footprint and also in terms of residential . . . different configurations, somewhat different approach."
He said he was pleased. "We spent six months developing this . . . to have two good proposals to dig into, and only two . . . we had no idea when we started this how many respondents we might have."
"The quality is wonderful," committee member Gail Croteau said.
Each committee member will rank and evaluate the proposals individually using criteria from the town's request for proposals. Ms. Mulinare said the proposals appeared to meet legal requirements, though they still had to be vetted by town counsel. The financial component of the proposals will not be reviewed until they are ranked on their merits by committee members. The committee will then make a recommendation to selectmen.
A small building on South Summer street that is part of the property, currently home to KG Events & Design, is not included in the request for proposals. The town has preliminary plans to locate an Edgartown police substation at the building.
Mr. Ahearn's design calls for seven year-round residential units, three retail shops, a public park and 17 parking spaces, 10 of which would be available to the town. He is working with developers Michael and Rebecca Hegarty and builder Tim McHugh. The group has completed several other projects in Edgartown, including the 2015 HGTV dream house on Crocker Drive.
The plans show two residential units on the first floor, three on the second and two on the third floor. His group proposes relocating KG Events & Design to one of the retail shops at the current rent rate.
The house would largely stay the same except for a 24-by-24-foot addition along South Summer street. The three retail shops would be on Main street.
Mr. McHugh would carry out construction with a planned end date of April 2018, ahead of the town's deadline.
The Hegarty group anticipates a $2 million construction budget, Mr. Ahearn said, and has secured financing through former Martha's Vineyard Savings Bank president Paul Falvey, who is now president of the Bank of New Hampshire. He said his group's plans are historically accurate and consistent in town, and he said year-round housing was an important element to add to the downtown area.
Mr. Ahearn, a well-known architect who has designed more than 150 buildings in Edgartown's downtown area, also highlighted his experience in town and with the Yellow House. He said he spent 10 years working pro bono for the town to try to fix the property when it was privately owned by the Hall family, including creating two sets of construction documents. "I'm very committed to the success of this project, not just as a project but how I feel about the community and the town," he said.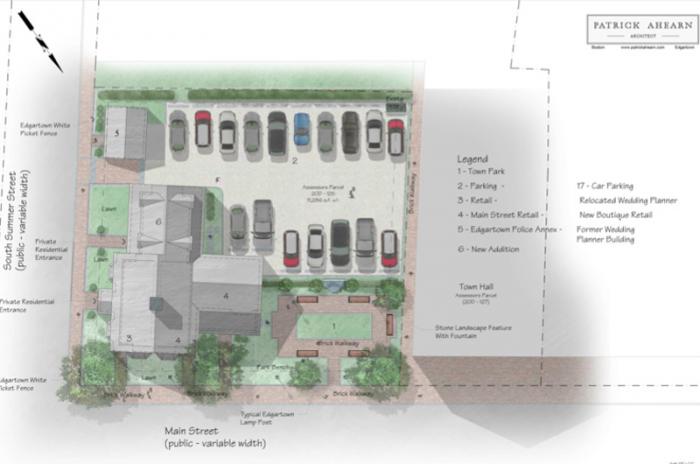 Mr. Nicotera, managing member of Trademark Services, said he is taking a different route but "has the same level of interest in doing something nice for Edgartown." The company recently completed a restoration of Memorial Wharf and did some work at the Edgartown school, and has also worked on commercial and residential construction in Edgartown.
His group includes Stephen Berger, managing partner of finance advisory/investment firm Imprimis LLC. Mr. Berger also owns several Edgartown properties. Mr. Cannada, the architect, has worked on several Edgartown projects, including home renovations on North Water street.
Mr. Cannada's plan for the building also includes retail space, housing, a public park and seven parking spots. There will be room on the first floor for up to three retail tenants. Plans show one three-story residential unit, which could be adjusted to three units, Mr. Nicotera said. There is also a designated space for community outreach. The house would also largely stay the same, with a 545-square-foot wrap around addition to the building.
The group has had preliminary discussions with the Edgartown library director about an extension in the community outreach space, Mr. Nicotera said, and Mr. Cannada has designed an outdoor park that would serve as a plaza that could host farmers markets or outdoor events.
Mr. Nicotera said his group has a construction budget of $1.8 million and has secured financing.
"We want to preserve the elements of the Yellow House, especially the front entry," he said. "Our look at this is to make it as low impact as possible, to make it attractive to the community."
The Yellow House was built in 1800 and is one of the oldest buildings on Main street. Advantageous bidders, according to the town, will propose a year-round, distinctive business that provides needed public amenities or services. Lease terms will be a minimum of 15 years and a maximum of 30 years.
The Yellow House Committee consists of Mr. Scott, Ms. Croteau, MJ Look, Carol Fligor, James Carter, Sam Sherman and Jim Shane. Mr. Sherman and Mr. Shane could not attend the meeting Tuesday. Both groups will present their plans again to the full committee in the coming weeks.