Dennis daRosa is at the wheel of the daRosa Corporation's white van. It's a cold winter day and he is making the rounds, delivering paper, office supplies and talking with customers.
"In the off-season I enjoy getting out, seeing what people need," Dennis says. "Come March, our printing machines will be running around the clock."
The first big print runs will include the town reports for nearly all of the towns, along with posters, brochures, business cards, and nearly every imaginable printed material that Island businesses need to advertise for the upcoming season. The company even prints the Chappy Ferry's tickets.
As vice president and co-owner of daRosa's Martha's Vineyard Printing, Dennis daRosa wears many hats. Today, he's prepared for a day of delivering packages and boxes in and out of the cold. He has a cup of coffee to sip that is snuggled into the van's dashboard next to his order slips. He sports tidy black boots with rubber soles, chinos, a gray vest and jacket.
His first stop is Tea Lane Associates, where he checks on the copier. Then it's off to E.C. Cottle's and South Mountain Company to drop of supplies. At Martha's Vineyard Center for Living, he shows executive director Leslie Clapp two sample chairs for their new space.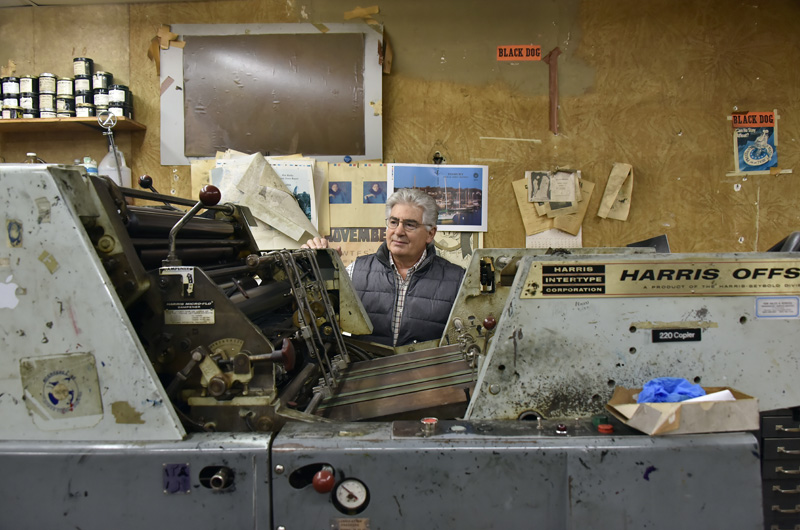 "I'm really excited for them," he says. "They are doing such great work and now they finally have a home. I'm so glad all the towns voted to support them."
Inside, Ms. Clapp and her staff are still unpacking from their move. Dennis and Leslie look at the chairs and discuss numbers. The Center for Living will use these for everything from music classes to chair yoga. Ms. Clapp decides that she will need 50 chairs with arms and 20 without. She gives Dennis a tour and they find her assistant Allison Roberts in her new office trying to sort out desk space, storage and how she can fit in another office chair and table. Dennis listens to her concerns and needs. He does some measurements and after a few follow up questions he proposes a plan.
Back in the van, he admits that he has nearly the entire daRosa catalog of office supplies in his head. A veritable matrix of chairs, desks, computers, pads and pens. And he has been doing this for a long time.
In 1935, Dennis's father, Antonio G. daRosa 2nd started Martha's Vineyard Printing in Oak Bluffs. Initially it was on the second floor of what is now Reliable Market on Circuit avenue. In 1940, Antonio purchased 46 Circuit avenue and the business morphed into daRosa's Martha's Vineyard Printing and has been there ever since.
"Early on, my father worked for the The Martha's Vineyard Herald, which was the paper of record at the time," Dennis says. "But by the time my dad bought the company, they had ceased printing the paper. He became the Island's only commercial printer. Printing was a labor intensive business. It took 15 minutes to print a box of envelopes. Now that takes about three at most. My father worked hard. My mother used to have to tell him to come home to eat. He also painted houses to support us."
He drops off more supplies at Sun Transit, Martha's Vineyard Community Services and the Martha's Vineyard Regional High School.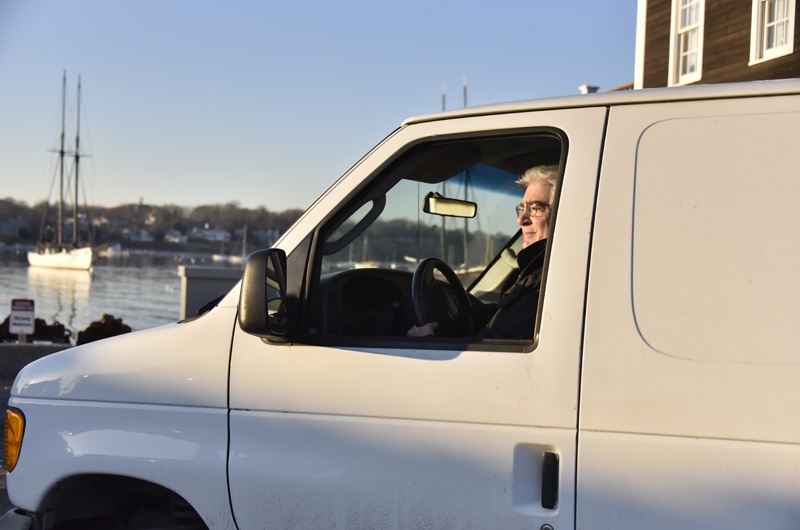 "Community Services is the most important organization on the Island," he says. "It's critical."
Dennis graduated from the regional high school in 1967, where he was football quarterback for three years. More importantly, in his sophomore year he met his wife Candy.
"I pushed all the other guys away from her," he says. They married in 1971.
As Dennis grew up, he and his brother Tony, sister Cindy and mother Cecilia helped his father at the shop, learning to set type, fix the machines and sell office supplies. In 1950, his father purchased a Branjen and Kluge machine, which was the first printer on the Island that had an automatic paper feeder. This revolutionized the business and helped daRosa's take off. All this experience eventually affected Dennis's college choice.
"I got accepted to the University of Massachusetts for engineering and also to Babson College. UMass sent me a computer printout. Babson's note was an engraved card. I chose the school with the engraved card."
"Then, in 1969, the summer before my junior year, all hell broke loose. The Vietnam War was happening. Kennedy drove off the bridge, killing Mary Jo Kopechne. I can't explain it, but it was just the craziest summer here. The Vineyard became world famous overnight." He pauses and continues: "In October my father died."
Dennis took a few weeks off from school, but knew the family business was in good hands with his mother and brother Tony. A year earlier Tony had returned to the Island and married after serving in South Korea. His sister Cindy was also on the Island working for New England Telephone, but helped the business out in any way that was needed.
"She was the fastest typist on the Island," Dennis says.
Back at Babson, a school known for business management, Dennis began to think about ways to grow the print shop. It was the advent of computers, telephones and technology at large. After graduating from school, he returned to the Island and daRosa's began offering more services to Island businesses, supplying them with payroll systems, copiers and computers. They also invested in a large offset Harris press that could print 7,000 sheets an hour.
"We incorporated and we grew 25 per cent a year for 15 years."
In 1975, Candy and Dennis had their daughter Stephanie; their son Philip was born in 1978. "Our business was growing, the kids were growing. Candy was working as a paralegal. We built a house in Chilmark. It was nonstop."
Dennis moves on to make deliveries in Vineyard Haven. "We supply trash bags, dish soap, toner. Everything an office needs. Except for the coffee."
He parks in front of Vineyard Haven's Town Hall. "Every once in a while I get a ticket, but that's just part of doing business."
It seems that these days Dennis and the entire daRosa team have a well-oiled machine. They have a dedicated print team, led by daRosa's president and co-owner Tony, and an office and sales team led by Dennis. Their sister Cindy is still involved, serving as the company's clerk. But even in the hubbub of the early days, Dennis made a point to contribute to his hometown. He is a member of the Chamber of Commerce Board, and board president for the Oak Bluffs Association that puts on Tivoli day.
"I love the crowds and the music," he says. He also is a "proud member" of the Vineyard Open Land Foundation — particularly of their restoration of the cranberry bog on Lambert's Cove Road.
With their kids grown up, Dennis has time for "time outs" with his wife. They go sailing on the Chesapeake with friends or head south to get warm. He practices yoga with his friend Primo who has a studio just across Circuit avenue. And he is gaga for his one and a half-year-old granddaughter Iyla.
Dennis makes his final stops for the day at Geoghan Coogan's law office and Mone Insurance and heads back to his shop. It's about 4:15 in the afternoon when he arrives. The storefront itself is quiet, but the stocked shelves scream with brightly colored pen caps, every imaginable kind of pencil, ink, and reams of paper in a variety of textures, sizes and weights.
He walks into the back of the shop, which houses several modern machines that print, cut and collate, along with the original Branjen and Kluge machine. He is pleased to find that his presses are running.