Last weekend members of the Rise Dance Company traveled to Lowell for the Elite Dance Challenge competition where they presented 27 pieces of choreography for adjudication and critique. The group placed first overall for their large group tap piece, March Madness, and second overall for the contemporary trio Verdi Cries, danced by Pandora Bassett, Maggie Burke and Anna Nitardy.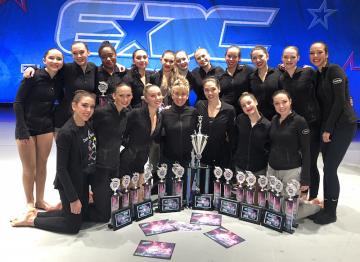 In addition to the individual awards, RISE was named the winner of the Studio of Excellence Award from the Association of Dance Conventions and Competitions. RISE's director, Jil Matrisciano, was honored as Outstanding Choreographer for the regional competition that included nine studios from Massachusetts.
The company will present its work on the Island on March 18 at the Performing Arts Center.
The 2018 Rise Dance Company members are: Sequoia Ahren, Skyler Amaral, Molly Baldino, Pandora Bassett, Susanna Becchio, Addison Blake, Maggie Burke, Annie Combra, Chloe Combra, Amelia Craig, Alison Custer, Isabelle Custer, Annabelle Cutrer, Teagan D'Arcy, Ava Fisher, Imani Hall, Felicity Lepine, Anna Nitardy, Isabella Osborn, Lauren Pagliccia, Emma Searle, Ellie Thomas, Ava Vought, Charlotte Watts, Ashtyn Watts.