MVYouth, a community fund founded in 2014, announced over $1.2 million in expansion grants for the Martha's Vineyard Museum and Martha's Vineyard Community Services' Early Childhood Programs Wednesday evening at an award ceremony in the West Tisbury library.
The museum was awarded a $219,138 grant dedicated to youth education in its new location at the Marine Hospital campus in Vineyard Haven. Community Services received a $1 million provisional grant to build a new Early Childhood Programs Center to replace the 40-year-old building currently in use.
MVYouth selects grant recipients based on seven criteria: organization leadership, a plan, finances, impact, collaboration, sustainability and readiness.
"We don't fund startups," Ron Rappaport, chairman of the MVYouth Advisory Board, told the Gazette. "We take organizations that really help Vineyard youth, but what they need is monetary help to get to the next level."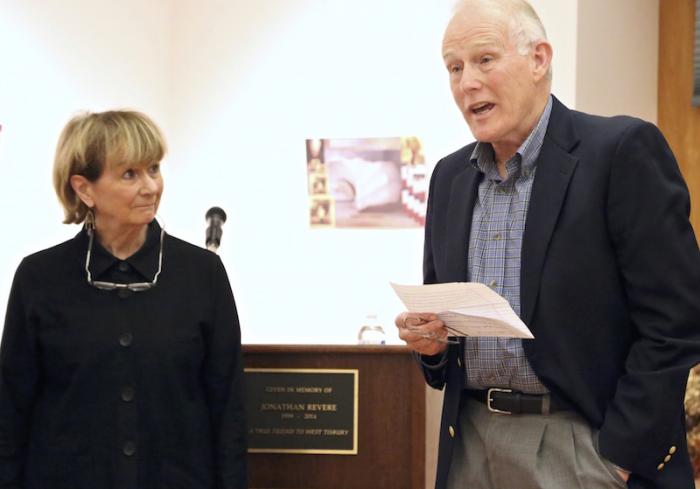 A new classroom will be the focus of youth education at the museum and will host groups from Island schools, preschools, and children's summer programs. The museum plans to use the funds to equip the classroom with new furniture, audio and visual technology, and any other materials needed to make the classroom a valuable space for teaching and learning.
Phil Wallis, executive director of the museum, believes the funding is key to helping the museum "come alive for children." He said the museum currently has no classroom and is too small at the Edgartown location to host visiting students.
"This is a game changer," said Mr. Wallis. "It's a transformative grant for a transformative organization that will enable children to understand Island heritage."
Museum education programs already collaborate with several Island schools, preschools and non-profits through a state-mandated curriculum for children PK-12. There are about 2,360 young people age five to 18 living on the Island as of the 2017 census.
Educators from the museum teach over 200 free classes a year to about 1,150 Island children along with summer programming and community partnerships that reach another 175 seasonal children. Mr. Wallis said he hopes the museum reaches 1,800 children next year with the addition of the classroom space and expanded community collaborations.
The $1 million provisional grant for the Early Childhood Program Center at Community Services is set to address a need for quality, affordable child care. The current campus is a small space that the MVYouth Advisory Board members agreed is in desperate need of renovations.
There are nearly 700 children age four and under living on the Island, according to the 2017 census. Many of those children come from immigrant and impoverished households, said Julie Fay, executive director of Community Services. The new Early Childhood Center will contain four classrooms for different age groups and serve 65 children daily from three-months to five-years-old, up from 48 children currently served.
"We know that kids showing up at the kindergarten door have a leg up," said Ms. Fay, referring to children who have passed through the program.
Due to the provisional nature of the grant, MVYouth Trustees will assess the proposal again in six months once costs of construction are updated, and gauge Community Services progress in obtaining necessary permits and reaching fundraising goals. The new center is expected to cost $4.28 million to finish, but Community Services has already confirmed another $1 million in commitments from private donors. The organization is actively seeking the remaining $2.28 million needed to fully finance the project.
MVYouth's mission is to provide funds for Island organizations that serve children, teens and young adults, along with providing scholarships for Island high-school students. The organization will announce in May the recipients of five to seven full-ride college scholarships.
Projects funded by MVYouth include a renovation of MV Ice Arena, an education and camp barn at Felix Neck Wildlife Sanctuary, and the completion of the MV Skate Park and Penn Field in Oak Bluffs. Athletic programs have received the highest percentage of funding from all grants awarded at 44 per cent, followed by social services and nature education.
"This is what we consider the Island prize," said Mr. Wallis. "This says something about what matters on this Island and helping children achieve their dreams."