Aquinnah police officer David Murphy received a Meritorious Public Service Award from the U.S. Coast Guard Friday for rescuing a man in Menemsha Pond in October 2016.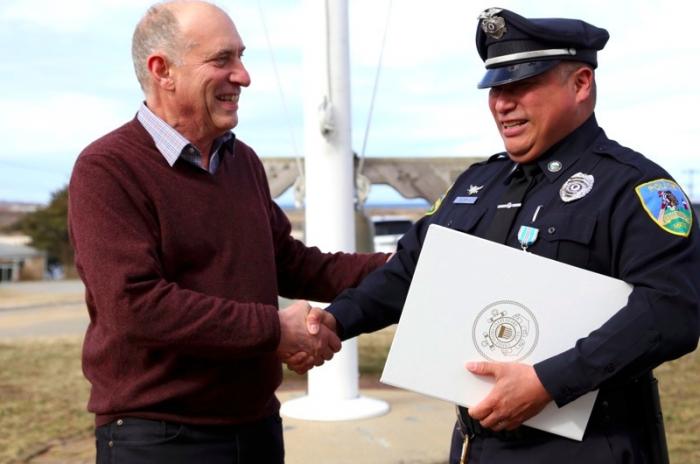 The award is one of the highest honors that the Coast Guard awards to public citizens.
Capt. Richard Schultz, commander of Coast Guard Sector Southeastern New England, presented the award in a service Wednesday morning at Station Menemsha. He told the rows of Coast Guard members standing at attention that Officer Murphy's "heroism and self-sacrifice" were "keeping with the highest traditions of the U.S. Coast Guard."
"I don't deserve it," Officer Murphy told the Gazette. "There are people who have done plenty more spectacular things than me."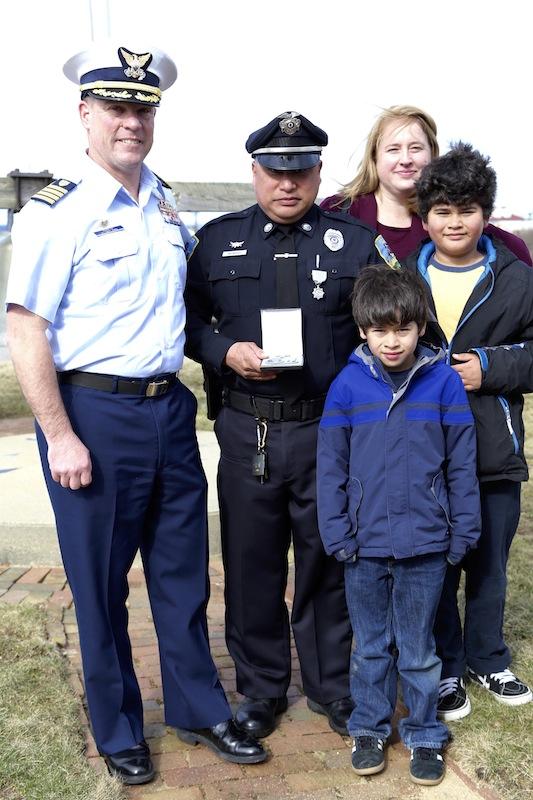 Officer Murphy was dispatched to Red Beach on the northwest corner of Menemsha Pond the morning of Oct. 10, 2015 after the Aquinnah Police Department received a report of a distressed man in water 150 feet from shore.
The man was Eric Stange, a now 64-year-old documentary filmmaker from Arlington who lives in Aquinnah during the summer. Mr. Stange told rescuers that he was carried into the current when wind upended his dinghy while he was out to check on his sailboat.
Mr. Stange clung to a boat mooring line while winds gusted over 30 miles per hour, and his head was barely above the water when Officer Murphy arrived, according to the police report. Officer Murphy swam out to Mr. Stange, confirmed he had no injuries, and radioed for help.
"He [Officer Murphy] came charging into the water," said Mr. Stange. "His first words were, 'Hi, help is coming, and I'm here to keep you company.'"
Roughly 10 minutes later Aquinnah harbormaster Brian Vanderhoop and firefighter Darren Laporte arrived in a Wampanoag tribe inflatable boat to carry Officer Murphy and Mr. Stange to shore. Tri-Town Ambulance was on scene and found that both men were not injured.
Officer Murphy said that in hindsight, he still can't process what happened and that it was a "surreal experience."
Mr. Stange later sent Officer Murphy a thank you card for rescuing him. Officer Murphy said the card sits on his desk and he reads it everyday.
Mr. Stange attended the ceremony and said he's embarrassed by what happened. He added that people should learn a lesson from his experience by always wearing flotation devices and paying attention to the weather.
After he saw Officer Murphy run into the water "with his shoes still on," Mr. Stange said he knew he was going to be okay.
"All of my brothers and sisters would have done the same," Officer Murphy told the crowd Friday morning. "I didn't do anything special."