She loves walking the beach, head down, in search of sea glass and has a huge collection of sea treasures: rocks and glass, smoothed remnants of things once broken.
"I was out there in the pouring rain the other day with my head-to-toe raincoat on," said Denice Schepici, the new chief executive officer at the Martha's Vineyard Hospital, in an interview last week. "It's pure meditation."
In the past weeks on the Island as she assumes her new post, sea glass isn't all Ms. Schepici is collecting. She's absorbing a lot of information as she takes a role recently vacated amid community controversy.
"I'm all ears," she said, summing up her early days on the job.
She began work in mid-January. Since then, she has held roundtables with employees at all levels of care, met with community leaders, including at Martha's Vineyard Community Services and Healthy Aging Martha's Vineyard, and made at least one house call.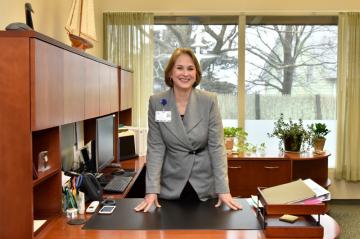 Ms. Schepici may be new at the hospital, but she isn't new to the Island — or to public health. She's been in senior leadership positions in the field since 1995.
She grew up in East Boston, raised by a single mother, but surrounded by her Italian family. At times, she and her family lived with her grandparents in the same triple-decker.
"When [my grandparents] didn't want us to know what they were saying, they'd speak in Italian. So meanwhile all I can say in Italian are the bad words," she laughed.
Her grandparents passed on values too, ones she says have influenced her path to public health administration.
"I wanted to go to med school, I wanted to be a doctor, but I was poor," she said. She was the first in her family to go to college. To save money for medical school, she took a job in the cardiac lab at Salem Hospital. "And then I just stayed because they kept promoting me."
She eventually went back for a master's degree from the Boston University School of Public Health.
Since then, she's moved steadily up through the ranks — and made it her mission to pull others up with her.
She pulled out her cell phone to show a recently published article about Lauren Gill Pimpare, one woman she had mentored.
"I'm really proud of her, I'm going to show you," she said. "I've known her since she was 15."
Ms. Gill Pimpare also has a public health background and is the founder of Tomorrow's Women Today, a nonprofit women's networking organization in Boston.
Reached by phone, Ms. Gill Pimpare said she's visited Ms. Schepici at her Vineyard summer home and seen her love for the Island. She said health care is a challenging, often stressful field, but Ms. Schepici guided her at critical points in her academic life and career.
"She always had great advice for challenges. She always said, just ride the wave. See where this goes. Be patient, and see how things unfold."
Martha's Vineyard Community Services executive director Julie Fay, who served on the hospital search committee, said Ms. Schepici seemed like the right fit.

"What gave Denise an edge was her understanding of the Island and also her expertise in health care within Massachusetts. She's local to the East Coast and has had a presence on the Island," Ms. Fay said, adding: "She's an open, collaborative person. That came through during interview process, and I think we're already seeing that come to play."

Ms. Fay said the search committee decision was unanimous.
Meanwhile, at the Martha's Vineyard Hospital, one of Ms. Schepici's first orders of business is improving communication.
"In talking with the community — and certainly it's been in all the papers — it was a criticism of the hospital that we weren't being transparent and we weren't communicating, so obviously the community's saying something right? So I said well, we need to make that a priority," she said.
The hospital has opened a search for a new communications director, and Katrina Delgadillo is filling that role in the interim. Ms. Schepici said improving internal communications in the 25-bed medical facility will be critical as well.
"Everybody thinks it's a small place, but it's not really that small. We have a lot going on," she said.
Another pressing challenge is providing enough primary care physicians to serve the Island population year-round. In an effort to expand accessibility, the hospital has adopted an approach called the patient-centered medical home. It relies on a team of care providers to be available to patients, rather than one primary care physician. In the model, nurse practitioners play a significant role.
"We're able to expand access using a team approach," Ms. Schepici said. She added that the idea may seem uncomfortable to people who are used to forming a relationship with one physician. "The population still has this idea of 'you're my doctor.' In a patient-centered medical home, you have a team," she said.
She said last month, the hospital hired a new primary care physician.
Outside of primary care, hospitals are evolving, and Ms. Schepici plans to help the Martha's Vineyard Hospital keep up.
Already, doctors in Boston are analyzing digitally transferred medical images from patients on the Island. The Vineyard hospital has been part of the Partners Healthcare network since 2010, with Massachusetts General Hospital as its parent.
"We're part of a great galaxy of health care through our relationship with Mass General Hospital, and we can do some things using telehealth," Ms. Schepici said.
The Island hospital lacks a neurologist, so they are also exploring telehealth technology to give patients access to that specialty without having to travel off-Island. Ms. Schepici said tele-stroke care and tele-psychiatry are also possibilities.
She is frank about the hospital's challenges and notes bluntly that the cost of living on the Island makes retaining a workforce particularly difficult.
"For the employees who are really the foundation of our organization — I'm not talking just the doctors and nurses, but I'm talking food service workers, medical assistants, and front office secretaries and back office secretaries — you know the cost of living is just formidable here so finding good housing so we can get people to stay here is a big, big challenge," she said.
Another challenge is the hospital's expensive nursing home facility, Windemere. The hospital heavily subsidizes the facility, which is currently home to 60 people.
"Senior health and senior issues are so daunting to this Island, and we're not going to make that decision in a vacuum about Windemere," Ms. Schepici said.
She's been close to the issue of elder care, caring for her mother and grandmother at home before they died. She said many seniors can live at home with the right resources and care.
She also says after a long career in public health, the Island will be her stopping place.
"I always envisioned ending my career as a CEO, and when this job opened, I said, well I think there's a calling there for me."