Edgartown moderator Philip J. (Jeffrey) Norton Jr. was presiding over his 10th annual town meeting in 1985 when voters took up an article to address town salaries, including his own yearly stipend.
Town treasurer Jean Hathaway took the floor of the Old Whaling Church to argue that Mr. Norton's annual pay of $100 should be increased to $300. The moderator's salary hadn't changed in 29 years, she said. "I personally think we owe Jeffrey Norton something."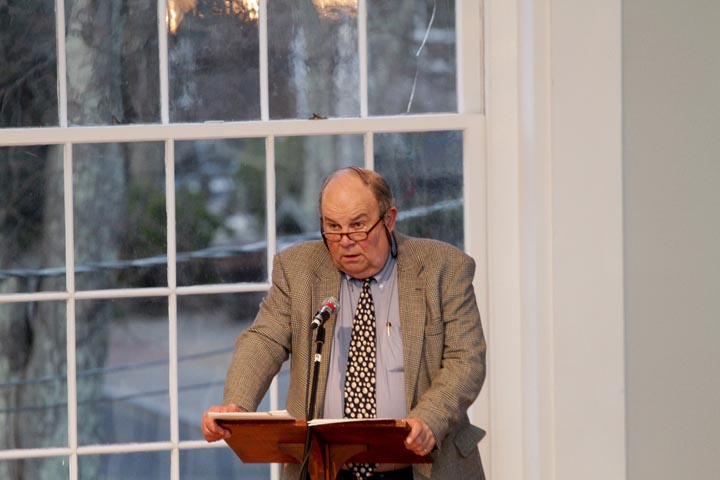 Nobody seconded the article and Mr. Norton tried to move on. But Mrs. Hathaway persisted. And voters approved the raise.
"He thanked them," the Gazette reported. "And then had one question, accompanied by a school-boy grin: 'Can I get on the retirement plan now?'"
Alas, a retirement plan for the moderator has not been among the thousands of items Jeff Norton has read aloud to Edgartown voters over the past 43 years.
The longtime moderator hangs up his gavel after Tuesday's annual town meeting.
If town meetings are the heartbeat of Edgartown, where voters gather under one roof to weigh in on salaries, fire trucks, Fourth of July fireworks, school spending and sidewalk paving — all the things that keep the town running year after year — Mr. Norton has set the rhythm for as long as most people can remember.
"If you had to say that someone gave a soul to something, I would say that Jeff Norton gave a soul to our town meeting," selectman Arthur Smadbeck told the Gazette. When Mr. Smadbeck attended his first town meeting in the early 1990s, Mr. Norton was already a seasoned moderator.
"I sat in awe as he called on people by their names," Mr. Smadbeck recalled. "One thing that I've watched over the years is how patient he is and how much he's invested in the democratic process. You'll never ever see Jeff shut anybody down. You want to talk about it, you can talk about it. For me he's the soul of the meeting. I wouldn't miss that for all the tea in China, and I'm going to miss him."
Mr. Norton, an attorney who grew up in Edgartown, was elected in 1976. His father, Philip J. Norton, was moderator for nine years, from 1956 to 1965.
Most voters in Edgartown today have never attended a town meeting without Jeff Norton at the podium. According to procedure, the moderator has absolute control of the town meeting. He or she presides over proceedings, decides questions of order, declares all votes, and recognizes speakers. Once a quorum has been declared, Jeff Norton becomes known as Mr. Moderator.
For 43 years Mr. Norton has steered the town through rancorous debates and humdrum business. At his first annual town meeting in 1976, voters approved a $1.8 million budget and debated a bylaw to forbid nude swimming.
At his last annual town meeting Tuesday, the town will take up a $36.8 million budget, a 75-item annual town meeting warrant and a 17-item special town meeting. If past is prelude, Mr. Norton will guide the meeting with dry wit. Though the agenda is lengthy, he is known for keeping town meetings speedy, usually held to a single night.
In one notable feat of speed, a 1979 four-article special town meeting lasted four minutes. (Some clocked it at two minutes.)
Mr. Norton "sounded like an auctioneer last evening," the Gazette reported.
In 1984 he stood on the stage of the Whaling Church wearing a brown pinstriped suit, "scuffing his foot like a schoolboy," the Gazette reported. "He never uses the gavel, except to tap it absently in the palm of one hand. For Jeff Norton, a gavel is not necessary for control."
In a brief interview last month after it was confirmed that he would not run this year, Mr. Norton said old age prompted him to step down.
Many say town meetings won't be the same without him.
"Jeff is an outstanding moderator, and it has really been my privilege to work with him," said longtime Edgartown town counsel Ronald H. Rappaport, who has shared the stage with Mr. Norton at Edgartown town meetings for more than 30 years.
"He has an incredible ability to sense the mood of the meeting," Mr. Rappaport said. "He lets people talk when he knows people want to talk, and there comes a time in the meeting where he knows people are done talking and just want to vote . . . he then moves the meeting rapidly through. It's like catching a fish. Let fish run a little line, and when it's time to reel the meeting back in he does that. He's a master."
He continued: "He's able to defuse the tensest of debates and discussions with humor . . . he's respectful, there's a warmth that's created by the familiarity.
"He's not replaceable, I'll put it that way . . . I'm really going to miss him and so will the town."
Selectman Margaret Serpa agreed. "He's been the perfect moderator for us and he's not going to be easy to replace," she said, adding:
"He's certainly got a lot to be proud of, doing it and doing it as well as he's done it for those many years."
Sean E. Murphy, an Island attorney and Edgartown resident, is running unopposed to fill Mr. Norton's seat. Mr. Murphy said when he decided to run, he asked Mr. Norton if he would help him prepare for the job. The response, he recalled, was something like "yeah, whatever."
He added: "I think he's excellent. My goal will be to run the town meeting in the same way as Mr. Norton did."
Still, 43 years is a long tenure and Mr. Norton has big wing-tips to fill, but Mr. Murphy said he's up to the challenge.
"Assuming Mr. Norton trains me, I'll be okay," he said.