The clang of aluminum bats and cheers from parents echoed across Penn Field in Oak Bluffs Saturday for opening day of the Martha's Vineyard Little League season. Boys and girls alike in freshly laundered uniforms worked in their gloves while chewing gum under the shade of baseball caps on the warm, sunny spring day.
The festivities kicked off earlier in the morning with a parade from the Oak Bluffs police station to Viera Park and an opening day ceremony at Penn Field. The ceremony centered around a tribute for girls in baseball, and pediatrician Melanie Miller threw out the first pitch.
"Our mission is that we want as many kids playing baseball as possible and having fun," said MV Little League president Chris Roberts.
More than 200 kids play for one of the 19 Little League teams, from T-ball to the minor and major league programs, according to Mr. Roberts. On Saturday teams took to the fields all over the Island.
Penn Field was home to major league play. For the game between the Athletics and Pirates, Geovane Meikle, age 12, was on the pitcher's mound for the Athletics, rolling the baseball in his hand as he prepared for his favorite pitch, the four-seam fastball. His mother, Carol Meikle, was watching intently from the stands.
The baseball struck the catcher's glove and the umpire called out "strike one." Ms. Meikle breathed out a sigh of relief. She said she's hardly ever missed a game since Geovane started playing T-ball.
"He really loves baseball," she said. "He told me when he gets older, he'll open a baseball-themed restaurant. First base appetizer, second base main course, third base dessert, and he won't say what home base is yet."
After six innings and countless bags of Ballpark chew, the game ended in a five to five tie. The day's packed schedule had to move along, leaving no time for extra innings.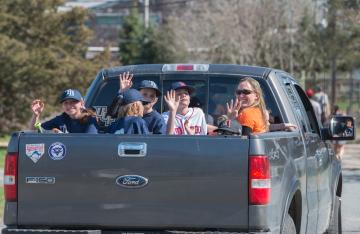 Cardinals assistant coach Fabricio Sornas watched the game from the outfield as he waited for the start of his team's doubleheader against the Red Sox. His son Bryan is the Cardinals shortstop. Both Fabricio and Bryan are of Brazilian heritage.
"It's a great opportunity for the Brazilian community to learn about American culture, and vice versa," Mr. Sornas said.
A cheer went up as a baseball sailed into right field and players started rounding the bases. A young voice on the intercom lingered on a long "Oh yeah." It's the catchphrase of Volkert Kleeman, a Cardinals player and budding announcer. He said he has nicknames for many players, like "Cheeks" and "Cool-Cool," and even "G-Man" for Geovane. When asked whether he'd rather be a professional baseball player or baseball commentator one day, he didn't hesitate.
"Definitely announcing," he said. "That sounds fun."
Smoke from a nearby grill rose to the sky as the concessions booth prepared hot dogs and hamburgers for the mid-game rush. Athletics and Pirates players crossed paths on the field, high-fiving and calling out "good game." New dirt stains on their once spotless uniforms proved that the game was hard fought. One game down, a whole season to go.
"It's a good sign that spring has arrived," said Mr. Sornas.