As the Martha's Vineyard Regional High School spring sports season reaches the midway point, several teams are asserting their dominance in the league while others are recouping from hard-fought losses. The brighter skies and warmer weather of May finds teams battling tough rivals in search of playoff seeds.
Here's where the teams stand at the season's halfway point.
Boys' Tennis
The boys tennis squad remains undefeated after six matches under the leadership of first-year coaches Tony Omer and Ryan Sawyer.
Mr. Omer said he knew he had a standout team after a dramatic match against Bishop Stang at the start of the season. After freshman Max Potter, the team's first singles player, lost his first set against Bishop Stang's number one ranked senior, the Bishop Stang coach asked Mr. Omer to justify why Potter was listed as the team's best player. Potter answered by winning the second set 7-5 and the tie-break, taking the match and leading the team to a 5-0 victory for the day.
"We have a young team, but they are very experienced," said Mr. Omer. "They've played a lot of matches over the years. We're pretty strong at every position."
Mr. Omer praised the team for juggling AP tests along with practices, and getting along from the start. He said he's excited to send five players to a statewide tournament this weekend.
"I feel like I'm lucky to have such good players and solid people to work with," he said. "We're having good time."
The team will play a series of home matches against Sharon on Tuesday at 3:45 p.m.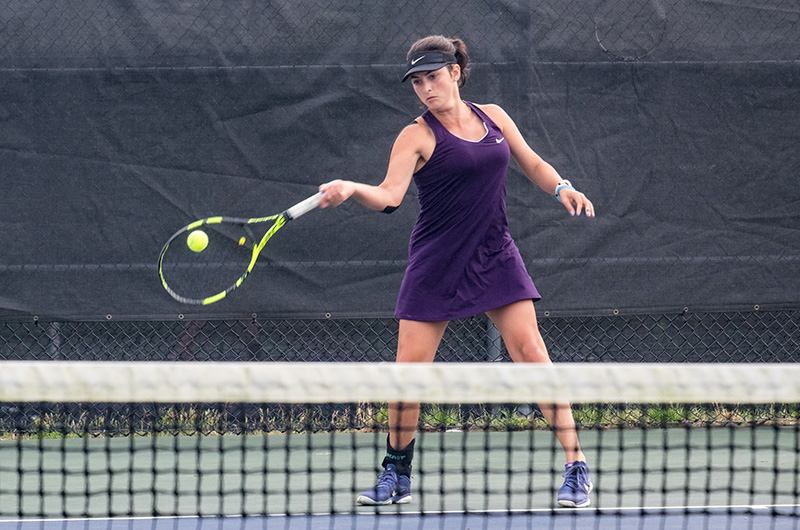 Girls' Tennis
The most dominant team in the athletic program, three time Division 3 state champs, continues to breeze through the competition this year, barely dropping a set in their six matches so far.
"We haven't seen any really tough competition yet," said coach Nina Bramhall, though she added that Sharon High School, the reigning division one champs, should put up a fight on Friday. She said the Vineyarders only loss in the last four years was to Sharon, so the team is eager to get another shot at them.
Three girls are also playing this weekend in the MIAA individuals tournament: Hannah Rabasca at third singles and doubles teammates Katherine Roberts and Elizabeth Williamson.
Ms. Bramhall said the team has built a nice camaraderie and gives it their all in each match.
"Our girls are sticking to their game even though they're not being that tested," she said.
The showdown with Sharon is set for Friday at 3 p.m. at the regional high school courts.
Boys' Lacrosse
It's been a rollercoaster of a season for coach Chris Greene and his team as they look ahead to the playoffs with a 6-6 record. After a hot start, the squad suffered from a four game losing streak involving a few heart breaking finishes. With six games to go, Mr. Greene said the team needs to win four to five of the last games to make the playoffs.
"I think we can muscle our way through," he said. "We have moments where we've shown a great deal of resiliency."
Mr. Greene praised his team captains, particularly new captain Sam Wallace, for their leadership and high-level play so far this season. He also pointed out second-year goalie Max Smith and sophomore Colby Zarba as breakout players exceeding expectations.
The team will face rival Nantucket, a powerhouse team at 10-1, on Saturday in a key match-up that may be make or break for the Vineyarders. Mr. Greene said he's confident the team is up to the challenge.
"It would be great to get a win and get back on track," he said. "These will be quality wins come playoff time."
A home match against Sandwich is set for Monday, May 14 at 3 p.m.
Girls' Lacrosse
Coach Kurstin Moore's squad has come a long way since a double-digit loss in the freezing rain against Bishop Feehan in the first game of the season. The team is now 8-2, earning a tough victory against Barnstable last Friday and a dominant 19-1 win over Coyle and Cassidy on Tuesday.
Ms. Moore credits the strong leadership of team captains Lily Pigott and Audrey McCarron for the team's success and ability to keep the group's energy up no matter the score.
"The team really is coming together," she said. "Everyone from offense to defense has been stepping up."
Ms. Moore added that the players have become great friends and whereas other teams may get frustrated with each other in tough games, her players respond by staying positive and sticking together.
A home match against Falmouth is set for Thursday at 4:15 p.m.
Baseball
Two wins in eight games may not sound like much, but baseball coach Gary Simmons said his young team is improving with each game, especially after a 2-1 victory against Falmouth on Monday. He said the team has done a good job of staying focused despite the numerous losses.
"The biggest thing is the kids are competing every game and working hard," he said. "They're in every inning."
Despite the team's overall inexperience, Mr. Simmons said a couple of seniors are taking charge from the pitcher's mound. He said starting pitcher Sam Bresnick has pitched 24 innings so far this season and has only given up five earned runs along with striking out 30 batters. He's also leading the team in hits. He also mentioned pitcher Jack Sierputoski and junior Sam Cranston as core players carrying the team.
The team plays a doubleheader against Nantucket on Saturday at home at 12:30 p.m. and 2:30 p.m.
Track
Though the regular season is nearly over, five boys and girls from the track team are set to compete at the state division track meet in Ipswich on Memorial Day weekend.
Team members competing are Amber Cuthbert (mile), Catherine Cherry (two-mile), Mackenzie Condon (hurdles, long jump, high jump), Nathaniel Packer (shotput) and Richie Barlett (javelin).
Coach Joe Schroeder's team is also preparing for the Eastern Athletic Conference (EAC) championship next Wednesday. He said he's expecting great results since his young team has only gotten better as they've progressed through their 3-2 season.
"The kids improve so quickly and get to see their personal bests on an almost weekly basis," he said. "We have a really solid core group of freshmen and sophomores starting to contribute to the team."
There are no more home meets scheduled. The EAC championship is set for Wednesday, May 16 at Bishop Feehan.
Sailing
Coach Andrew Burr's team is also hanging onto postseason hopes as they head into their next meet ranked 19th in the Cape and Islands League. To get into the Turk tournament, Coach Burr said it's crucial to win out and get moved up into the top 16 teams. The round-robin style tournament will be held the weekend of May 19-20 at MIT.
"The meet Thursday with Dartmouth is the crux of the season," he said. "Beat Dartmouth and we probably get in."
Mr. Burr singled out driver Coltrane Leport as one of the stars of the season. While many drivers grew up sailing, Leport has only two seasons of driving experience and Mr. Burr said he's rarely seen someone progress so quickly. He also called sophomore driver Joe Serpa and senior crew member Elizabeth O'Brien exceptional and the glue of the team.
"There's so much that goes on on a boat. You have to be a participant, not a bystander," he said.
The Cape and Islands championship meet is scheduled for May 23 at the Massachusetts Maritime Academy in Bourne.
Softball
The softball team stands at 1-7, after a big win over Cape Cod Regional Tech, under the leadership of Coach Sam Burns.