Newly sworn-in Edgartown police chief Bruce McNamee is sitting in his office while a technician fiddles with the chief's computer. The machine is being stubborn about transferring some files from Chief McNamee's previous job as a captain on the Plymouth police force. The computer glitch appears to be the only thing that is bugging him about the new job. He said he's never had so many waves and smiles while sitting in a police cruiser.
"Couldn't be happier," he said. "I know I'm supposed to say something like that, but it is the truth. I've worked toward this for 24 years now. I wish I'd found this place 24 years ago. There certainly is a sense that the Edgartown police are part of the community here, and I'm excited to be a part of that."
The new chief didn't need to be converted to life on Martha's Vineyard. He made that conversion 20 years ago, when he married his wife, the former Mary Healey, who grew up in Oak Bluffs. The couple has owned a home in Oak Bluffs for many years. The chief's wife and son Colin, 14, plan to join him after the school year is completed. He said he's excited about raising his son on the Vineyard.
"There's something more comfortable about being here," Chief McNamee said. "I can't quite put my finger on it. I think the person who could really clearly conceptualize it is either a genius or making it up. We're far away, and I like that."
Previous visits have given the new chief an idea of how Island life ebbs and flows. He arrived in the spring shoulder season, and is gearing up for the summer.
"I definitely see we've got two different schools of thought policing here in the off-season and in the summer," Chief McNamee said. "It's two different agencies. In the winter we try to interact with the public as best we can and as often as we can. We're staffed well for the off-season, but it's a challenge to deal with the crowds in the summer time. Some of that I'm hearing about. It's sort of the thing of legend, just how busy it is here on the Island. I've got a lot to learn."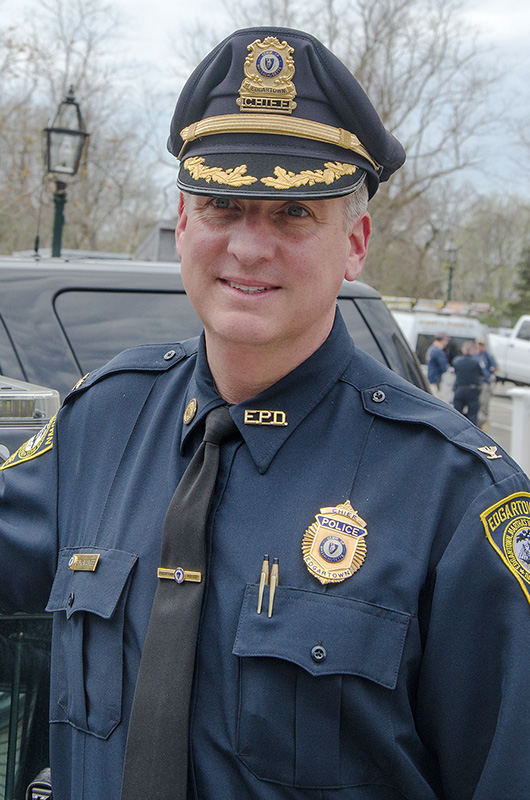 Chief McNamee was born in the Canadian province of Newfoundland. He moved to the United States and became a citizen as a child.
He served in the U.S. Navy, and began his law enforcement career as an environmental police officer. After joining the Plymouth force, he moved up through the ranks, eventually becoming administrative captain, a step below the chief's position. He has also served as an MP in the Army National Guard.
Five years ago, Chief McNamee enrolled in the FBI national academy for a comprehensive study of police administration and leadership. He counts it as an important part of his career path, where he learned more about best practices in community policing, among other things.
"How you define community policing is the mark of a leader," he said. "It's not just, people know the officers, they're familiar with them and they see them coaching ball games. True community policing involves the public, in dealing with the issues. You look to the public for solutions, you involve them in your problem solving. They kind of direct your actions more than we tell you how we're going to respond to a problem, and that's what I'd like to see here."
One of the most intractable problems Chief McNamee will face is the epidemic of heroin and prescription opioid abuse on the Vineyard. He said he will draw on experience gained in the Plymouth community, where he said approximately 20 people died annually of overdoses in recent years.
He lauded the efforts of Island police in dealing with the epidemic.
"You guys are out in front," Chief McNamee said. "The police involvement with social services, that outreach to the addicts and the families of addicts to try and get them help, you've been doing it longer than we were doing it."
The chief comes to a department whose officers have expressed sharp disagreement about the direction the police force. Some of that disagreement surfaced in a Jan. 8 meeting of the board of selectmen. Several officers pressed for an outside executive to come in and lead the department, while others advocated for internal candidates.
It was an unusual display of turmoil within a department and a town that prides itself on having few internal problems severe enough to reach the stage of public discussion at a selectmen's meeting.
Chief McNamee said dissension is too strong a word for the state of morale in his department, but he is well aware of the challenges ahead.
"I watched the video online, and I did see an agency that, wasn't broken, but did have varied opinions about where their future should go," he said. "I hadn't seen that before, with that much polarity of opinion about where they thought their future leadership should come from. Having seen that, and some of the fallout from the process of my getting hired, some of that did take a little bit of the fun out of it."
He said he plans a proactive approach. He will work individually with every officer on the force to address concerns, and plans a department-wide meeting in the near future.
"I don't know that they have low morale," Chief McNamee said. "I think perhaps some people felt they didn't have a voice. Every manager says they have an open door policy. When a manager waits for an employee to come to them, it's probably too late. My thought is I want to meet the officer, be in the cruiser with them, talk to them while they're doing their work, and not necessarily wait for them to come to me."
On the wall of his office is a frame holding every badge he has ever worn. Near it is a painting of an iconic Island scene overlooking Vineyard Haven Harbor. Chief McNamee said that picture hung on his office wall in Plymouth for nine years, and provided solace to him when he was having a tough day.
Now that he is here, despite the new challenges ahead, Chief McNamee expressed no regret for leaving his position in Plymouth.
"Chances were better than average that I would have been the next chief of police there," he said. "But it wouldn't have been on the Vineyard. So when this opportunity came I had to take advantage of it."