With the arrival of nesting shorebirds, Cape Pogue Wildlife Refuge and most of the other barrier beaches on Chappaquiddick will be closed to over-sand vehicles starting next week.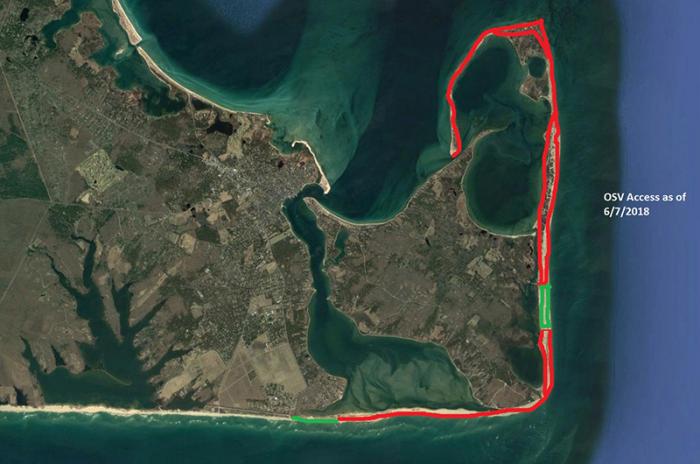 All of Cape Pogue will be closed north of the Dike Bridge on Chappy starting June 2, Trustees of Reservations Vineyard stewardship manager Chris Kennedy told the Gazette Tuesday. The southern half of Leland Beach just south of the Dike Bridge will close on June 6.
Most of Norton Point Beach will be closed beginning June 7. Mr. Kennedy said about a quarter mile of beach at the Edgartown entrance will remain open to over-sand vehicles. Pedestrians are still allowed in all areas, though dogs are not.
Restrictions are required under state and federal law when endangered shorebirds are present. Piping plovers, terns, skimmers and oystercatchers arrive in the late spring and early summer to hatch and raise chicks.
Mr. Kennedy said eight pairs of piping plovers are nesting from the left fork to the Cape Pogue gut, with another four pairs looking for nest sites. The chicks are expected to hatch within 10 days of each other. Given the time it takes for chicks to gain enough weight to fly, Mr. Kennedy said the beaches will likely start reopening the first week of July, but that date could be pushed back if the nests are predated or destroyed by storms.
Up-to-date information about beach restrictions will be available through a 24-hour recorded hotline at 508-627-8390 for Chappaquiddick and 774-310-1110 for Norton Point.
The perennial beach closures have been controversial among fishermen and others who want to drive on the remote beaches by vehicle. At a meeting last summer Vineyard fishermen said frustration was brimming over the repeated closures.
Mr. Kennedy said he understood the concerns. "We feel people's pain," he said. He noted that the nesting season started about two weeks early this year, which could mean vehicle access starting two weeks earlier later in the summer.
"We're doing this because it's the law," he said. "The law says you must close to protect these threatened shorebirds. And it's the right thing to do."
All areas will be open for the upcoming Memorial Day weekend, with good weather in the forecast.
"It's a great opportunity to get out, enjoy the weather, enjoy the weekend," Mr. Kennedy said. "And then next week we begin the annual rite of shorebird closures."