Friends and family of the late Island jeweler Cheryl Stark gathered next to CB Stark Jewelers in Vineyard Haven Saturday morning for the dedication of Stark Park on the corner of Main and Union streets.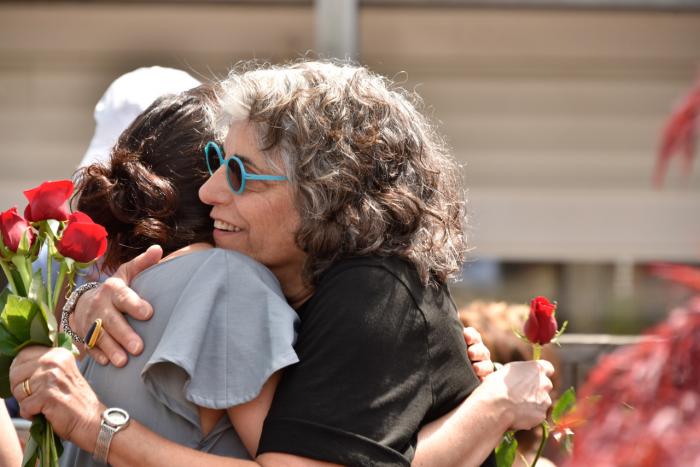 The park was made official by a vote of the Tisbury selectmen shortly after Ms. Stark died last year. On Saturday it was adorned with a bench and array of petunias, begonias and a Japanese maple. A plaque will eventually be placed in the park as well.
"Cheryl would have absolutely loved this," Margery Meltzer, Ms. Stark's wife and business partner of 45 years, told the small crowd. "I can see her grinning right now."
Ms. Stark had been an Island mainstay since 1966. Her first shop was on Water street, later moving to Main street Vineyard Haven. The store celebrated its 50th anniversary in 2016.
Ms. Stark was an artisan whose generosity and kindness flowed into the community, many said. Among other things, she was active in the substance abuse recovery community on the Island and gave her time to many other causes.
"She was a creative, community-minded force," said friend Kate Taylor, adding that Ms. Stark would support community artists through her store. Dedicating the park was Ms. Taylor's idea, though she needed the help of Tisbury selectmen to make it happen.
Tisbury selectman Tristan Israel, who called Ms. Stark a great friend, agreed and won the support of the rest of the board.
"She was a very unique and wonderful woman who helped a lot of people in the community," Mr. Israel said.
After Ms. Stark received a terminal cancer diagnosis in 2016, Ms. Meltzer made sure to always have roses in the house to comfort her. Speakers at the dedication held roses to honor Ms. Stark's memory, and Ms. Meltzer said roses remain a constant presence in their home.
Ms. Meltzer and Ms. Taylor said the corner was nicknamed Stark Park long ago as a popular meeting spot and place to watch people come off the ferry and spill into Main Street.
Both said they hope the park continues to be a place to gather and enjoy beautiful days on the Vineyard.
Many stuck around after the ceremony to swap stories and enjoy the new park on the warm, sunny day. It didn't take long for passerby to join in. A few teenagers walked over from Mad Martha's with cups topped with ice cream to sit on the park bench and chat.
"It's just another beautiful little spot in the town," said Ms. Taylor. "A little place like this make a village a community."