The fast ferry Ava Pearl was on her way home to Rhode Island early Sunday evening following an afternoon incident when she lost power and was towed to Vineyard Haven with 75 passengers aboard.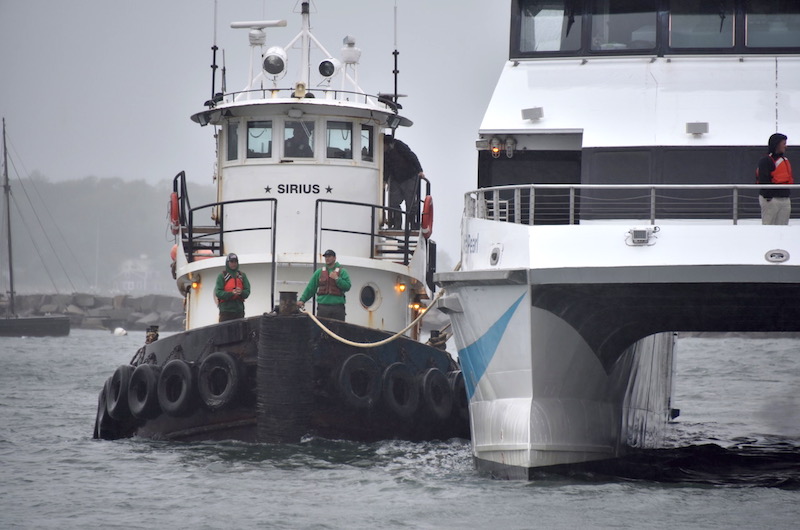 Company owner Charles Donadio Jr. said a preliminary review found a problem with the emergency stop button. Pending Coast Guard inspection and sea trial, the ferry was due to return to service Monday morning, Mr. Donadio said.
Coast Guard First District petty officer Nicole Groll confirmed that the ferry lost propulsion at 11:45 a.m. just outside the jetty breakwater in Oak Bluffs. Woods Hole responded with a 45-foot vessel.
All passengers were safe throughout the incident. Mr. Donadio said later quick response by the captain and crew saved the day, and that given the conditions — strong onshore winds and choppy seas — the situation could have been much worse.
"Our captain and crew did an incredible job," Mr. Donadio told the Gazette by phone. "They did exactly what they are supposed to do. They kept everyone calm, they deployed the anchor and called for help."
The marine company Sea Tow provided the tow to Packer's Wharf in Vineyard Haven, with assistance from the Tug Sirius.
Just before 2 p.m. the Ava Pearl was tied up at the wharf, and passengers disembarked. Mr. Donadio said all passengers were transported to the Steamship Authority where their tickets were honored for passage to Woods Hole. From there they were transported by vehicles to Rhode Island. "Everyone will get refunds and future tickets for the ferry . . . we did what we could to make it as painless as possible," he said.
Weather conditions Sunday were rougher than had been forecast; the Steamship Authority had already begun diverting trips from its Oak Bluffs port to Vineyard Haven when the incident occurred.
Mr. Donadio singled out Capt. Tony Bessinger for extra praise. "The amount of stress that was on that crew, especially the captain — it's just incredible," he said. Captain Bessinger lives in Jamestown, R.I and has been with the company for seven years, he said.
Later Sunday Mr. Donadio said technicians were on their way to Vineyard Haven to evaulate what went wrong.
A high-speed catamaran built in 2012, the Ava Pearl is the newest member of the Rhode Island Fast Ferry fleet that runs seasonal passenger service between the Oak Bluffs harbor and North Kingstown, R.I.
Bailey Duffy, a passenger who was on his way home to Connecticut, praised the response. "The crew was right on it," he said. "They dropped the anchor, we kind of just sat out there for 30 minutes, the tow boat came for us." He said life jackets were distributed and no one felt like they were in danger.
Mr. Donadio said: "As a ferry operator you have to anticipate that something's going to happen at some point in time. It's not if, it's when. You train for these situations."
Pictures chronicle ferry incident.

Steve Myrick contributed reporting.