The annual Memorial Day parade stepped off smartly in Vineyard Haven Monday under overcast skies and a solemn air, as the Island turned out to pay tribute to the veterans who gave their lives in service to their country.
The Vineyard Haven Band played patriotic numbers as Island veterans led the march, followed by members of local fire departments, police forces, the Coast Guard, the Dukes County Sheriff's department, the VFW women's auxiliary, and a contingent of Boy Scouts, Cub Scouts and Girl Scouts.
The men, women and children marched between some of the 450 American flags which lined the Avenue of Flags at Oak Grove Cemetery, and then under an enormous American flag hanging from the Tisbury fire department's Tower 1 truck.
The ceremony began with a prayer led by Lieut. Col. David Berube, a chaplain in the Air National Guard, Air Force veteran, and pastor of Edgartown's Federated Church. He spoke of fallen veterans.
"We are humbly grateful that they sacrificed the remainder of their youth, and the rest of their lives to secure their American generation, and all generations to come," Reverend Berube said. "Give us strength to strive and build an ever growing nation of value and purpose that is worthy of the sacred sacrifice of our fallen, and their families."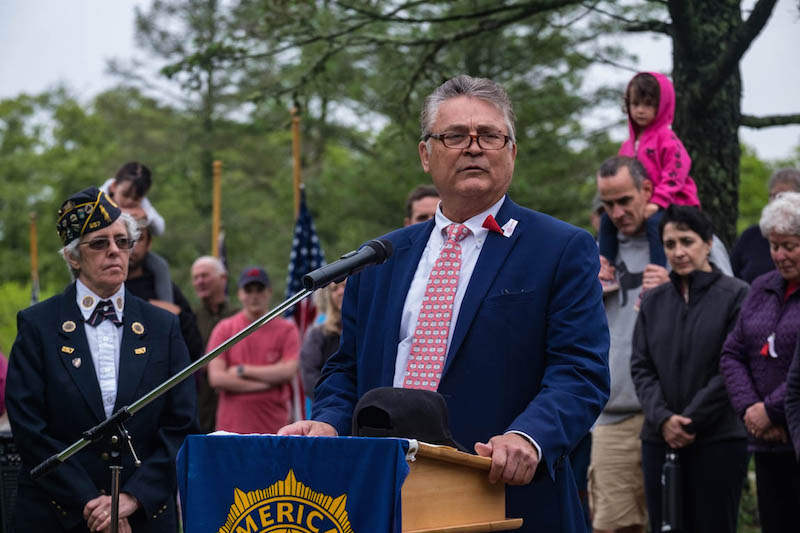 The featured speaker for the event was Edgartown resident Bob Sparks. Mr. Sparks taught history, including many courses on the impact of the Vietnam War, at Northeastern University.
Mr. Sparks prefaced his remarks by telling the crowd he is not a veteran, but has been named an honorary veteran by the U.S. Army 2nd Infantry Division, the unit where his uncle served and died in the Korean War.
Mr. Sparks told the story of his 11-year search for the remains of his uncle, who was declared missing in action and presumed dead after the war.
"The search took me from a prisoner of war camp in North Korea, to hundreds of unmarked graves in South Korea, to the Army's state of the art forensics lab in Hawaii, where my DNA was matched to my uncle."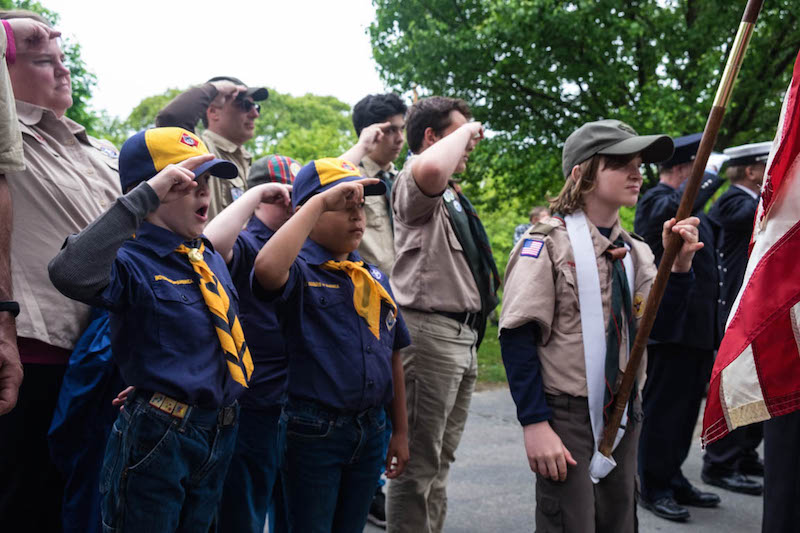 Mr. Sparks also chose to offer a special message to veterans of Vietnam, in the year chosen to commemorate the 50th anniversary of that conflict.
"They came home unwanted, to the same country that sent them 10,000 miles to fight a war that couldn't be won," Mr. Sparks said. "You were a brave army in a very bad war. I lift my voice to each one of you personally, to say welcome home, and thank you for your service."
Later in his speech, he asked for a moment of respect for the fallen heroes of all American wars.
"I ask that each of us here today, pause briefly to remember the hundreds of thousands of veterans who gave their lives, that we here at home might sip our coffee and read our newspapers, in peace and security each morning," he said. "And yes, even vehemently disagree with each other."
Then representatives of various veterans groups laid wreaths at the memorials to World War I, World War II, Korea and Vietnam, at the Avenue of Flags Directory, at the stone that marks the four Tisbury men who died in Vietnam, and finally, at the September 11 memorial.
The veterans then marched back to American Legion Post 257, pausing to lay wreaths at memorials for Civil War veterans, and those who served in the merchant marine.