Aquinnah voters Tuesday night approved $35,000 in school spending during a lightning-fast special town meeting.
There was concern ahead of time among town officials about reaching a quorum (35 voters), but in the end 41 voters turned out at the old town hall and longtime moderator Michael Hebert called the meeting to order just after 7 p.m.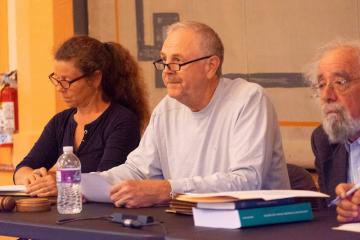 The meeting was necessary because a series of small funding requests were left off the annual town meeting warrant due to errors by school administrators. Vineyard schools superintendent Dr. Matthew D'Andrea was on hand to apologize to voters and town officials for the trouble.
"I wanted to take this opportunity to thank all of you for coming out here tonight," he said. "I want to say thank you to the selectmen for helping us to facilitate this meeting."
"Special thanks to Jeffrey Madison for his help," he added.
"Thanks for fessing up," Mr. Hebert joked in response.
The only hitch in the meeting was a small error in the first article pointed out after Mr. Hebert read it aloud. In the total amount to be transferred from the town building and grounds stabilization fund to the general stabilization fund, Mr. Hebert read 18 cents when the printed town warrant said 28 cents.
"That's the least of our problems," said one voter.
Mr. Hebert asked for an amendment and it was quickly approved along with the article.
The transferred funds allow the town to cover the town's share of expenses for the HVAC system at the Chilmark School and the installation of new fire alarms at West Tisbury School. Voters quickly and unanimously approved both requests.
The meeting ended with cheers at 7:16 p.m., just six minutes after Mr. Hebert banged the gavel to open the meeting. Outside it was a cool spring evening, and friends and neighbors stuck around on the front steps to chat and watch the last rays of the sun try to break through the clouds.