The Martha's Vineyard Regional High School girls tennis team prevailed 4-1 over Winchester Tuesday to bring home the state title for a fourth straight year.
The team came off the ferry Tuesday night holding the championship trophy high, welcomed by rows of police cruisers and fire trucks blaring sirens and blasting their horns. A crowd of family, friends and well-wishers cheered and took photographs as the team posed for pictures and reveled in the victory.
Played at Newton South High School under a blazing sun, it was a tough match between the Vineyarders and the number one-seeded team in the division two north sectionals. The Vineyard team moved up to division two for tournament play for the first time this year. Both teams were undefeated leading up to the match and known for putting away opponents quickly in straight sets.
The Vineyard camaraderie was evident during team introductions. The Island girls then gathered in a circle for a pregame tradition, and matches got under way.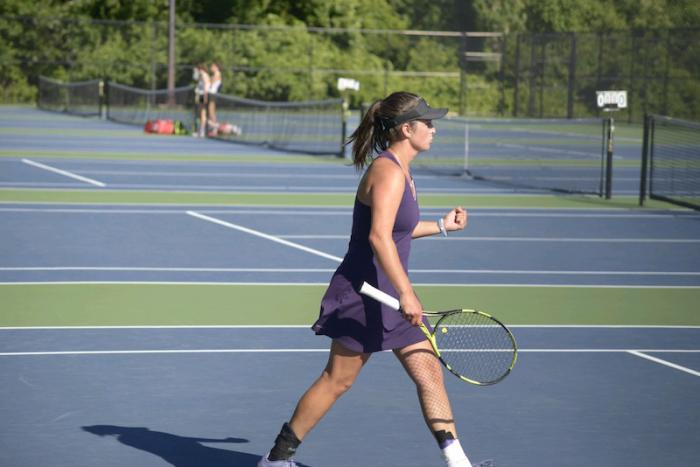 The race to a one-match lead was over quickly when sophomore Hannah Rabasca prevailed at third singles 6-1, 6-0 against Caroline Fredey. The remaining matches would not come so easily. For a time the outcome looked uncertain as the Vineyard and Winchester traded games in each match, and junior Victoria Scott fell 1-6 in her first set to Katherine Dougherty.
Then doubles standouts and individual state champions Kat Roberts and Lizzie Williamson stepped up the pace. One of the championship's two line judges watched intently as the pair clashed in a heated first set with Brooke Scully and Jordan Weinberg, but were able to edge them out 6-4. Roberts and Williamson confidently cleaned up the second set 6-1, giving the Vineyard a 2-0 match lead overall.
Just as victory seemed within reach, trouble was brewing at second doubles and first singles. Sophomores Molly Pogue and Chesca Potter lost a hard-fought first set 4-6 against Taylor Kenrich and Lauren Chilton, and were down in the second. At first singles, junior Kelly Klaren looked early on like she would quickly finish off Julia Thompson, Winchester's number one player, after a 6-1 first set. But in the second set, Thompson came roaring back to force a tie break.
With Klaren's match the deciding one, a crowd of supporters hovered near the fence. Jonathan Klaren, Kelly's dad and Chilmark police chief, watched intently as the pair kept switching leads.
After a string of smashes and serves that streaked past Thompson, it was match point for Klaren. Roberts and Williamson yelled out encouragement. Volleys went over the net. Klaren hit a backhand that was too low for Thompson and bounced past her. The Vineyard had done it again. Teammates and coaches ran onto the court and embraced Klaren in an emotional moment.
The Vineyard was up 3-0 in the best-of-five-match championship.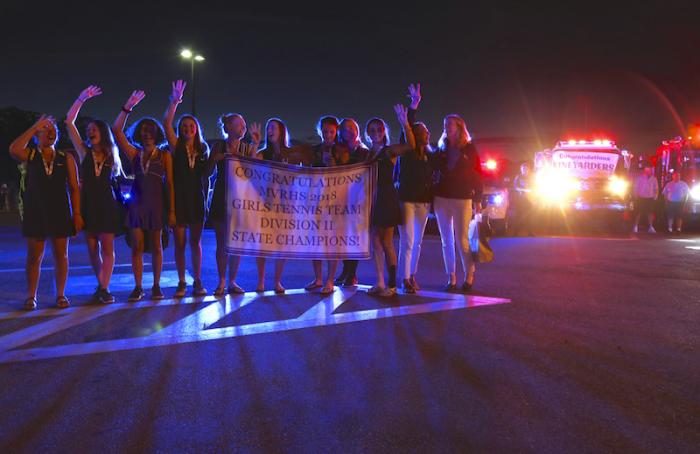 But the thrills were not over. Though Pogue and Potter weren't able to turn around their match, falling in the second set 7-5, over in second singles Scott was making a remarkable comeback after coming within four points of defeat. The match had gone on for a few hours in the heat, but Scott kept her cool, winning the second set 6-4 and battling back to a tie break in the third set. She won 10-7.
Final score, 4-1.
"We're on a high right now," said senior Lizzie Williamson said after the match. "This was the best match ever for our team."
Co-coach Nina Bramhall agreed. "That was the best match ever in four years," she said.
"We're beside ourselves," added co-coach Liz Roberts.
Parents, players and coaches hugged and rubbed their eyes. There was a trophy presentation. On the late ferry ride home, the captain made a special announcement congratulating the team for the win. Players took selfies and received congratulations from passengers on the boat. Most of the girls agreed that they couldn't wait to celebrate by sleeping in on Wednesday.
Speaking to the Gazette by phone the next morning, Ms. Bramhall looked back on an 85-1 record over four seasons of coaching and admitted she was still reeling from the performance by her team. Most have been together since she coached them as youngsters at Vineyard Youth Tennis. She praised seniors Roberts and Williamson for a remarkable run and said that while they have impossible shoes to fill, she thinks the team, led by co-captains Scott and Klaren, stand a good chance of a championship next year.
Most of all, Ms. Bramhall said she hopes the lessons of coming together as a team and rising to the challenge of a new division will echo in each of her players' lives, on and off the court.
"I hope they realize the importance and value of challenging yourself," the coach said. "What made this year special was that we really challenged ourselves. I've never been as proud of them as I am now."