This Monday, June 25, is our annual Garden Party. This year the party will be held at the home of Andrea Ross, the Daggett House at 59 North Water street in Edgartown. There will be live, silent and ticket auctions, food, beverages and fun. Park at the Edgartown School and take the shuttle to the party. Reservations requested so please contact the shelter or visit animalshelterofmv.org.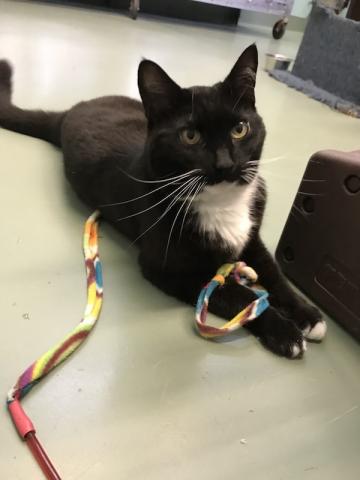 The tuxedo special is still on and both could really use forever homes. Mr. Kitty is only eight and is really more black and white than tuxedo. He looks a bit like a Holstein cow and is a sweet and affectionate cat that will shower his new family with love. Chloe is 10 and has a totally black face and cute white toes. She has become an affectionate lap cat. Come in and see if one of these tuxedos is the right fit.
Our newest resident is a five year-old long hair calico named Lucy. She's a little shy and unsure of her new surroundings but we expect her to warm up once she's comfortable. Come and meet her, she's quite lovely, loves to snuggle and has a sweet purr.
Our lobby is overflowing with guinea pigs. We have two male calico guinea pigs. Lucky has a white blaze on his face and a white ruff, while Maple has a maple colored face. Both were hand raised and adore people and affection.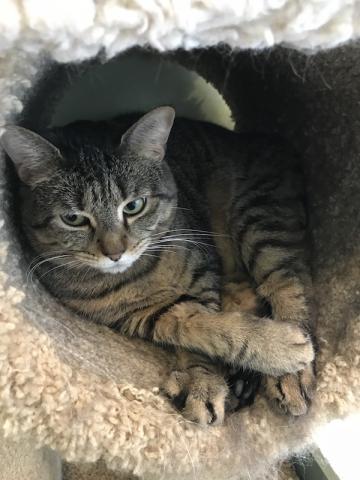 We also have two exceptional two-year-old Abyssinian guinea pigs looking for homes. Both girls are extremely friendly. Emily is white with black markings on her head, and her sister Charlotte is pale caramel and white with a big black spot on her head. Both have adorable Abyssinian rosettes in their coats. These piggies are gems. Emily even comes to the side of the cage asking for attention. If interested come by soon, we're sure they'll both be snapped up quickly. Guinea pigs love and need attention so even if you're not in the market for a piggy please stop in to provide some petting.
Our kittens are growing like weeds. Molly's brood is leaving for forever homes. The orphans still need another few weeks before they'll be old enough to go, and Wilma's babies are now four weeks old, so four more weeks before they can leave. The kitten list is long and growing so if you'd like your name added please call the shelter.
Holly the five year-old tabby is more content in the kitty condo. She can be somewhat standoffish and likes to set her own boundaries, so she needs an understanding owner who won't push her buttons. There is an affectionate cat in there once in the right environment. Is there an angel out there for Holly, someone who can find it their heart to give this girl a home?
Shelter hours are Tuesdays and Wednesdays, 8:30 a.m. to 2:30 p.m., Thursdays and Fridays, 8:30 a.m. to 6:30 p.m. and Saturdays, 8:30 a.m. to 4:30 p.m. The shelter is closed Sunday and Monday. The telephone number is 508-627-8662.
Contributions are always gratefully accepted; the shelter is funded solely by donations. Please make checks out to Animal Shelter of Martha's Vineyard; the mailing address is P.O. Box 1829, Edgartown, MA 02539 or visit animalshelterofmv.org.