More than 350 people gathered at Five Corners in Vineyard Haven Saturday morning to join a nationwide protest against U.S. immigration policies.
The national Families Belong Together march was organized in response to the Trump administration's recent zero-tolerance policy, which has involved separation of families seeking asylum at the border.
"As a mother and grandmother, I was very concerned about children being put in detention," said Gail Snowden of Vineyard Haven who held a sign that read: "Trump's immigration policies are immoral and inhumane! No more family separation."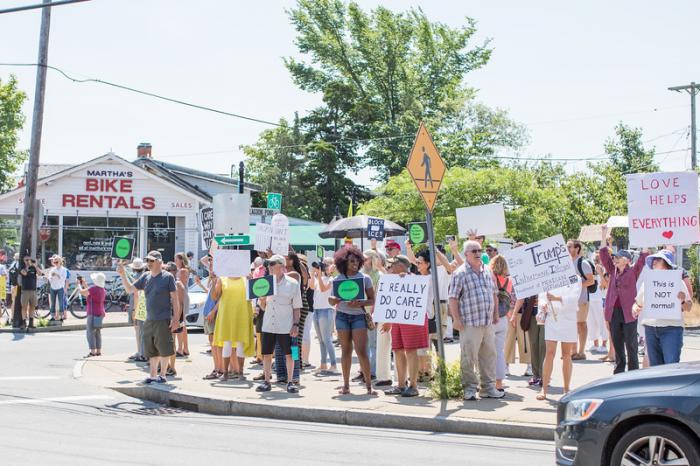 Protesters spread out on every side of Five Corners in the hot morning sun. Intermittent chants of "No hate! No fear! Immigrants are welcome here!" and "This is what democracy looks like!" rang out across the busy intersection. Cars and trucks honked in support.
The protest was organized by the Martha's Vineyard Peace Council in memory of the Rev. Alden Besse who died this year.
Protesters called for protection of immigrant rights, and some called for the dissolution of Immigration and Customs Enforcement (ICE) altogether.
Alice VanDeusen and her husband Fred held signs made from paper plates that simply said ICE, with a red cross-out sign. They arrived on the Island the day before, and used the limited supplies they had available to convey their message.
"ICE has only been around since 2003, and it has really militarized and penalized the whole immigration system," Mrs. VanDeusen said. "It's hurting more than it's helping."
Jane and Jed Katch of Chilmark stood nearby. Mrs. Katch held a sign that quoted the Emma Lazarus poem engraved on the Statue of Liberty: "Yearning to breathe free."
"I feel strongly about immigration because my grandparents immigrated here around Nazi Germany time," she said. "I have a lot of relatives who escaped and a lot who didn't make it."
"At times it's easy to not remember that excepting indigenous people, we are all immigrants," Mr. Katch added.
Across the intersection, Binnie Ravitch waved two small American flags.
"My Brazilian friends and family are part of what make this Island so special," she said.
Rev. Vincent (Chip) Seadale of St. Andrew's Episcopal Church in Edgartown wore his clerical collar and a rainbow stole. He held a sign that read, "Love your neighbor as yourself."
"If we can all just concentrate on this one thing, then God has our backs," he said.