Singer-songwriter and multi-instrumentalist David Bromberg brought his electrified quintet to the Whaling Church on Monday for a night of music that brought roars of applause from the audience.
At 72, Mr. Bromberg has lost none of the qualities that made him one of the most entertaining performers and in-demand session men of the 1970s folk-rock scene. His finger-picking is as deft as ever and his vocal range flows easily from a bluesy snarl to the yelping high notes that color his lyrics.
And he still gives his audience full measure, playing hard for nearly the entire two hours the band was onstage in Edgartown. The set list was a journey of 20th-century folk, blues and ballads, starting with Blind Willie Johnson's Nobody's Fault But Mine, which Mr. Bromberg covered on his 1977 album Reckless Abandon.
Lead guitarist Mark Cosgrove, playing a Fender Stratocaster, led into Mr. Bromberg's own I'll Take You Back, recorded in 2012 for the album Only Slightly Mad.
"I'll take you back, honey: when rattlesnakes have knees and money grows on trees; when water ain't wet and Congress pays off the national debt; when the preachers on TV start sending money to me," Mr. Bromberg sang, smiling as he spat couplet after couplet and unleashed a stringbending electric guitar solo.
Mr. Bromberg switched to acoustic guitar for Leadbelly's Take This Hammer, a song of protest and liberation that also included Mr. Cosgrove on mandolin.
Mr. Bromberg had a mandolin on stage too, among the band's arsenal of stringed instruments. But during the concert he played either a Fender Telecaster or an acoustic six-stringed guitar. The only time he took a break was while Mr. Cosgrove performed a spectacular flatpicking solo on acoustic guitar.
A violinist as well—and the owner, with his wife, of a high-end violin sales and repair shop in Delaware—Mr. Bromberg left the fiddling to bandmate Nate Grower, whose solos drew clapping and cheers throughout the concert.
Now in his early 30s, Mr. Grower was just 19 when he first met Mr. Bromberg, in a chance encounter that led to his becoming a full-time member of the band. In his own youth, Mr. Bromberg had his share of fateful encounters with established musicians, and he remembers them well.
"I've been very lucky in my life," he told the Edgartown audience, recounting a time when he was opening for the Everly Brothers at the Bitter End in Greenwich Village and they gave him a copy of their new single, Milk Train (1968). But it was the flip side, Lord of the Manor, that the young performer liked best.
"We've never played it on the stage before," Mr. Bromberg said before leading his group through the Everlys' ballad of jealous heartbreak, as wind moved the trees outside the Whaling Church windows.
Other cover tunes in the set included the wistful Just Because You Didn't Answer, by Bromberg's friend Thom Bishop; David Massengill's outlaw ballad Fairfax County and a surprising, acoustic version of Carole King's Will You Still Love Me Tomorrow.
With only bassist Savek Zaniesienko remaining plugged in, the band lined up across the front of the stage, drummer Josh Kanusky playing a snare with brushes. The Whaling Church acoustics are kindest to vocal music, and the band's harmonies soared through the room.
"You like it when we break it down?" Mr. Bromberg asked the audience, which by now was growing rapturous.
"We'll break it down more. We know where we are," he added, glancing at the stately church as the group gathered around a single microphone to sing Standing in the Need of Prayer. Mr. Kanusky proved to have the perfect bass voice for gospel singing.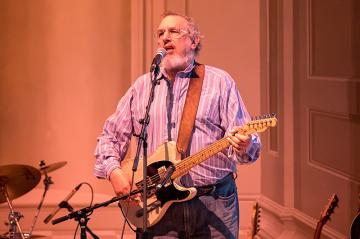 Mr. Bromberg returned to his own repertoire with the reflective Diamond Lil, from his 1972 album Demon in Disguise and, from his 2016 album The Blues, the Whole Blues and Nothing But the Blues, witty numbers including This Month and Why Are People Like That?
He also played a solo called Mary Jane, introducing it as "a very fancy fingerpicking tune in honor of laws recently passed in the commonwealth."
After closing the show with his road song The New Lee Highway Blues, from 1974's Wanted Dead or Alive, Mr. Bromberg heeded the audience's sustained cheering, clapping and stamping to bring his band back for an encore. Lining up again at the front of the stage, they played and sang Roll On, John, a slow and sweet song that's often attributed to Bob Dylan but actually derives from much earlier sources.
The town clock atop the church struck 10 times as Mr. Cosgrove's mandolin gave way to a gentle guitar solo by Mr. Bromberg, the quintet's harmony chorus ending the evening on a tender note.