Journalist Marvin Kalb lived one year as Peter the Great. Or at least that's the nickname Nikita Khrushchev gave him.
It was an evening in 1956. After having drinks with Minister of Defense Marshal Georgy Zhukov (who drank eight glasses of vodka in 40 minutes, while Mr. Kalb snuck water), he received an enthusiastic introduction to Khrushchev.
"I have finally found a young American who can drink like a Russian!" Mr. Kalb said, recalling Mr. Zhukov's elation at his feigned tolerance for Russian vodka. As the story goes, Khrushchev asked Mr. Kalb how tall he was.
"I told him, I'm six centimeters shorter than Peter the Great," Mr. Kalb said. "Khrushchev loved it."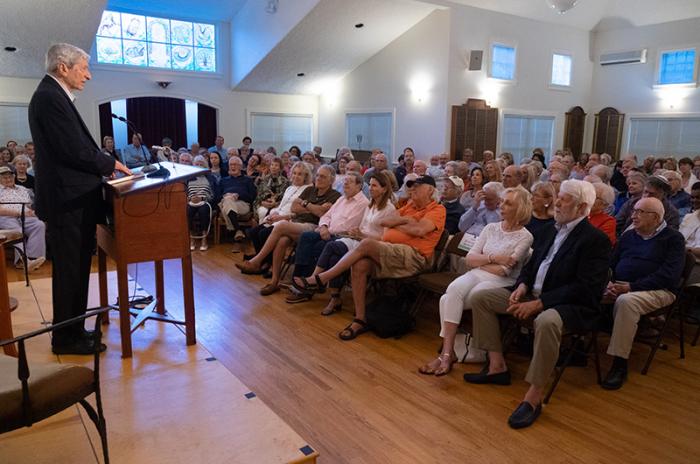 Mr. Kalb shared this and many more stories with an audience at the Hebrew Center on Thursday evening as part of the Summer Institute speaker series. Mr. Kalb's long career as a reporter includes work for CBS and NBC, where he was the anchor of Meet the Press. He is currently a senior fellow at the Brookings Institution and senior advisor at the Pulitzer Center on Crisis Reporting.
As part of the evening he also shared excerpts from his memoir, The Year I Was Peter the Great: 1956—Khrushchev, Stalin's Ghost, and a Young American in Russia.
"We need to know more about Russia and Putin. And who comes to mind when we think of that?" Summer Institute chairman Bruce Eckman asked the crowd during his introductory remarks. "Marvin Kalb."
Mr. Kalb's expertise on Russia, Putin and Ukraine stems from his extensive studies, teachings and travels. While he spoke for just under an hour he has filled the pages of more than 15 books on the subjects.
His memoir takes readers back to 1956, three years after Joseph Stalin's death and Khrushchev's subsequent rise to power. Mr. Kalb described his work as a young diplomatic attaché at the U.S. Embassy in Moscow during this period of drastic change.
"On February 25, 1956 Khrushchev delivered a speech to the Soviet communist party that attacked the legend of Joseph Stalin and accused him of being a killer," Mr. Kalb explained. "Joseph Stalin created this myth that he was not human, but that he was above humanity."
Writing about important historical moments as a reporter was never difficult, Mr. Kalb said, but penning a memoir took him out of his comfort zone.
"A memoir is about yourself," he said. "There is no barrier between you and you."
A question and answer session followed Mr. Kalb's talk. Some attendee's asked about his trips to the Kremlin, but the conversation focused mainly on two subjects: democracy and Trump.
"Is democracy finished in the world?" one attendee asked. "Where is our democracy headed?"
Mr. Kalb paused for a moment before countering the questions with one of his own. "What is democracy?" he asked. While he acknowledged the question elicits many different answers, he provided two.
"Democracy is the judiciary and the press. Both free, strong and unafraid. They are the two pillars. If either one is weakened, the structure is weakened. Don't let it slowly be cut down."
The Summer Institute series continues on July 19 with Ruth R. Faden, founder of the Johns Hopkins Berman Institute of Bioethics. Visit mvsummerinstitute.org for more information.