When darkness sets/The sun that's left/May cause you to feel alone/Just take that feeling as your shelter/ That's the one place/ We can all share a home -- Willy Mason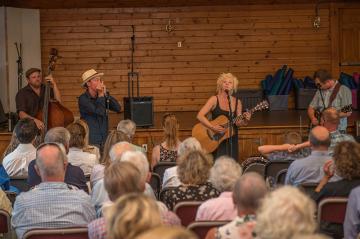 Family, friends and neighbors gathered at the Chilmark Community Center Thursday evening to remember and celebrate the life Lynn Murphy 2nd, who died in motorcycle accident on April 24.
Readings, stories, laughter, a shared potluck dinner and music from Willy Mason and friends including Rose Guerin, Geordie Gude and Brad Tucker, were all part of the evening which was passionate and informal. It was a unique tribute to Lynn.
July 19 would have been his 40th birthday. Poised and graceful, his mother Susan Murphy stood at the front of the room and spoke about David Brooks's book The Road to Character.
The book distinguishes resume virtues from eulogy virtues. Susan explained that resume virtues are the skills you bring to the job market that contribute to a person's external success. Eulogy virtues are qualities that exist at the core of a person's being and define a person as kind, brave, honest or faithful and play a significant role in the types of relationships a person forms.
Mrs. Murphy spoke about the relationships her son formed and his devotion to family, including more than seven years spent helping her tend the family mooring and marine repair business, and also care for his ailing father Lynn Sr.
When Lynn senior died, Susan said she told her son that life begins at 40 and it was time for him to embrace his resume virtues and enjoy putting some wind in his sails. The wind and the tide were just starting to give him direction when his accident brought his sail on this Earth to an end.
Younger brother Lucas said the support of family and friends allowed him the opportunity to seek solace in the thought that his brother was at peace with their dad.
Willy Mason described him as a passionate, fiery angel of justice, a person who expected the best of his friends and in return would instill truth, honor, love and care into everything.
The Rev. Bill Eddy's opening remarks took everyone back to another July evening 40 years ago: Lynn's baptism at Squibnocket Beach. On that day the ocean was rough and the air windy, he recalled.
Reverend Eddy told a version of story of Jonah and the Whale, and a quote was read from Secondhand Lions, a favorite movie of Lynn's, which he had tucked in his wallet at the time of his death:
"Sometimes the things that may or may not be true are the things a man needs to believe in the most. That people are basically good; that honor, courage, and virtue mean everything; that power and money, money and power mean nothing; that good always triumphs over evil; and I want you to remember this, that love... true love never dies. You remember that, boy. You remember that. Doesn't matter if it's true or not. You see, a man should believe in those things, because those are the things worth believing in."