With two months left until the state primary, Democratic gubernatorial candidate Bob Massie held a forum with the Martha's Vineyard Democrats at the Tisbury Senior Center Friday to lay out his platform.
Mr. Massie is running against Jay Gonzalez in the Democratic primary on Sept. 4.
Incumbent Republican Gov. Charlie Baker is seeking a second term and faces a primary challenge from Scott Lively.
Mr. Massie, 61, described himself as an environmentalist and entrepreneur who has led global organizations focused on corporate sustainability. In 1994, he received the Democratic nomination for lieutenant governor of Massachusetts, but fell short in the general election. He lives in Somerville with his wife and daughter.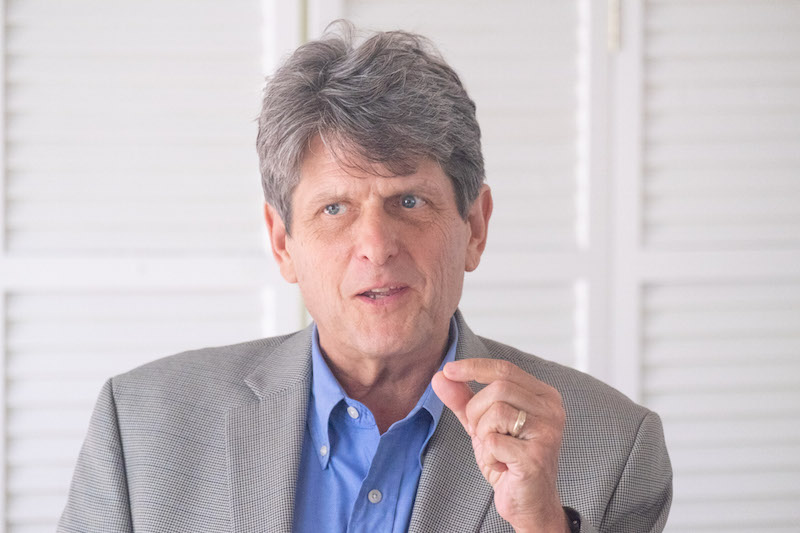 Speaking to a small crowd Friday, Mr. Massie stressed his experience in and passion for economic and environmental sustainability as what separates him from other challengers.
"I believe that our economy should be rooted in the concept of sustainability," he said. "We should be seeking pathways to economic prosperity while at the same time being conscious of social justice, while also respecting and restoring the planet."
The speech covered a range of topics, touching on issues of climate change and renewable energy, particularly wind and solar power. He emphasized that the role of a governor is to look ahead and that now is the time to start focusing on solutions.
On economic issues, Mr. Massie said wage and wealth inequality is getting worse and he wants to direct state resources to invest in small, community economies. He said he believes in single-payer healthcare and lowering tuition costs as pathways to providing economic stability for struggling families.
"Our economy is structured incorrectly," he said. "It's upside down. It's drawing capital out of communities and rocketing it up to Wall Street. People need a good home, good school, good doctor and a good job."
During a question and answer period, Mr. Massie fielded questions on Vineyard concerns including the opioid epidemic and protecting water quality. He said he supports marijuana legalization.
Speaking to the Gazette following the event, Mr. Massie spoked about the Vineyard affordable housing crisis and said he wants to work with planners to develop more compact communities statewide that allow for more homes, much like towns on the Island.
"One of the things people love about Martha's Vineyard is the small communities of high density," he said. "The single biggest problem is the markets are left to themselves to create expensive houses. It's not a crime, it's a structural problem."
Mr. Massie had to catch a ferry to get to his next campaign event, but said he hopes to visit the Island again should he win the Democratic nomination.
"My main thought today was I wish I could stay longer," he said. "It's one of my favorite places in Massachusetts."