A sign just outside the door of the Chilmark Chandlery says the store is open in late afternoon and other inconvenient times. On a muggy day on the after side of 3 p.m., Everett Poole ambles up the ramp to unlock the door and conduct business with Menemsha fishermen who need a length of line, summer residents who want a scallop net or a clam rake, old timers who want to sit and talk, and tourists who are "just looking."
He has hardly settled in for the afternoon when a woman enters the shop, seeking instruction on how to rig a mooring ball. Mr. Poole answers all her questions, patiently showing her how the line and shackles should be arranged. That done, she asks about shellfish limits and he shows her a basket that represents the amount of clams she is allowed to take. She leaves satisfied.
"That's what it's like around here all day long, a lot of free advice," Mr. Poole says with a gruffness that belies his unwavering willingness to give advice to anyone and everyone who comes in.
He wanders over to the side of the store where three rickety chairs are arranged around a rack that holds spools of rope. He has agreed, reluctantly, to entertain some attention from a Gazette reporter.
"Okay, in 30 words or less, what do you want to know," he says. "I don't remember anything."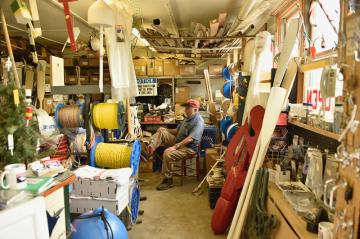 But he does remember. He recalls everything with a memory as wide as the nets that once swept fish out of these Island waters, and a mind as sharp as the harpoons that once stuck enough swordfish to keep his ice house full all summer long. His wit is keen and his laugh comes easily.
He is 87 this summer, and every one of those 87 years have worn a crease or two into his craggy, bearded countenance. He tamps tobacco into his pipe and lights it with a fearsome looking torch device. The sweet smell of pipe smoke fills the shop.
Mr. Poole has worked hard all his life. As a kid he established a paper route delivering the New Bedford Standard and the Cape Cod Standard on his bicycle to his neighbors in Quitsa, along South Road and North Road and in Menemsha.
When there wasn't any work, he invented new ways to earn money. He first tried fishing with his father who operated a boat with the hardy Menemsha fishing fleet. But father and son didn't get along. "The old man threw me off the boat in the middle of July," Mr. Poole recalls. "I couldn't get a job anywhere by then. I had to do something. Either that or there would be no ice cream the rest of the summer."
So while still in high school, he took to peddling fish. He fashioned a push cart that could carry his small box packed with fish and ice.
"When the trap boats came in, I'd go down, buy a basket of fish, take it over on the dock, clean them and go peddle them door to door," he says.
The following year — that was 1944 — he opened a fish market in his father's boat house on the Menemsha waterfront. "In 1947, the town said I could no longer have a fish market, because I was buying more fish than I was catching," he says. "The rules down there were in those days, you could only sell what you caught." Ever innovative, he simply moved the operation to his grandfather's boathouse, which was situated on private land. He worked to build the business until 1954, when a hurricane swept Poole's Fish, and just about everything else in Menemsha, out to sea.
In a pinch rebuilding the harbor, town leaders came to him with a request to take a new lot.
"Selectmen said we've got another lot, we'd like you to put a fish market there, we need one," he says with the satisfaction of someone who had a long grudge wash out in his favor. "I said no, but eventually, I did."
Poole's Fish stayed on the harbor until 2005, when the Larsen family bought the business.
Mr. Poole has a salt of the sea personality and a plain, no-nonsense manner of speaking. But no one should underestimate his estimable intellect. Unlike most of his friends, he went off to college as a young man, first studying engineering and then business at the University of Rhode Island.
"I felt I taught them quite a bit," he says with a twinkle in his eye. "When I graduated, I had a chance to teach there. I said to the dean, can you imagine me with a necktie on? That was the end of that."
The fish business he started in high school, he kept that going during summers home from college, and even, with the help of a partner, through his five-year stint in the U.S. Coast Guard. Then he returned to Menemsha to stay.
His business thrived as the Island's population grew and its reputation as a tourist destination burgeoned. He remembers the days when he kept 200 swordfish on ice in the warehouse next to his chandlery, when even the little inshore fishing boats would haul in two dozen harpooned swordfish, big ones, averaging 200 pounds, each day of the season.
But more and more tourists came, and more and more fish went away over the years, a scenario Mr. Poole regrets not so much with a sense of bitterness as resignation.
"Fishing's gone to hell," he says. "You've got to call Washington every morning to find out what you can catch that day. The thing that kept Menemsha going, long after fishing was so regulated, was they had guys would switch from one thing to another, depending on what came up. You can't do that any more if you don't have a license for it. It's all over now."
He is still working hard, putting in a work day that would leave much younger men exhausted. He has chosen to hold on to the old ways, adapting little to progress that he sees as less than beneficial. Earlier this morning he was building a handicapped ramp in heat nearing 90 degrees, while lamenting that he could only spend two and a half hours on the job.
Other mornings, he's on the water. In season, he drags for scallops.
"A little bit, not much," he confesses. "I got a boat, just a small one. I set a few lobster pots. I do a little hand lining. That's why I'm only open 3 p.m. to 5 p.m. [at the chandlery]. I come down here to rest."
For more than 40 years, Mr. Poole has held the job of moderator for the Chilmark town meeting, an elected post he still holds. He is valued for his common sense and impartiality as he steers through a warrant. He seems to have an innate awareness of how to manage debate, knowing when to let the discussion wind itself out, and when to cut it short.
He is asked what is the secret to being a good moderator.
"Nobody wants the job, that's the secret," he says. "When I first started, I could call everybody by name. Now I don't know 20 per cent of them. Lot of people are registered voters in town, but they don't live here year round. And there's quite a few that live here year round you don't see either, they work at home with a computer. It's a big change."
Midway through the conversation, one of the town's selectmen and the harbor master drop by to seek his advice and brief him on a problem that cropped up this summer on the boat launching ramp at Quitsa bridge.
"Used to be two or three guys would leave their kayaks there, never thought much about it," Mr. Poole says after the town officials are on their way. "The other night there were 33 there. They can't back down to get their boats in the water because the kayaks are coming way out into where they back down."
It's a small problem, but representative of problems all across the Island, where the new ways and the old ways rub rough edges together.
"You get more people, you're going to have more problems," Mr. Poole says.