A red Toyota truck with its hazard lights flashing, slowly drove up Middle Road Monday afternoon before pulling over next to a rock wall imprinted with an orange dot. A man hopped out of the truck and removed two large orange stencils along with a can of orange spray paint.
He placed the stencils on the road and sprayed them down, resembling a graffiti artist covered in orange stains and fingers that look like they just came out of a Cheetos bag.
A few seconds later the man removed the stencils and a message appeared on the road: 1 Mile.
"Isn't that gorgeous?" said Hugh Weisman, wiping the sweat from his brow. "Things got easier when I decided to buy stencils."
The street marking is an annual tradition for Mr. Weisman, organizer of the Chilmark Road Race since its inception in 1978. His handiwork can be seen all along the five-kilometer race course (3.1 miles) that begins on Middle Road and ends at Beetlebung Corner, next to town hall.
The 41st annual Chilmark Road Race begins at 10:30 a.m. on Saturday, August 11. All of the money raised from the race will be donated to the Chilmark Community Center.
Mr. Weisman, 79, has handled everything from measuring the course to selling T-shirts as the race has ballooned from 200 runners in 1978 to 1,600 signed up this year. The race has become so popular that registration closed just 12 days after opening on July 1.
He said that the challenges involved with such a unique location is what makes the race a can't miss for runners who come from as far away as Hawaii and Australia.
"Getting people to the start is a logistical nightmare, but at the same time it makes it a bigger deal," he said. "That's an attraction. That's what makes it more special."
Mr. Weisman said he's looking forward to a new tradition this year, using bibs that display the runner's name. "Now, people can yell the runner's name at the finish," he said.
After 41 years Mr. Weisman's doesn't show any signs of passing over the orange spray paint anytime soon.
"It's the first year going toward 50," he said. "It's a little crazy thinking it's been going on that long. It's a routine now. There are so many people that write each year that it was the highlight of their summer. That's what makes it worth doing."
Due to the enormous undertaking, Mr. Weisman has received help from several supervisors over the years. Christine Skidmore, consulting director of the Chilmark Community Center and a road race regular for 35 years, is one of them. She said preparations begin in earnest as soon as August arrives.
"We definitely take over downtown Chilmark," she said, adding that over 50 volunteers help with passing out bib numbers and setting up the course.
Ms. Skidmore, along with the supervisors Michelle O'Connor and Nancy Grundman, also reach out to Island businesses to donate prizes and refreshments. She said this year the Chilmark General Store provided 1,200 bananas and 700 granola bars, and Cronig's donated 85 cases of water bottles.
As for advice for participants, Ms. Skidmore urged getting to the course early to beat the huge crowds and avoid missing the last bus at 10:15 a.m.
"It's very special," she said. "Chilmark bursts at the seams, but it's a lot of fun to see the same people year after year...and see friendly faces in the crowd."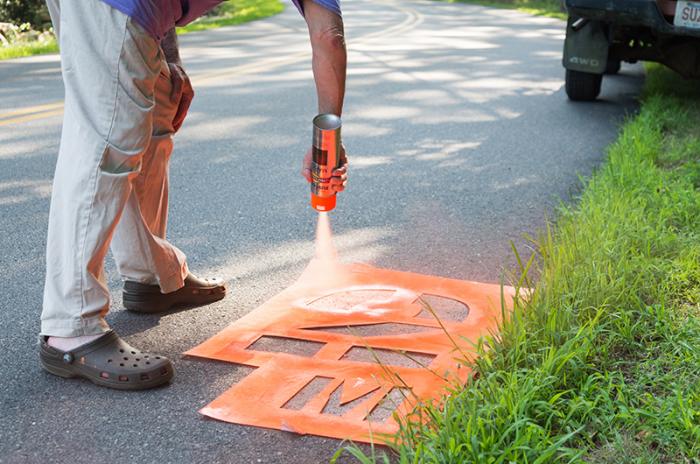 One of the runners coming back for his fifth year on the course is 90-year-old Sumner Parker of Exeter, N.H., the oldest participant in this year's race. Actually, it's a family affair. Mr. Parker is running alongside his 87-year-old wife Frances Parker and nine other family members, including his 10-year-old grandson.
"I don't run the whole race," Mr. Parker clarified. "I start at the start and finish at the finish but my feet don't run the whole thing. I'm walking most of the way."
Though he said he's become a little slower since his days as a wrestler during preparatory school, Mr. Parker didn't hesitate when asked who will win this year's race, he or his wife.
"I think I will, but one never knows," he said. "She's been doing more training than I have, but she's just a young kid, she's just 87."
Mrs. Parker said she isn't fazed by any trash talk from her husband.
"I'm at an age where I don't care," she said, laughing.
As for advice for the under-85-year-old runners on Saturday, Mr. Parker said to focus on the basics. "Keep breathing. Keep looking down at the grass rather than up at the grass."
Back on Middle Road, Mr. Weisman parked the truck on one of the course's many hills to spray down the next mile marker. Last year's marker was still visible, faded pink from the elements.
Resting in the shade on the scorching summer day, he added his own advice to the mix, appropriate for the stifling humidity of the past week and the looming masses of people soon to descend on the town.
"Drink water and watch out for other people," he said.
After a short break, Mr. Weisman returned to his truck and drove off for the next marker. The stretch of road was quiet and clear. A bird chirped. The wind rustled the leaves. Down the hill, a runner appeared, sweating and panting. He looked to the horizon. Just a few more miles to go.