Stephanie Immelt remembers knowing it when she was a child growing up in the Midwest, watching a neighbor come home from work in his uniform. Elizabeth Rogers always knew it too; her certainty led her to study criminal justice and psychology. For Jillian Sedlier, a lifelong Islander, the realization came after she graduated from the regional high school and continued through guiding conversations with her father.
For each, it was a powerful pull — they wanted to do police work.
The three women gathered at the Edgartown police department recently to talk about their jobs and lives: the bulletproof vests, working the midnight shift, coaching youth sports. The sight of the three women in uniform together in one room was striking, in part because it's so rare. Of the more than 60 full-time police officers working in the Island's six town departments, they are the only women, and each is the only one in her respective department.
For a rural community, that ratio is low, but the trend is not uncommon. Nationally, 11.6 per cent of full-time officers are women, according to 2015 data from the FBI's Uniform Crime Reporting program. In non-metropolitan counties, the number drops to 7.8 per cent. "You don't really think about it," said Officer Immelt, who has worked in the Edgartown department for 17 years. During the school year, she serves as a school resource officer in the Edgartown School. "When I'm going to calls, I don't think, oh, I'm a female going to this call," she said.
But the way each woman talks about her work, with attention to relationships and curiosity about the nuances of each situation, is a reminder that at its best, police work is as much about empathy, listening and understanding as it is about order and enforcement.
Ms. Immelt studied social work and sociology, fields she said are inseparable from policing. In search of stability after graduation, she briefly took a job at the state Department of Children and Families (DCF), but she couldn't let go of her aspiration to become a police officer. When an opportunity came up to work part-time in West Tisbury under former Chief Beth Toomey, she took it. "It was a big jump for me to go work for Chief Toomey, lose my health insurance and take the risk of working my way to having her sponsor me to go to the full-time academy," she said. She took weekend shifts in Oak Bluffs to fill out her schedule. "By the time I went to the full-time academy, I had worked really hard to get there," she said.
Ms. Rogers, who now works in Chilmark, took the leap after learning her friend's father was a sergeant in that town. After an interview with the chief, she applied to work as a part-time officer. She grew up in Marshfield and knew next to nothing about the Island.
"I didn't know anyone here," she said. "I came here and I was like, there's six towns?"
But she stuck with it and fell in love with the work and the Island. After graduating from the academy in 2015, she worked for Tisbury, then transferred to Chilmark last year.
Ms. Sedlier has worked with the Oak Bluffs department since she started out as a traffic officer after graduating from high school in 2011. After graduating from the academy in Plymouth, she was assigned to the regional high school as a school resource officer, an experience she said has been fulfilling.
"It's more personal working at the school," she said. "You see kids and their parents, and it's like a whole other layer of the community," she added. "No matter where you go, you're going to see someone you know."
All three said the time they spend in schools and with children is a highlight of the job. Kids recognize them in uniform or not, and never allow them to forget their influence.
Officer Rogers remembered being approached by a child's nanny recently.
"She said, I want you to know you gave her a badge. Now, she dresses up and pretends she's you."
The nanny showed her a picture of the girl wearing the badge with a homemade duty belt. Ms. Rogers said she began to tear up.
"I was like, oh my God, you can't tell me this at work, are you kidding me?" she said laughing. "It makes you feel that you're doing something right."
The women said in addition to regular patrol, they are often specifically called upon when a situation involves a victim of sexual assault or when children are present at the scene. Officer Rogers said there is a difference in their body language and tone of voice that lends itself to responding to those situations.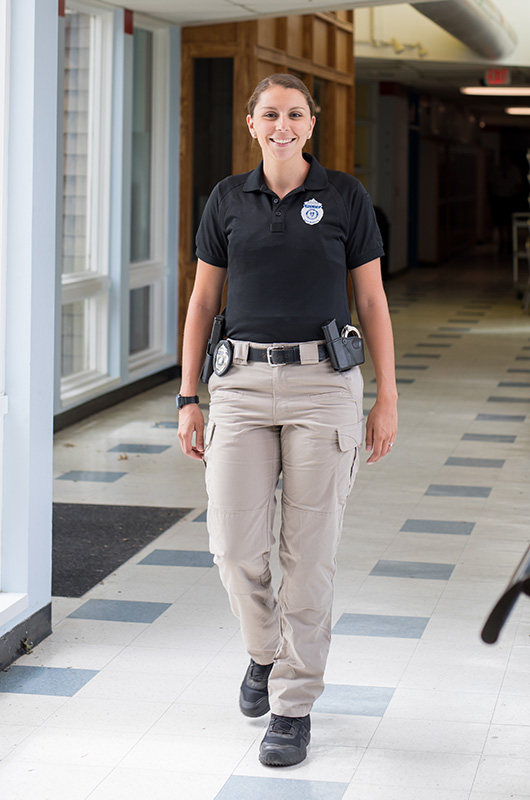 "It's more comfortable for the kids to be able to relate [to us], and not have it be such a scary situation," she said. She said working in the Chilmark School often means she already knows the children before she arrives on the scene.
Ms. Immelt agreed. "A lot of the calls that we get are of a social side, of needing help within families and being empathetic and understanding both sides," she said. "To go into police work, you have to be interested in people and what makes them tick."
Women's ability to connect with people is what makes them an asset, according to Valerie Cunningham, who leads the National Association of Women Law Enforcement Executives, an organization founded in 1994 to mentor women police.
"There is empirical data now that shows that women do police differently. They have less use of force and higher cooperation of victims," she told the Gazette by phone. "A female police officer will tend to not only explain what they're doing, but they will also develop a rapport and relate to victims better," she said.
Chief Bruce McNamee of Edgartown echoed the importance of having women represented on the force.
"I wish we had more female officers than just one [in our department]," he said. "It certainly provides an important resource not just in schools but in any criminal investigation."
Their work is not easy, and it doesn't end when the women leave the station. They find themselves having to explain to their families and their partners why they have to leave suddenly in the middle of dinner or come home late when relatives are visiting. Each has spent months (or years in Ms. Immelt's case) working nights and sleeping all day. They get calls for advice and help at all hours, and they wouldn't do anything else.
It all comes from a simple conviction, according to Officer Immelt.
"I wanted to be a part of people not being afraid to come and ask for help," she said.