On Thursday, historian and Harvard professor Henry Louis Gates Jr. hosted his annual Hutchins Forum at the Old Whaling Church in Edgartown. This year's discussion centered around "A Single Garment of Destiny: MLK's Dream in the Age of Trump."
Although the Trump presidency framed much of the panel's discussion, Mr. Gates began his statements on a very different note, with a moment of silence for Aretha Franklin.
"Aretha taught us how to love. How to respect ourselves. And she taught us the many ways being black, and being a woman, could be beautiful," Mr. Gates said. After the moment of silence, every member of the packed church rose from his or her seat and erupted into applause.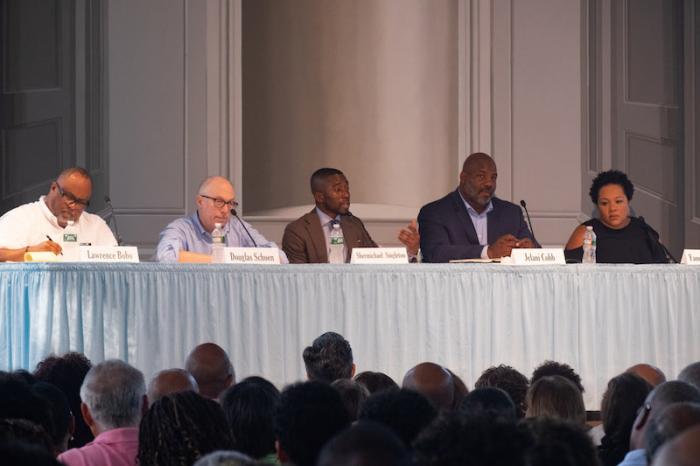 "I never saw anybody get a standing ovation who wasn't in the room," Mr. Gates said.
True to Aretha's spirit, the panel brought down the house with a discussion that ranged from the state of race relations in America to the President's foreign policy to the role of the media in politics. Charlayne Hunter-Gault, special correspondent for PBS NewsHour and the panel's moderator, opened up the conversation by asking each speaker their thoughts on the condition of Martin Luther King's "garment of destiny," a metaphor for mutualism between people of all backgrounds.
Journalist Yamiche Alcindor, who now works as PBS NewsHour's chief White House correspondent, said she believed the garment was fraying. Fox News commentator and Democratic political operative Douglas Schoen agreed. New Yorker writer and Columbia University journalism professor Jelani Cobb went further, saying it was "deeply torn." And Shermichael Singleton, an African American Republican who worked for Housing and Urban Development secretary Ben Carson before he was fired for anti-Trump comments, felt the garment was less important than what lay beneath it.
"There was a lot of dust under the garment," he explained, "and the election of Trump has brushed it up."
Ms. Alcindor added that many supporters of the President have beliefs that have existed long before Donald Trump was a political figure, something she came to learn covering Trump voters in rural Ohio.
The conversation then moved on to a discussion of President Trump's foreign policy and relationship with Russia, a chaotic topic all panelists agreed was a cause for concern.
"What bothers me most about Trump's foreign policy is that he doesn't have one," Douglas Schoen said. "We don't have any underlying values that he is promoting. When you create that vacuum, someone else is going to fill it."
Mr. Cobb expressed the President's understanding of foreign policy historically. "He doesn't understand multilateralism," Mr. Cobb said. "It's very 19th century."
Mr. Cobb also felt that the President's immigration policy was steeped in the past. "We should remember that in 1790, when the United States passed its first immigration law, only free white males were allowed to come to the country," he said.
This week also marked the one-year anniversary of the deadly white nationalist march in Charlottesville. The forum's most heated exchange came when Mr. Singleton argued that the The New York Times's coverage of white nationalists was an effort to normalize them.
"To have a major publication in this country normalizing something that represents the worst of humanity, the worst of the human condition, that's a problem," he said.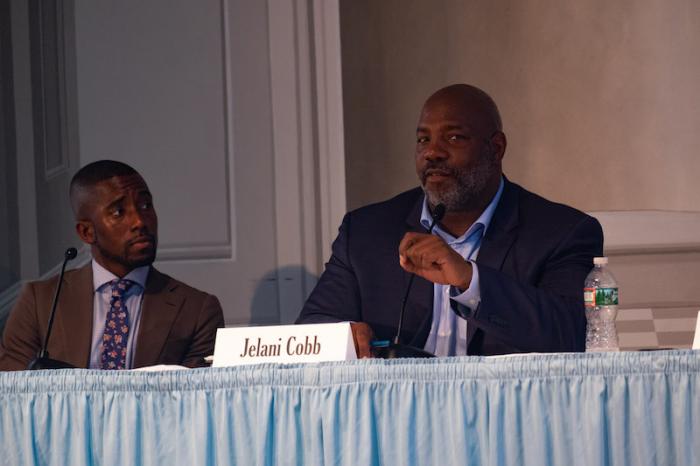 Ms. Alcindor jumped in to defend her former employer. "I think the New York Times has done a good job sending journalists out to cover stories," she said. "If you ignore that white nationalist rally, then people can say that didn't really happen, they're making that up. If you're ignoring those opinions, you're doing a disservice, you're not actually covering what America is."
Ms. Hunter-Gault saved her hardest question for last.
"Is President Trump a racist?" she asked the panel.
"There are a lot of variables to consider," Mr. Cobb answered, "and after much thought, I'm going to have to come down on the side of...absolutely."
Lawrence Bobo, a professor of social science at Harvard, gave the forum's closing remarks. After supporting Mr. Cobb's "absolutely" answer with a litany of examples, he offered a vision for progress moving forward, framed around the queen of soul herself.
"The moment is nigh," he said. "November is coming. And if morally-minded Americans don't 'jump to it,' as Aretha might have told you to, we're all gonna be in trouble and the people doing the 'chain, chain, chain' with Donald Trump are going to continue to carry the day. So be ready in November."