Before the gates officially opened on Sunday morning at the Martha's Vineyard Agricultural Fair, a line began to grow at the ticket window. Those waiting were not youngsters eager for the first ride on the ferris wheel, skillet throwers or sheep shearers. Instead, dogs of all breeds walked their owners into the fairgrounds for the annual dog show, a mainstay of the fair for more than four decades.
Rosemarie Haigazian has served as show steward for the last 43 years. A lifelong dog lover and owner, she was joined by her two sons and assistant stewards, J.B. and John Robichau.
"There are two different competitions going on," Ms. Haigazian explained from a booth set up on the pulling ring where the day's events would take place. "One for breed, and one for obedience."
Upon registration, the dogs were split into eight different groups: sporting, hound, working, terrier, toy, non-sporting, herding and miscellaneous. Well over 100 dogs lined up prior to the show.
"Last year we had 150 dogs compete," Ms. Haigazian said. "I find each dog brings at least three people, sometimes even 10. It's enough for an entire cheering section."
Tom Shelby volunteered as one of the judges for the obedience category. He wrote comments and ratings into a small notepad as each dog paraded through the ring.
"Among other things we want to see an absolutely loose leash without being pulled, owners not having to repeat a command, sitting automatically, laying down all the way," Mr. Shelby said. As for the breed category, the show follows the standards set by the American Kennel Club. Each rule was listed in a thick guidebook which sat on the registration table.
A 14-month-old doberman pinscher named Dixie took home four awards, including the coveted Best in Show. Owner Joel DeRoche, said he was thrilled at Dixie's debut.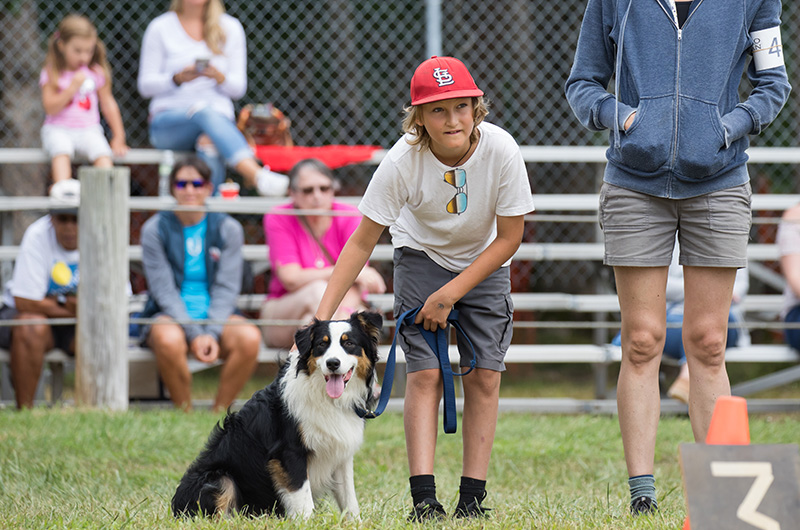 "She had so many ribbons around her neck that it was almost too much," Mr. DeRoche said, laughing.
Earlier in the day whippet Sierra Nevada waited patiently by the table for his turn in the ring. He was accompanied by his owner Deborah Tunnehill.
"This is his first time competing in this show," Ms. Tunnehill said. While the duo had previously competed in their native Ireland, Ms. Tunnehill explained that she thought it would be fun for Sierra Nevada to take his shot at a blue ribbon in the states.
A few feet away, Avery Fernie and Sarah Saltonstall eyed the competition. Ms. Saltonstall's seven-year-old golden retriever Blanche sat beside them, grinning at all who passed by.
"Blanche, just like one of the Golden Girls," Ms. Saltonstall said. Blanch panted in agreement. Avery would later guide the golden around the ring to be judged during her breed's category.
Janet Zeller sat in the crowd with her miniature dachshund, Jazzy B. Jazzy who accepted many pats and head scratches while waiting for her turn. Jazzy B. Jazzy would compete later in the day in honor of her brother, fellow mini dachshund Jonathan, who passed away at the age of 18 in April.
Valentine, a beagle, Jack Russell and Corgi mix, won the blue ribbon for the female mixed breed category. Maeve Czaplewski walked her around the ring in celebration.
"I'm over the moon about this," Ms. Czaplewski said about Valentine's award. The pup earned her name having been rescued from Georgia on Valentine's Day. "She's received honorable mention twice, and third place twice, but this was her first big win."
Joining Valentine in the winner's circle was Saint, an English setter. The Waters family entered the two-year-old setter the first time this year.
"We just love coming to the fair every year, so we figured why not," Randy Waters said, as he walked his prize-winning dog away from the ring. Saint pranced ahead, his collar now adorned with some new decor: a shiny blue ribbon.