On August 16, Karen Dourdeville, a sea turtle research associate at the Massachusetts Audubon Society at Wellfleet Bay, received a phone call from a boater about five miles off the shore of Oak Bluffs.
"The man was incredibly torn up," Ms. Dourdeville said. "He told us his vessel had struck a large sea turtle."
Five days later a mature female leatherback washed up on the shore of Harthaven Beach in Oak Bluffs. It was the same turtle reported in the call to Ms. Dourdeville.
Researchers at Wellfleet Bay say they have had to handle nearly a dozen such calls this past year.
"Throughout Cape Cod, we've had five leatherback turtles that have beached, but then we know from photos and reports that we have five floaters, or dead leatherbacks that have still not come ashore," Ms. Dourdeville said. "Last year was the biggest year we've had, with 31 known fatalities, and half of them exhibiting vessel strikes," she added.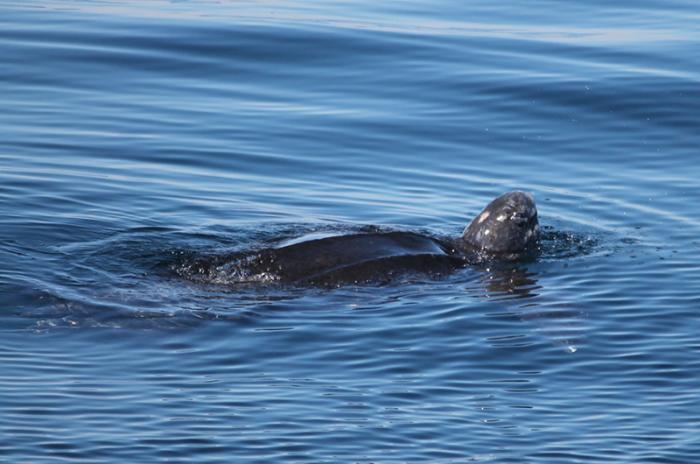 Leatherback sea turtles are the largest of four sea turtle species that feed in the North Atlantic. Although they nest in the warmer waters of the Caribbean and Gulf Coast, the endangered leatherbacks migrate thousands of miles north to eat jellyfish during the late summer and early fall. They can grow up to eight feet in length, dive to depths of over 1,000 meters, and weigh over 1,000 pounds, making them both the fastest, and heaviest, non-crocodilian reptile.
But according to Kara Dodge, a Woods Hole Oceanographic Institution sea turtle specialist, those features are exactly what puts them at risk in high-traffic waters.
"There has been a whole slew of boat strikes this summer," Ms. Dodge said. "One of the really cool things about leatherbacks is their dark, flexible, mosaic carapace, but it's also what makes them particularly vulnerable to boat strikes. If one surfaces in front of your boat, it would be really hard to avoid it, and chances are, it won't survive."
Not only are the leatherbacks big, but they are difficult to see and lack the hard, keratin shell common to most sea turtles. That's one of the reasons researchers like Ms. Dodge and Ms. Dourdeville are encouraging boaters to always be on the lookout for the animals, especially during this time of year. They've started a hotline for boaters to report their sightings, and just this past week announced a partnership with the Striped Bass and Bluefish Derby to ensure participants not only avoid the animals, but report their sightings.
"It's exciting for us," Ms. Dodge said. "Our absolute best source of sighting data is from recreational fisherman."
Ms. Dourdeville added that collaborating with the derby serves the dual purpose of collecting valuable data about the leatherback population while educating those whose vessels put the animals in the gravest danger.
"It seemed like last year, the leatherbacks particularly were out in Vineyard Sound throughout the derby," Ms. Dourdeville said. "We realized if we could reach more participants we could get them involved in looking out for them and avoiding them. The derby folks have been fabulous."
Throughout the event, the Audubon Society will place educational flyers at different derby sites, advertise their hotline in the derby brochure, participate in the awards ceremony, and provide one complimentary entrance pass to Felix Neck per derby group.
For Joe El-Deiry, chairman of the fishing derby, teaming up with Mass Audubon represented a natural symbiosis.
"The derby has a long history of conservation," Mr. El-Deiry said. "I think it's great that we're working together to protect and gather information about the turtles."
Mr. El-Deiry said that he's definitely seen an uptick of leatherbacks in the Vineyard waters these past two years. Last Labor Day, his family spotted a bale of them swimming together.
"At first we thought it was one," Mr. El-Deiry said. "But then as we got closer we noticed that there were four of them, all moving with the west tide. They're humongous, the size of wheelbarrows." Although WHOI doesn't have exact numbers on the population of leatherbacks in Massachusetts waters, researchers have observed that in recent years the turtles' peak feeding season has moved later into the fall.
"We have noticed that the times they are coming are being shifted later by a month," Ms. Dodge said. "It used to be July and August, now it's September, which makes what we're doing with the derby really important."
In order to gain a better understanding of leatherback behavior, population, and range, researchers continually stressed the importance of data collection. Suzan Bellicampi, director of the Felix Neck Wildlife Sanctuary in Edgartown, said the onus falls on those who spend time in the water.
"They are our eyes in the field," she said. "We get excited calls from people at Felix Neck all the time who just happen to see them. They're totally unique, kind of one of those special species."
Beyond being the biggest and fastest sea turtles in the ocean, Ms. Dodge said leatherbacks serve a valuable purpose in the North Atlantic ecosystem.
"They come here for one reason and one reason only," Ms. Dodge said, "to feed on jellyfish. It's a pretty rare thing in the animal kingdom to find a 'gelatinovore.' We're putting cameras on these turtles and recording them eating 120 jellyfish in a couple hours, so I'd say they're really doing us all a service."
"These guys have been around for longer than the dinosaurs," she added. "It would be pretty sad to lose them."