On Saturday, one of the most picturesque spots on the Vineyard turned into one of the most serene, as families, friends and loved ones gathered at the Edgartown Lighthouse for the annual children's memorial.
The ceremony began in 2001, when Islander Rick Harrington teamed up with the Martha's Vineyard Museum to dedicate stones at the base of the lighthouse as a memorial to deceased children. Mr. Harrington's son, Ricky, died in a car crash in 1995. He was 16 years old.
"Rick's the real inspiration for this," said the museum's executive director Phil Wallis. "It was his son who died. But it's become pan-generational, this beautiful commemoration to all the things we love about this Island, and God knows we don't want to lose them. We love the communal energy and ability for people to come together and celebrate the good."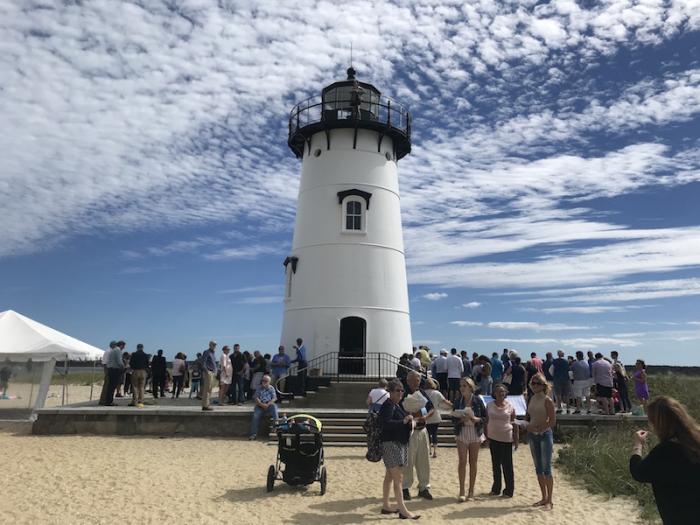 The touching, half-hour ceremony began with a song from Edgartown guitarist and singer Cindy Krauss.
"I don't have a brick at the lighthouse, but I'm right there with you," Ms. Krauss said to the hundred or so people in attendance. "I lost a baby, born sleeping as they say. If any song describes my situation, it's this one."
As a westerly wind from the Edgartown Harbor brushed through Ms. Krauss's hair and the lighthouse's shadow extended into the dunes, she began to strum the guitar, sharing her own story through the lyrics of Craig Cardiff's song, Smallest Wingless.
"We closed the curtains and held each other and cried," Ms. Krauss sang. "We said hello at the same time that we said goodbye."
Ms. Krauss performed two other songs throughout the ceremony, which included brief remarks from Rick Harrington, Betsy Mayhew and Mr. Wallis, as well as a prayer from Rev. John Schule. Reverend Schule dedicated his prayer to Ed Jerome, the derby president and principal of Edgartown school who died on Tuesday. Although Mr. Jerome was not a child, Reverend Schule felt that his time, also, had come too soon.
"We lost a dearly beloved friend this past week," Reverend Schule said. "Ed Jerome, we are here in the comfort of your spirit."
He continued: "So many stones. They're more than names at the edge of the sea, at the foot of the beacon of light...in the days to come, with a fair measure of courage, grant them their peace."
The crowd remembered those names with the spirit of the Reverned Schule's words in their hearts. Some left flowers on the stones, others seashells. A few personalized their stones with photos, football jerseys, stuffed animals or pumpkins. Ms. Mayhew offered permanent markers to families to ensure their children's names wouldn't fade. Everyone watched their step.
"Xavier was three when he drowned," said his grandmother Cathy Morel. Every year, over 25 of Xavier Teneo's relatives come to the Island from New York city to pay their respects at his stone.
"It's very touching and everybody gets together to come and do this," Ms. Morel said. "We drove five hours, that's how much it means."
Julie Immelt-Whelden's son, Mark, died at the Martha's Vineyard Hospital three years ago. Her toddler, Wesley, helped the family put seashells around his older brother's name.
"We come every year, the whole family's here." Ms. Immelt-Whelden said. After Mark died, she started a campaign to provide hospitals with "cuddle cots," which can give families more time with their children if they die shortly after birth.
"We didn't have one when our son passed away, but we've donated one to the Vineyard, Nantucket, Cape Cod," she said.
After the ceremony concluded, families remained to share their moments of solitude under the lighthouse. Before 2001, the tide used to rush up to the base of the structure, threatening the historic building. But Mr. Harrington's memorial solidified the lighthouse's foundation and re-established its permanence. Tonight, the beacon will remain lit throughout the night in honor of the 810 names around its base.
"So many people who helped us reach this day," Mr. Harrington said. "Some of them are here, some, far away. Some are in heaven. All of us have special ones who have loved us throughout our lives...Whoever you are thinking about, how happy they must be to know the difference you have made in their life."