About 30 people gathered at the Edgartown Park and Ride on a rainy Saturday morning for the 11th annual Walk to End Domestic Violence. CONNECT to End Violence, the Island's domestic violence and rape crisis center and a division of Martha's Vineyard Community Services, hosted the event.
"The walk is a wonderful opportunity to come and show awareness for this issue and show support for domestic violence survivors in our community," program director Jennifer Neary said to the crowd.
Walkers dressed in all the purple they could find, the official color for domestic violence awareness, including ribbons, bandanas and even balloons, all provided by CONNECT To End Violence.
As everyone gathered, Ms. Neary spoke about the importance of raising awareness for domestic violence.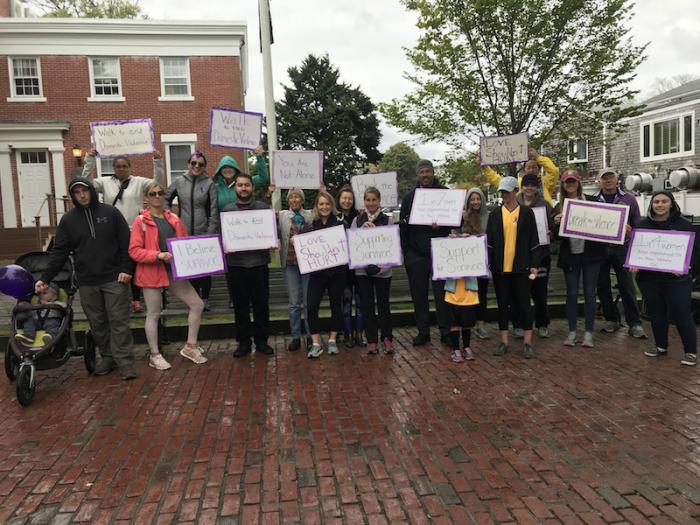 "I know it's rainy, but I think this event is important to keep up," she told the walkers. "We will go as far as we can with our posters, to make a presence. Let's go out and raise some awareness!"
The light (and occasionally not so light) rain did little to dampen the walkers' spirits. Upon exiting the park and ride, everyone made sure to angle their posters toward the street. The parade of purple was met with a symphony of honks and waves from supportive drivers and passersby. One of the posters read: "Break the Silence." Another said: "Love Shouldn't Hurt."
Allison Cameron-Perry knew exactly which sign she was going to carry. "I saw this one and said, yup, that's the one. It's a pretty hot topic nowadays," she said. The sign read: "I Believe Survivors."
Signs weren't the only thing walkers brought along for the march which continued down Main street in Edgartown. Maggie Neary led the way with her daughter's dog, Magda, who was fully equipped with a purple headscarf.
"Magda's been to all the walks," Ms. Neary said. "She's the unofficial mascot."
Mary Korba brought her four-and-a-half year old daughter Ivy from a morning soccer match. She carried a poster that read: "You Are Not Alone."
Jeannie Wright had a personal reason for walking. She lost her sister-in-law to domestic violence in 2012.
"I walk to be a voice," she said. "I go to all the walks. I want to make sure that no one else loses someone they love to domestic violence."
Facts about domestic violence lined the route, reminding walkers and non-walkers alike that violence between intimate partners accounts for 15 per cent of all crime, and that people have a legal right not to be touched or hurt. Many of the signs included the number for CONNECT's 24-hour domestic violence hotline: 508-696-7233. The last four numbers spell out "safe."
Ms. Wright felt that one of the most important features of the walk was that it brought people from all over the Island together. At the Edgartown courthouse, she embraced Edgartown police officer Chris Dolby and his daughter Caroline.
"I work for Oak Bluffs and he works for Edgartown," Ms. Wright said. "But this is community policing. We need to work together."
All proceeds from the walk went to meet the specific needs of domestic violence survivors, something not covered in community services' normal funding stream. October is domestic violence awareness month, and Oct. 18 is national wear-purple day.
Ms. Wright had advice for those who may be suffering or have suffered from domestic violence.
"Tell somebody," she said. "Love is patient. Love is kind. You have two legs. Walk."