With Halloween just days away, the Agricultural Hall turned festive on Saturday morning as vendors at the fall Farmers' Market vied for the coveted title of Best Vendor Costume.
The winning honors went to the The Addams Family from Old Town Gardens in Edgartown, which in addition to going all out on their costumes sold potatoes, onions and small burial boxes full of jellies.
"When I was a kid I used to love watching it, and we're going to a party tonight," Shelley Baptiste, or Morticia Addams, said, while gesturing to the rest of her macabre relatives. Her real-life husband, Lenny Baptiste, stood next to her also playing her fictional husband Gomez, holding a disembodied hand "Thing" that gave a tiny wave. Mark Baird was Uncle Fester, Heather Tilton was Wednesday and Lynne Daniels was hidden under a cape of grass hula skirts as Cousin Itt.
"I love the winter Farmers' Market," said Ms. Daniels. "It's just more Islanders and very festive. Everybody knows you."
"Even in costume, they see right through it," joked Ms. Tilton.
At the Martha's Vineyard Mushrooms booth, co-owner Kathryn Peck was adjusting miniature outfits she made for her three quail that were inside a small cage. They didn't seem interested.
"They're being stubborn and not wearing their costumes," she said. Despite the birds' unwillingness to participate, Ms. Peck was in the spirit, dressed as a poison ivy bush. Nearby was a fake goat skeleton. She said it was all related to a service her company provides: goatscaping.
"Goats eat poison ivy, thorns and anything else you want to get rid of," she said while showing off some of her other unique wares, such as pizza and popcorn flavored lip balm.
Rusty Gordon of Ghost Island Farm was leading an alien invasion at the Ghost Island table, though he said the unnamed species comes in peace and brought an offering of fresh lettuce and peppers. He added that he always looks forward to the fall market because of its slower pace and the opportunity to catch up with fellow vendors after the hectic summer season.
"It gives us a chance to be more social with each other," he said. "It's a more intimate crowd."
Will Ware, who was assisting his wife Debbie Ware with the Pasture Prime Farm booth, said he couldn't think of a better venue than the Agricultural Hall to host the weekly gatherings that help provide continued business for Island merchants in the shoulder season.
"It's such a perfect thing for Islanders," he said. "It's a great, New England event in a beautiful, colorful space."
"It's such a privilege to be part of this," added Mrs. Ware, co-owner of the farm. "It's a great community."
On a blustery, stormy day with heavy downpours outside, inside the hall old and new friends lingered late into the morning to chat and share clam chowder around the fire. Near the front door kids tried their skills at pumpkin carving, while parents glad to be out of the house looked on.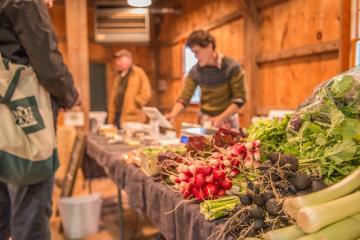 "It's been much busier than I expected," said market co-manager Lily Walter, who greeted people throughout the morning with the help of her 10-month-old daughter, Juna. "I didn't think anyone would come out."
Not only did people come out, they stayed out, listening to music by Rob Myers and Andy Herr, enjoying food or having family time. Three generations of Warings ­— Diana, her four-year-old daughter Hazel and her mother Pat — sat together by the fire.
"It's warm and cozy in here," Pat said with a smile.
Diana agreed and looked around at the many familiar faces still gathered in the hall.
"It's just the place to be," she said.
The fall/winter Farmers' Market continues on Saturdays from 10 a.m. to 1 p.m. through Dec. 15.