On Saturday morning, field hockey coach Lisa Knight began to introduce her 12 senior players via microphone during a tribute ceremony before the last regular season game against Nauset. But after a few attempts with the faulty microphone, she reverted to her usual coaching style.
"I'm just going to yell!" Coach Knight said to laughter from the crowd.
During the ceremony, which included about 100 parents and students in attendance, Ms. Knight was also celebrated for her 32 years as coach. She has announced she will retire after this season.
For the next hour, an emotional Ms. Knight took time to praise each senior's performance, and character both on and off the field. She singled out their contributions and expressed pride at how tight-knit the group had become over their high school careers. As appreciation, Ms. Knight gave each player a bushel of flowers, a field hockey Christmas tree ornament and a big hug.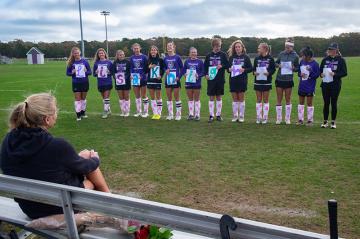 "It's an honor to be with every single one of my players," she told the crowd. "It's a privilege to be a part of their lives."
The seniors honored were Alley Estrella, Sophie Combra, Christian Schmidt, Lollie Bezahler, Mackenzie Condon, Mariah Donahue, Allyse Guyther, Addy Hayman, Meghan Sonia, Hailey Meader, Sally Caron and Abby Marchand.
Two of the seniors have already committed to college programs: Meader for Nichols College, and Marchand for Connecticut College.
After Ms. Knight finished speaking, the group of seniors asked her to sit down as they lined up in a row, each holding a piece of paper with a letter on it. The players went down the line showing their letter and the adjective it represented to describe Ms. Knight, such as inspiring, illuminating, thoughtful and teacher. Altogether, the letters spelled out "Lisa Knight 32!"
"She's done so much for this program," said assistant coach Kaylea Moore. "This program wouldn't be what it is without Lisa."
MVRHS athletic director Mark McCarthy attended the ceremony and said Ms. Knight was one of the most compassionate, hardworking and dedicated coaches he'd ever encountered. He explained that most kids coming into the program have no experience playing the game, so Ms. Knight's foundational teaching and ability to build a competitive team each year speaks volumes.
"The thing about Lisa is she knows how to connect with the kids," Mr. McCarthy said. "She cares about each of them individually. It's not just a field hockey thing with Lisa. It's a family thing."
Assistant coach Beth O'Connor, herself an alumnus of the MVRHS program under Ms. Knight, said Ms. Knight's devotion to the game was unparalleled and her contributions to the community are impossible to measure.
"She goes home, sits and thinks about field hockey," she said. "It's unbelievable the amount of education and life lessons she's given the thousands of children she's coached."
There was still a game to play and as soon as the ceremony wrapped up, the team ran onto the field and started running drills. Ms. Knight lingered briefly for a round of hugs from parents before duty called her onto the field. Her last regular season would soon be over, but a whole postseason, and the chance to retire with another league title, still lay ahead.
"The sport always goes on, but it's the players I'll miss the most," she said. "It's not a job. I consider this part of my life. It runs in my blood. Now I guess I'm going to go watch their college games."