While the Vineyarders and Nantucket Whalers battled on the gridiron for the Island Cup Saturday, another Island Cup was on the line just a few miles away at the Nantucket Disc Golf Course.
The friendly competition, now in its sixth year, pits 14 of the Vineyard's best frisbee golf players against 14 of Nantucket's players through two rounds of 18 holes, in singles and doubles play. Every year, the location of the disc golf tournament alternates between the two island's courses. The Vineyard's course is in the Manuel F. Correllus State Forest.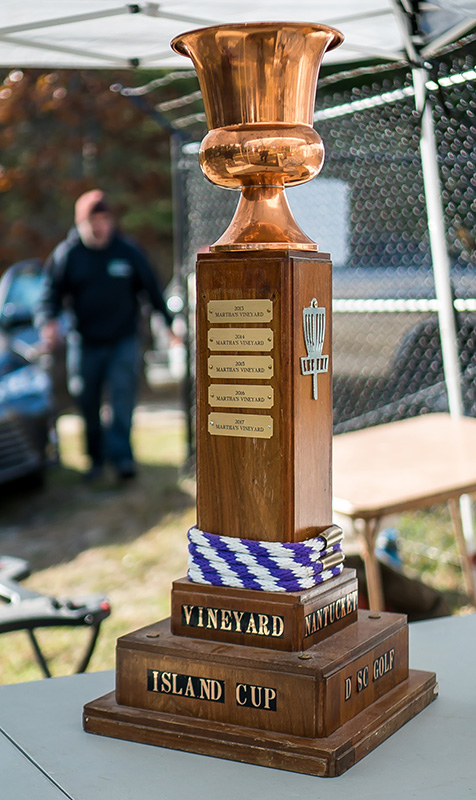 The victor gets to add a new engraved plate to the frisbee golf Island Cup trophy, a do-it-yourself wooden pedestal with a bronze cup.
"I guess we weren't feeling very creative," joked Brian Roesler, a history teacher at the Martha's Vineyard Regional High School and player for the Vineyard team. "It's our own Island Cup."
So far, every year's plate is engraved with "Martha's Vineyard," a streak that Nantucket co-captain Josh Milne hoped to end Saturday with what he considered his best team yet.
"The trophy has never spent the night here," he said. "This is our year. We're getting better each time."
At Hole 9, Lazy Frog co-owner Jake Gifford walked slowly onto the black, rubber tee pad and wound up his backhand throw. The three other players in his group were silent and sunlight filtered through the trees along the glimmering green fairway. He stutter-stepped and spun forward while letting go of his disc, a small frisbee called the Legacy Mongoose. It glided a few hundred feet straight ahead to land within striking distance of the hole, a basket with chains to catch the discs.
"Great shot," said Nantucket co-captain Oliver LaFarge, who was pulling a rolling bag stuffed with 20 discs, including one called the "Joker."
"That's definitely going to get there," added Max Conley, a West Tisbury construction worker holding a "Star Destroyer" disc.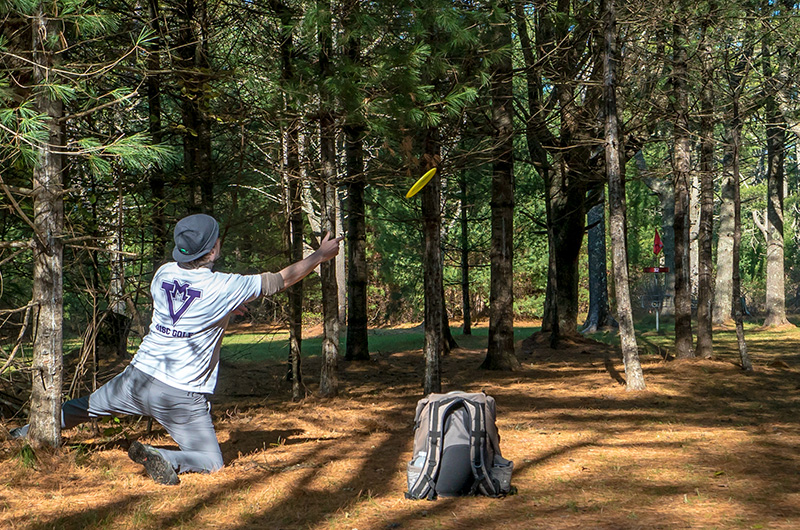 Five-hours and hundreds of throws later, the tournament ended in a dramatic tie, the closest finish in its short history. Nantucket won the singles round 9-7, but after a lunch break featuring homemade turkey chili and pickles, the re-energized Vineyard team evened the scales in the doubles round 9-7. Per tournament rules, modeled from professional golf's Ryder Cup, a tie means the trophy remains in the possession of the last winner.
"The plan is to have it half here and half there," said Mr. Gifford, adding that the point of the tournament is the camaraderie between the teams, not the final score. Besides, he said, the Vineyard team better not get overconfident. Last year, they won by one point. This year was a tie. Next year, if the trend continues, the Cup could have a new home.
"It's always an awesome time...and it just seems to get stronger and better every time," said Mr. Gifford.
"It was a success," added Mr. Holmes. "Every year people become better and better friends."