From outside, it looked like they were coming for a dinner party — a small group of people arriving in the early evening, hands in pockets as they stepped onto the narrow porch of an Oak Bluffs cottage.
They did not look much like an audience, the little house did not look like a theatre, and this did not seem like the kind of place where one might find a portal out of time.
But all this was so.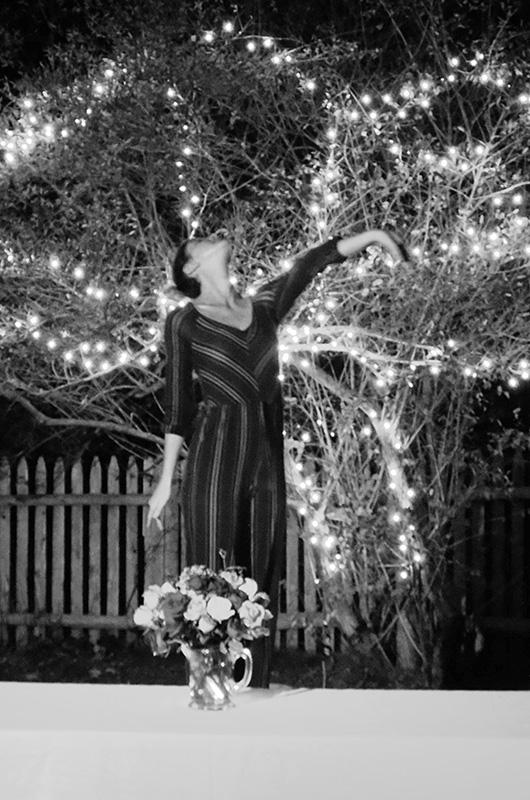 That night, and for several other nights this month, quiet groups of guests shuffled into the unassuming house and descended down the rabbit hole for Inhabit the Garden, a collaboration between Oak Bluffs composer Brian Hughes and performer-director Abby Bender. Inspired by the poetry of T.S. Eliot, Inhabit the Garden put Eliot's words to music, transforming the tiny house through movement, monologue, and a series of absurd object lessons.
Appearing first as just a pair of hands reaching out through the bars of a sleeping loft, Ms. Bender guided the audience through the cottage and through Mr. Eliot's poem Burnt Norton, accompanied by Mr. Hughes's transporting soundscape that included recordings of Mr. Eliot himself. The five sections of Mr. Eliot's poem each corresponded to a room or area of the cottage. Ms. Bender led the way, and lights and sounds followed, invisibly managed by Mr. Hughes.
Mr. Eliot begins: "Time present and time past / Are both perhaps present in time future, / And time future contained in time past. / If all time is eternally present / All time is unredeemable."
The question of how to escape time and how to find certainty dogged Ms. Bender's character throughout the performance, which, like much of her work, oscillated between emphasizing the banal details within what is magical and emphasizing the magical details hiding beneath the banal.
"I struggle so much to inhabit that illusory still point," she told the small audience. "Is it like that for you?"
Traces of time were present in each room. On the tables, sand piled in the bottom of hourglasses. Sitting by an old curio cabinet, Ms. Bender talked about memories and passed around a photograph of herself as a child. In another moment, she looked into an illuminated crystal ball. During some parts of the experience, the only sound that could be heard was the ticking of a clock. In others, Mr. Hughes compositions soared around Mr. Eliot's voice.
Ms. Bender's audience quickly became part of her quest. She served them wine in her tiny kitchen, joined hands with them in her sitting room, asked them for help with crossword clues from her breakfast table. At one moment, she emerged from the shower, hair wet and fully clothed, and asked two guests to blow into a pair of inflatable orange pool floaties encircling her upper arms. At another moment, an audience member slid a wine glass out of the path of Ms. Bender's foot while she swung from the rafters above the coffee table.
To Mr. Eliot's voice, Ms. Bender added her own musings. She explained the history of the shotgun house, discussed her Jewish identity, explored her doubts about the existence of God.
After passing through a kitchen of illuminated cabinets, a ransacked bedroom and a shed with dozens and dozens of flower bouquets dangling from the ceiling, Ms. Bender gave each audience member an umbrella and finished the performance in the freezing rain, dancing in the backyard beneath a tree studded with lights.
"I accept my own ignorance and my own inherent contradictions," she said. "And embrace my own peculiar rapture."
Heading back out into the wet night, one felt the need to reach out to someone else who had witnessed Inhabit the Garden. Did they notice the pinned butterflies? The picture on the refrigerator? The way the passing headlights from a car outside swooped along the wall?
One itched to ask the question: "Is it like that for you?"